'Avatar 2,' 'M3GAN' hold onto top spots at the box office
New movies like "Plane" and "House Party" were no match for "Avatar: The Way of Water" and the killer doll horror "M3GAN" at the box office this weekend. The two holdovers topped the charts again according to studio estimates Sunday.
In first place for the fifth weekend in a row was James Cameron's "Avatar" sequel, which added an estimated $31.1 million through Sunday. That total will likely balloon to $38.5 million by the end of Monday's Martin Luther King holiday. As of Sunday, the film's domestic total now rests at $562.9 million (the 13th biggest of all time) and its global total is $1.89 billion. "Avatar 2" needs to pass $1.92 billion to trump "Spider-Man: No Way Home," which is currently the sixth highest grossing film of all time globally.
"There were such huge expectations and a lot of naysayers that opening weekend," said Paul Dergarabedian, the senior media analyst for Comscore. "But 'Avatar,' for a James Cameron movie, is moving at lightning speed up the domestic and global box office chart. I think he always knew this would be a $2 billion movie."
Second place went to Universal and Blumhouse's "M3GAN" which in its second weekend in theaters added $17.9 million through Sunday and an estimated $21.2 million including Monday. The modestly budgeted thriller that cost a reported $12 million to produce has made $59.8 million in North America.
Horror movies typically have very steep second weekend drop offs in ticket sales, but "M3GAN" only fell 41%. Dergarabedian said that's almost unheard of for a horror picture and shows "world class staying power."
Universal also claimed the third place spot, with "Puss in Boots: The Last Wish," which audiences continued to seek out in theaters even though it's currently available to rent at home. The family-friendly animated film added $13.4 million in its fourth weekend, bringing its domestic total to $110.3 million.
"A Man Called Otto," from Columbia Pictures, expanded to 3,802 theaters this weekend, adding $12.7 million through Sunday, and $15 million including Monday, to take fourth place. Directed by Marc Forster, the adaptation of "A Man Called Ove" starring Tom Hanks is proving to be something of a rarity in the theatrical marketplace as an adult-targeted drama that is doing well.
The Gerard Butler action pic "Plane," a Lionsgate acquisition for release in North America, rounded out the top five with a better-than-expected $10 million in its first three days. In the film, Butler plays a pilot whose crash landing on an island is only the first of his troubles. On the island, most of the passengers are taken hostage. "Plane" got better-than-average reviews with 75% positive from critics on Rotten Tomatoes.
Sixth place went to the second major new offering this weekend, "House Party," a reboot of Reginald Hudlin's 1990 hit that spawned several spinoffs. The film, which made $3.9 million through Sunday from 1,400 locations, was originally intended as a straight-to-HBO Max property but Warner Bros. pivoted to a theatrical release as a gesture to audiences and exhibitors hungry for new films. The R-rated, youth-oriented comedy did not score well with critics.
Overall, the three-day box office total is going to net out around $100 million, which is not quite at pre-pandemic levels, but still up some 44% from the same weekend last year.
"January is not going to be the slow month we thought. It's a great combination of films out there that's not just dominated by 'Avatar: The Way of Water,'" Dergarabedian said. "Theaters need movies and the studios are supplying those."
Estimated ticket sales for Friday through Sunday at U.S. and Canadian theaters, according to Comscore, with Wednesday through Sunday in parentheses. Final domestic figures will be released Monday.
1. "Avatar: The Way of Water," $31.1 million.
2. "M3GAN," $17.9 million.
3. "Puss in Boots: The Last Wish," $13.4 million.
4. "A Man Called Otto," $12.7 million.
5. "Plane," $10 million.
6. "House Party," $3.9 million.
7. "Black Panther: Wakanda Forever," $2.2 million.
8. "The Whale," $1.5 million.
9. "I Wanna Dance With Somebody," $1.2 million.
10. "Waltair Veeraya," 905,000.
Fiza Ali had to cry to get payment of her work in industry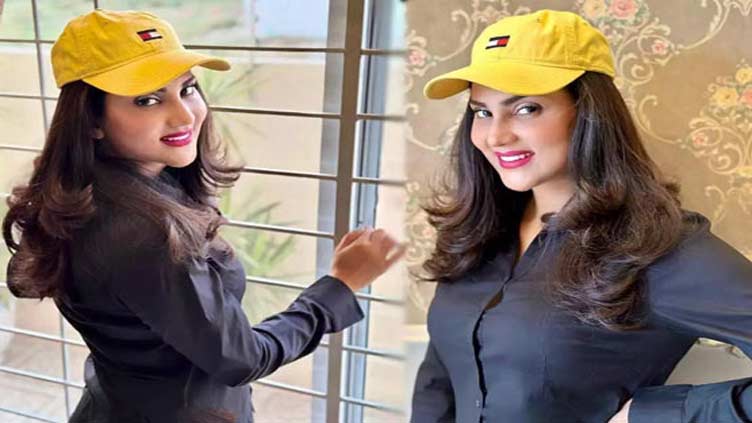 Renowned Pakistani actor Fiza Ali faced really difficult time in the showbiz industry.
In her latest interview, the actor revealed that she had to cry to get her due payment in this industry.
Fiza extensively talked about the highs and lows of her showbiz career in the interview.
"I can still remember the days when my mother got ill and I had to beg to get my payment of my work," the actor said.
She added that she sold out her flat and managed the treatment of her mother. Her mother was a cancer patient and she needed money for treatment.
Peter Hawkings offers slinky designs in Tom Ford debut at Milan Fashion
British designer Peter Hawkings made his Tom Ford debut at Milan Fashion Week while offering an array of sleek suits, slinky dresses and towering stilettos for women next summer.
Models wore fitted trouser suits as well as jackets paired with tiny matching shorts, figure-hugging long frocks and short leather dresses.
There were also velvet suits, unbuttoned silky shirts and tasselled dresses and skirts.
Show notes said Hawkings took inspiration for the Summer 2024 collection from late Detroit-born Black supermodel Donyale Luna, who was a muse for artist Andy Warhol and photographer Richard Avedon.
No deal yet as Hollywood writers, studios talk for third straight day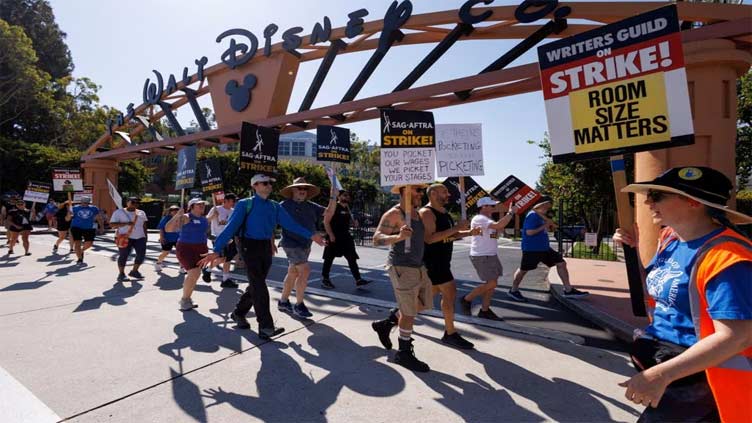 Striking Hollywood writers and top studio executives met for a third straight day on Friday, ending with a decision to continue talks on Saturday as they try to end a work stoppage that has shut down film and TV production for months.
While workers across the entertainment industry waited for word of the outcome, no agreement was announced as the strike reached its 144th day.
The WGA said in a statement early on Saturday that the two sides would meet again on Saturday.
Walt Disney CEO Bob Iger, Netflix Co-CEO Ted Sarandos, Warner Bros Discovery CEO David Zaslav and Donna Langley, chairman of Comcast's NBCUniversal Studio Group, took part in the talks with the Writers Guild of America (WGA) for a third day.
Representatives for the Alliance of Motion Picture and Television Producers, which represents the studios, had no comment.
While the two sides met, union members turned out in large numbers in response to an appeal from WGA negotiators on Thursday to flood picket lines outside the studios.
In the crowd outside Netflix on Friday was "Mad Men" creator and writer Matthew Weiner, who like others voiced optimism that the recent talks signaled progress was being made.
"I'm hopeful," Weiner said of the possibility that the strike could be coming to an end. "I would like to go back to work and I would like to start mending these relationships."
Roughly 11,500 WGA members walked off the job in May, demanding higher pay and residuals in the streaming TV era plus limits around the use of artificial intelligence.
Producer and WGA member Al Septien, also picketing outside Netflix on Friday, said he wanted to get back to work, but only under the right terms.
"We've been out here a long time. We don't want to fold for a less-than-fair and good contract for the writers," he said.
The SAG-AFTRA actors union also is on strike after walking off the job in July.