KP governor dissolves assembly on CM Mahmood's advice
Khyber Pakhtunkhwa Governor Haji Ghulam Ali on Wednesday signed a summary sent by Chief Minister Mahmood Khan for dissolution of the provincial assembly.
The governor has directed Mr Khan to continue as chief minister until the caretaker set-up is finalised. He has also asked the chief minister and opposition to select a name for the caretaker CM position.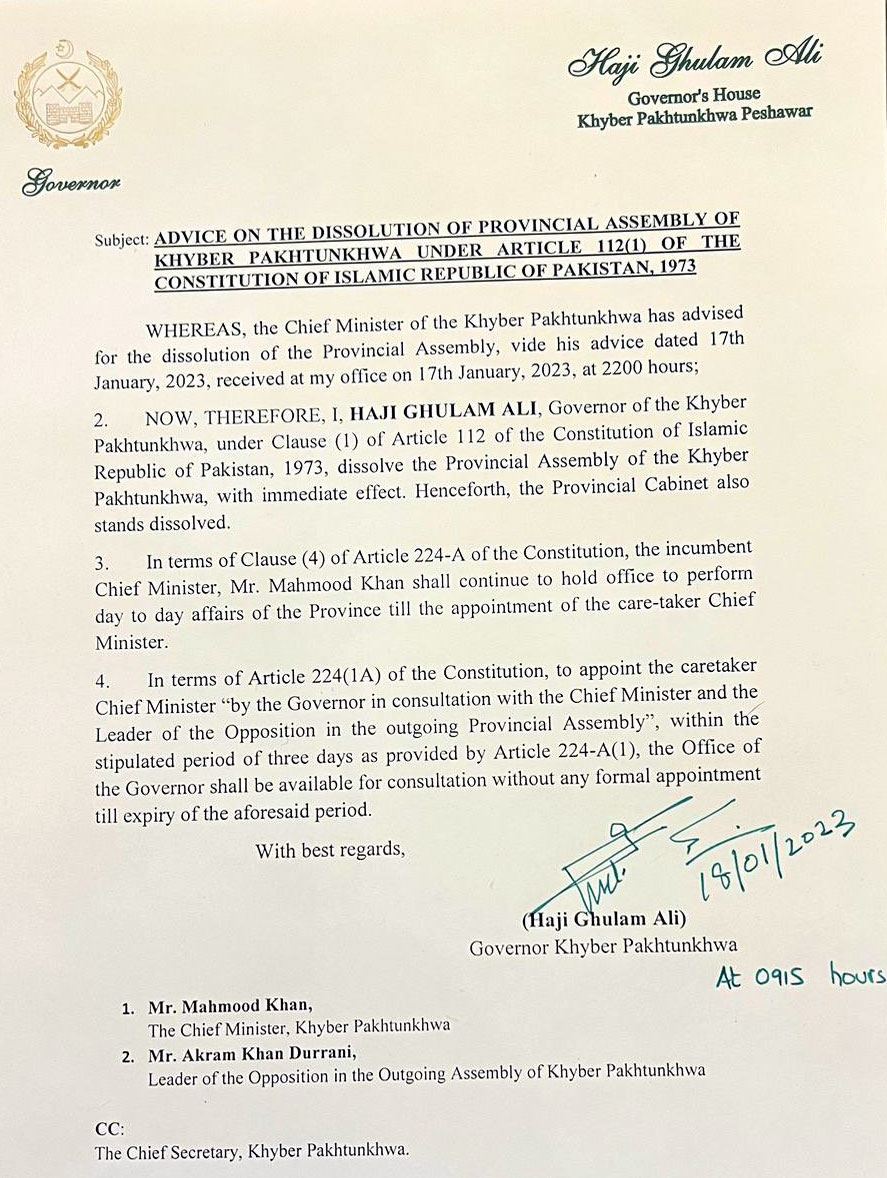 A day earlier, the chief minister sent the summary to the governor, stating: "I, Mahmood Khan, Chief Minister, Khyber Pakhtunkhwa in pursuance of provisions in Article 112(1) of the Constitution of Islamic Republic of Pakistan, do hereby forward my advice for dissolution of provincial assembly of Khyber Pakhtunkhwa on 17th January, 2023, at 2100 hours (9pm)."
This comes just days after Chief Minister Chaudhry Parvez Elahi dissolved Punjab Assembly as part of Pakistan Tehreek-e-Insaf (PTI) chairman Imran Khan s strategy to exert pressure on the federal government to announce date for the general election.
As the assembly is dissolved, the government and opposition will recommend three names each for the interim CM post and they will have three days to reach an agreement on one name. If the deadlock between both sides persists, the governor will then ask the KP Assembly speaker to form a parliamentary committee to resolve the issue.
The matter for selection of the interim chief minister will be sent to the Election Commission of Pakistan (ECP) if the committee fails to reach a consensus.
Fuel shortages loom amid Pakistan's economic woes
Pakistan could face a crunch in fuel supplies in February as banks have stopped financing and facilitating payments for imports due to depleting foreign exchange reserves, traders and industry sources said.
The country is facing a balance of payments crisis and the plummeting value of the rupee is pushing up the price of imported goods. Energy comprises a large chunk of the import bill.
Pakistan typically meets more than a third of its annual power demand using imported natural gas, prices for which shot up following Russia's invasion of Ukraine.
"There is no shortage this fortnight. If we don't have LCs (letters of credit) open right now, we might see shortages in the next fortnight," a senior official at one of the oil companies told Reuters.
A letter of credit issued by the importer's banks is a standard form of payment guarantee in the oil trade to the exporter.
Oil traders, however, are shunning countries such as Pakistan and Sri Lanka due to an acute shortfall of foreign exchange. Pakistan on Sunday raised petrol and diesel prices by 16 per cent to Rs249.80 a litre and is in talks with the International Monetary Fund to unlock a suspended bailout package.
State-owned refiner Pakistan State Oil (PSO) and Pakistan LNG Ltd have left a flurry of fuel tenders unawarded in the last couple of months.
At an industry meeting on financial challenges faced by fuel importers, State Bank of Pakistan officials cited "severe liquidity issues" faced by the country for delays in the opening of LCs, according to a Jan 19 letter from Imran Ahmed, director general of oil, reviewed by Reuters.
At the same meeting, the managing director of PSO said a gasoline cargo due for loading on Jan 13 has already been cancelled due to the non-opening of LCs. "He added that the country is having limited stocks and such a situation can lead to dry out," according to the letter.
Previously, the Oil Companies Advisory Council (OCAC), representing refining, pipeline, and marketing companies, also flagged that delays in the opening of LCs could "lead to a fuel shortage in the country".
In a Jan 13 letter to the Ministry of Finance, OCAC said Pakistan needs to import around 430,000 tonnes of gasoline, 200,000 tonnes of diesel, and 650,000 tonnes of crude oil every month, costing $1.3 billion to meet local demand.
"If LCs are not established on a timely basis, critical imports of petroleum products would be impacted which may lead to a fuel shortage in the country," the OCAC said.
Pakistan bought only 223,000 tonnes of gasoline in December versus 608,000 tonnes in the same period a year earlier, data from Kpler showed. In January this year, the country was projected to import 270,000 tonnes of the fuel, compared with 393,000 tonnes in the same month in 2022, the data showed.
Some banks have denied delays in issues of LCs, while SBP did not respond to a Reuters email seeking comment.
"If there are no issues with LCs in Pakistan then why have the SBP and sector been holding meetings all of last week?" a senior official from one of the oil companies said.
PSO said last week it was ensuring a seamless supply of gasoline and oil across the country and had ample stocks.
It also said its import cargoes were arriving smoothly as planned.
PM encourages UNEP to support Pakistan's rehabilitation efforts
Prime Minister Shehbaz Sharif on Tuesday stressed that Pakistan, being one of the countries most vulnerable to climate change, needed a global response to build resilience.
The prime minister stated this in a meeting with Inger Andersen, Executive Director of the UN Environment Program (UNEP), who is on an official visit to Pakistan.
PM Shehbaz Sharif appreciated the work being done by UNEP and called for enhanced efforts to address climate change, biodiversity loss, and ecosystem degradation, more effectively. He regarded climate change as one of the defining issues of present times.
The Executive Director briefed the prime minister on the initiatives being taken by UNEP in Pakistan.
The prime minister also encouraged UNEP, as part of the UN system, to contribute to and support Pakistan's efforts to build back better and greener after the devastating floods in the country.
Fascist mindset trying to remove Shujaat as PML-Q president defeated: Marriyum
Minister for Information and Broadcasting Marriyum Aurangzeb said on Tuesday the fascist mindset that planned to remove Chaudhry Shujaat as the PML-Q president was defeated.
In a tweet, she congratulated PML-Q president Chaudhry Shujaat Hussain and said the order of the Election Commission of Pakistan was a message that the decisions would be made in the light of the Constitution and the law, not in darkness.
The fascism of burning, demolishing, killing, picking up and throwing away was not imposed in the country now, she said. Now everything would be done according to the constitution and law, she added.