US-China officials meet on economy, aim to ease tension
U.S. Treasury Secretary Janet Yellen met Wednesday with her Chinese counterpart and pledged an effort to manage differences and "prevent competition from becoming anything ever near conflict" as the two nations try to thaw relations.

Yellen's first face-to-face meeting with Vice Premier Liu He was the highest-ranking contact between the two countries since their presidents agreed last November to look for areas of potential cooperation.

Liu, for his part, said he was ready to work together to seek common ground between China and the U.S.

"No matter how circumstances change, we should always maintain dialogue and exchanges," he said.

The meeting comes as the U.S. and Chinese economies grapple with differing, but intertwined challenges on trade, technology and more.

Yellen, in opening remarks in front of reporters, told Liu: "While we have areas of disagreement, and we will convey them directly, we should not allow misunderstandings, particularly those stemming from a lack of communication, to unnecessarily worsen our bilateral economic and financial relationship."

She said the two countries "have a responsibility to manage our differences and prevent competition from becoming anything even near conflict."
Both economies have their challenges.

The Chinese economy is reopening after a COVID-19 resurgence killed tens of thousands of people and shuttered countless businesses. The U.S. is slowly recovering from 40-year-high inflation and is on track to hit its statutory debt ceiling, setting up an expected political showdown between congressional Democrats and Republicans. The debt issue is of keen interest to Asia, as China is the second-largest holder of U.S. debt.

There is also the Russian invasion of Ukraine, which hinders global economic growth — and has prompted the U.S. and its allies to agree on an oil price cap on Russia in retaliation, putting China in a difficult spot as a friend and economic ally of Russia.

And high interest rates globally have increased pressure on debt-burdened nations that owe great sums to China.

"A wrong policy move or a reversal in the positive data and we could see the global economy head into a recession in 2023," said Josh Lipsky, senior director of the Atlantic Council's GeoEconomics Center. "Both countries have a shared interest in avoiding that scenario."

The World Bank reported last week that the global economy will come " perilously close " to a recession this year, led by weaker growth in all the world's top economies — including the U.S. and China. Low-income countries are expected to suffer from any economic downturns of superpowers, the report said.

 
"High on the list is debt restructuring," Lipsky said of Wednesday's talks. Several low-income countries are at risk of debt default in 2023 and many of them owe large sums to China.

"Leaders have been trying for two years to get some agreement and avoid a wave of defaults but there's been little success and one reason is China's hesitancy. I expect Yellen to press Liu He on this in the meeting," Lipsky said.

Liu laid out an optimistic vision for the world's second-largest economy in an address Tuesday at the World Economic Forum in Davos, Switzerland.
"If we work hard enough, we are confident that in 2023, China's growth will most likely return to its normal trend. The Chinese economy will see a significant improvement," he said.

After her stop in Switzerland, Yellen will travel to Zambia, Senegal and South Africa this week in what will be the first in a string of visits by Biden administration officials to sub-Saharan Africa during the year.

Zambia is renegotiating its nearly $6 billion debt with China, its biggest creditor. During a closed-door meeting at the Africa Leaders Summit in Washington in December, Yellen and Zambian President Hakainde Hichilema discussed "the need to address debt sustainability and the imperative to conclude a debt treatment for Zambia," according to Yellen.

The Zurich talks are a follow-up to the November meeting between President Joe Biden and China's Xi Jinping on the sidelines of the Group of 20 summit in Bali, Indonesia.
The two world leaders agreed to empower key senior officials to work on areas of potential cooperation, including tackling climate change and maintaining global financial, health and food stability. Beijing had cut off such contacts with the U.S. in protest of then-House Speaker Nancy Pelosi's trip to Taiwan in August.

"We're going to compete vigorously. But I'm not looking for conflict," Biden said at the time.

U.S. Secretary of State Antony Blinken will be traveling to China in early February.

Among economic sticking points, the Biden administration blocked the sale of advanced computer chips to China and is considering a ban on investment in some Chinese tech companies, possibly undermining a key economic goal that Xi set for his country. Statements by the Democratic president that the U.S. would defend Taiwan against a Chinese invasion also have increased tensions.

And while the U.S. Congress is divided on many issues, members of the House agreed last week to further scrutinize Chinese investments.

New House Speaker Kevin McCarthy of California has identified the Communist Party of China as one of two "long-term challenges" for the House, along with the national debt.
"There is bipartisan consensus that the era of trusting Communist China is over," McCarthy said from the House floor last week when the House voted 365 to 65 — with 146 Democrats joining Republicans — to establish the House Select Committee on China.

Last year, the U.S. Commerce Department added dozens of Chinese high-tech companies, including makers of aviation equipment, chemicals and computer chips, to an export controls blacklist, citing concerns over national security, U.S. interests and human rights. That move prompted the Chinese to file a lawsuit with the World Trade Organization.

Yellen has been critical of China's trade practices and its relationship with Russia, as the two countries have deepened their economic ties since the start of the war in Ukraine.
On a July call with Liu, Yellen talked "frankly" about the impact of the Russia's invasion of Ukraine on the global economy and "unfair, non-market" economic practices, according to a U.S. recap of the call.
India formulate security plan for World Cup 2023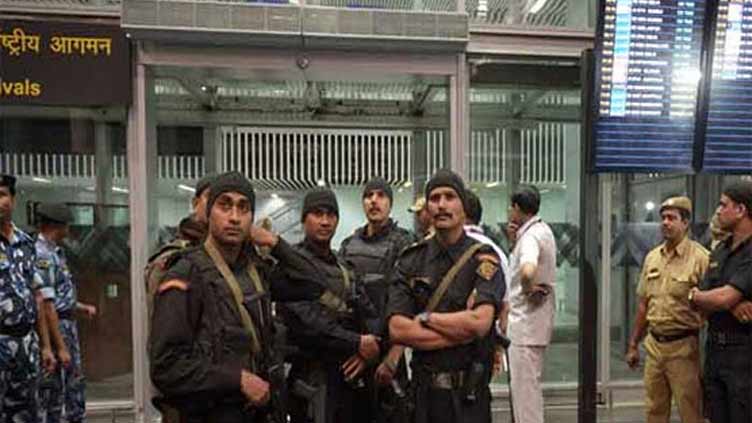 India have chalked out a comprehensive plan for multi-layer security and management of traffic for the upcoming ICC Men's World Cup 2023.
A security official told Indian media that arrangements had been made for smooth influx of fans into the stadiums and maintain uninterrupted traffic flow on roads.
He said multi-layer security plan had been designed for the mega event, adding that a communication system would also be established for seamless coordination between security agencies and local cricket association.
The security teams would ensure the safe movement of teams from hotel to stadium and back by creating secure pathways.
As several stadiums, including Pune, are situated at a considerable distance from the city, seamless arrangements have been made to handle the logistical challenge in an effective way.
Commissioner of Pimpri Chinchwad police Vinoy Kumar Choubey said told Indian media, "We will be putting in place a multi-layer security cover in and around the stadium. A detailed plan for the same is in the making.
"Each layer will have a specific purpose and a pre-decided number of personnel and officers will be tasked to secure each layer. A communication channel has been established between the MCA office bearers and our team."
South Korea opposition leader ends 24-day hunger strike
South Korea's opposition leader ended a 24-day hunger strike on Saturday, a party spokesperson said, two days after parliament voted to let prosecutors serve an arrest warrant against him for alleged bribery.
Lee Jae-myung, leader of the Democratic Party of Korea, will maintain a schedule including court attendance while hospitalised for the time being, the spokesman told reporters.
Prosecutors this month sought the warrant in an investigation into bribery allegations concerning a development project. Prosecutors accuse Lee of asking a company to illegally transfer $8 million to North Korea when he was the governor of Gyeonggi Province.
He is also accused of breaching his duty over losses of 20 billion won ($15 million) by a municipal development corporation when he was mayor of Seongnam city.
Lee, who lost South Korea's presidential election to conservative Yoon Suk Yeol last year, has denied wrongdoing, calling the allegations "fiction" and a "political conspiracy".
He began his protest on Aug. 31, citing the government's economic mismanagement, threats to media freedom and the failure to oppose Japan's release of wastewater from the wrecked Fukushima nuclear plant, among other reasons.
Thursday's surprise vote by parliament, controlled by Lee's party, has caused an uproar among his supporters.
Police on Saturday detained a man in his 40s who had posted the names of more than a dozen lawmakers outside Lee's party faction, writing "gotta search for the sniper rifle at home", said an official with the Gyeonggi Nambu Provincial Police. Police will seek an arrest warrant against him for intimidation, the official said.
South Korea is to hold parliamentary elections in April.
Landslide causes large chunk of Swedish motorway to collapse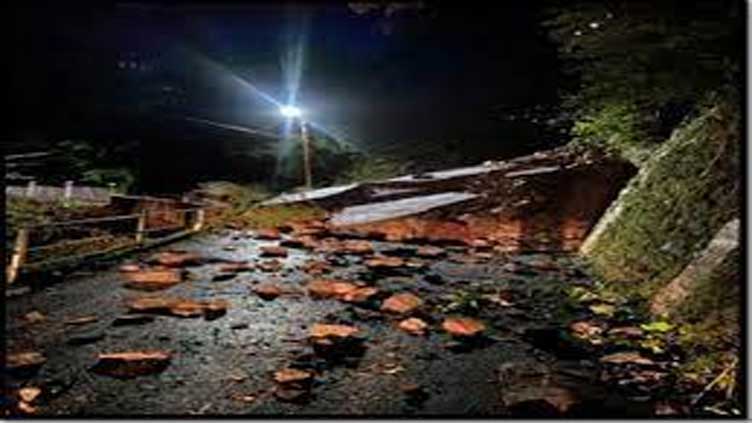 A large chunk of a motorway in southwest Sweden collapsed overnight, causing three people to be taken to hospital with light injuries, police said on Saturday.
The landslide damaged the motorway between Sweden's second-biggest city Gothenburg and Norway's capital Oslo, near the small town of Stenungsund, around 50 km north of Gothenburg on Sweden's west coast.
"The landslide has affected an area of around 100 x 150 meters, around ten vehicles, a wooded area, and a business area with a gas station and a fast food restaurant," the Gothenburg Rescue Services said.
"A number of people have been helped out of vehicles in the slide area with the help of fire personnel and a helicopter," they said. Several cars and one truck had fallen into holes and cracks caused by the landslide, Swedish news agency TT reported.
A rescue services spokesperson told public broadcaster SVT all people in the vehicles had been helped out. The rescue services said specially trained staff and search dogs would now search the area, and that further slides could not be ruled out.