Sundance celebrates the 'magic' of being back in-person
The Sundance Film Festival met the moment by going virtual for the past two years because of the coronavirus pandemic. But on Thursday, there was a palpable sense of relief from the festival's leadership team at being in-person again.
Sundance Institute CEO Joana Vicente, director of programming Kim Yutani, senior programmer John Nein and incoming Sundance Film Festival director Eugene Hernandez gathered Thursday afternoon in Park City, Utah, to discuss what's to come. Just outside, on a snowy Main Street, finishing touches were being put on storefronts and restaurants that sponsors have taken over for the week.
"It feels so good to be back in person," Vicente said. "There's nothing like the magic of being together in Park City."
Yutani also announced the last-minute addition of "Justice," a documentary from filmmaker Doug Liman about allegations against Supreme Court Justice Brett Kavanaugh, that will debut Friday.
"It was a powerful documentary that we felt was important to add," Yutani said. "We saw it, like, yesterday."
Eleven films have their world premieres Thursday night, including the documentary "Little Richard: I Am Everything" and the Frankenstein-inspired psychological horror "birth/rebirth," about a morgue technician who reanimates a little girl. Also on Thursday, "Shayda," about an Iranian mother and her 6-year-old daughter who go to a women's shelter in Australia, "The Longest Goodbye," a documentary about a NASA psychologist preparing Mars-bound astronauts for social isolation, the Daisy Ridley film "Sometimes I Think About Dying" and "Kim's Video," a documentary about a hunt for a lost video collection of 55,000 movies.
Programmers watched 16,000 films to determine this year's slate of 111 films and say that there is something for everyone. Biographical documentaries, films about world issues and diasporic filmmaking are especially popular this year.
Nein said that he expects audiences to be buzzing about the performances of both known stars like Jonathan Majors, in "Magazine Dreams," Cynthia Erivo, in "Drift," and Eugenio Derbez in "Radical" and newcomers like Lío Mehiel in "Mutt" and Priya Kansara in "Polite Society."
The Sundance Institute is also hosting a dinner Thursday night honoring filmmaker Luca Guadagnino, Ryan Coogler, Nikyatu Jusu and W. Kamau Bell. There will also be a fundraising component to support the Institute's work. Vicente said that it has been a challenging few years for the Institute, financially.
Sundance is not just a festival, after all. The non-profit institute, founded by Robert Redford in 1981, provides year-round support to emerging filmmakers with labs, fellowships and mentorship.
"The festival is this amazing platform to celebrate and share with audiences," Vicente said. "But really, as Robert Redford says, the engine, the most important work we do happens year-round."
Filmmaker Sophie Barthes, whose film "The Pod Generation" is among the opening night selections, attributes her career to the Sundance Institute. Her first short film debuted at the festival almost 20 years ago, marking the beginning of a relationship that continues to this day. Over the years, she participated in the director's lab, the composers' lab and the writers' lab. It's also where she debuted her first feature, "Cold Souls," with Paul Giamatti, in 2009.
"I wouldn't be here without Sundance," Barthes said in a recent interview. "They helped my career so much. I had like 50 advisers, the best of the best in the industry. It was like a film school on steroids. For filmmakers it's the best thing that can happen to you because once you enter the family, they help and support you."
Her film "The Pod Generation" is a futuristic satire about a New York couple (played by Emilia Clarke and Chiwetel Ejiofor) who use an "artificial womb" to get pregnant. She wanted to explore not-so-far-off advancements like artificial gestation and AI therapy and poke at ideas like detachment parenting.
"It's a satire about the fact that we've lost so many of our instincts because of this modern life, we're trying to reinvent the wheel and it becomes very comical," Barthes said. "I think it's very funny to explore the psychology of parents, especially in New York."
She hopes the film raises a debate about our relationship to technology. It will also be part of the "beyond film" conversations taking place in Park City outside of the cinemas throughout the week. Subjects range from how to cross-over from television to film, with "Flight Attendant" director Susanna Fogel whose "Cat Person" is premiering at the festival, to representation, with Randall Park and Marlee Matlin. There will be conversations about making your first feature and even burnout, with Majors, food writer Ruth Reichl and graphic novelist Adrian Tomine. Many of the sponsors, from Acura to Adobe, are also hosting timely conversations as well about climate change in movies, reclaiming trans narratives, building inclusive productions and even getting into Sundance.
The festival has continued to evolve over the past few years. Though in-person was the priority, they also committed to a hybrid format. This year some 80 films will be available to watch online for ticketholders. The digital package, Vicente said, sold out very quickly.
Fiza Ali had to cry to get payment of her work in industry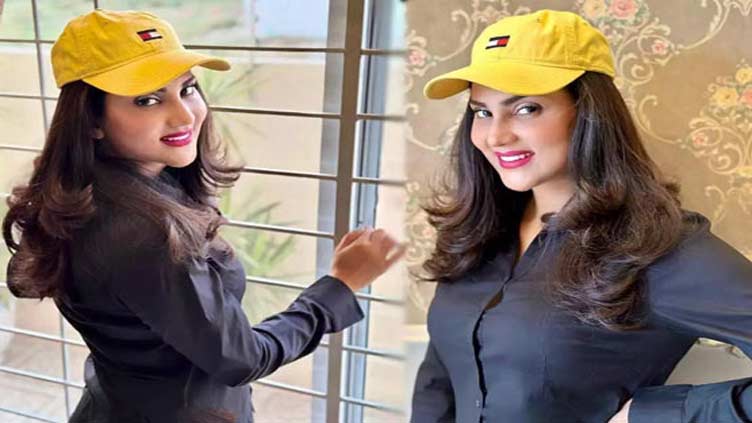 Renowned Pakistani actor Fiza Ali faced really difficult time in the showbiz industry.
In her latest interview, the actor revealed that she had to cry to get her due payment in this industry.
Fiza extensively talked about the highs and lows of her showbiz career in the interview.
"I can still remember the days when my mother got ill and I had to beg to get my payment of my work," the actor said.
She added that she sold out her flat and managed the treatment of her mother. Her mother was a cancer patient and she needed money for treatment.
Peter Hawkings offers slinky designs in Tom Ford debut at Milan Fashion
British designer Peter Hawkings made his Tom Ford debut at Milan Fashion Week while offering an array of sleek suits, slinky dresses and towering stilettos for women next summer.
Models wore fitted trouser suits as well as jackets paired with tiny matching shorts, figure-hugging long frocks and short leather dresses.
There were also velvet suits, unbuttoned silky shirts and tasselled dresses and skirts.
Show notes said Hawkings took inspiration for the Summer 2024 collection from late Detroit-born Black supermodel Donyale Luna, who was a muse for artist Andy Warhol and photographer Richard Avedon.
No deal yet as Hollywood writers, studios talk for third straight day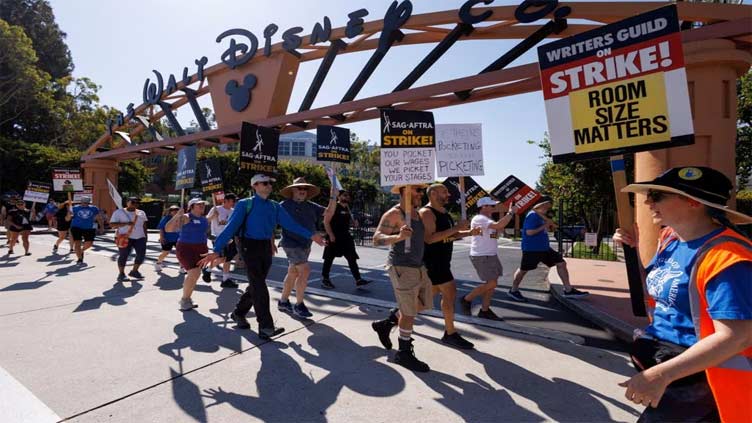 Striking Hollywood writers and top studio executives met for a third straight day on Friday, ending with a decision to continue talks on Saturday as they try to end a work stoppage that has shut down film and TV production for months.
While workers across the entertainment industry waited for word of the outcome, no agreement was announced as the strike reached its 144th day.
The WGA said in a statement early on Saturday that the two sides would meet again on Saturday.
Walt Disney CEO Bob Iger, Netflix Co-CEO Ted Sarandos, Warner Bros Discovery CEO David Zaslav and Donna Langley, chairman of Comcast's NBCUniversal Studio Group, took part in the talks with the Writers Guild of America (WGA) for a third day.
Representatives for the Alliance of Motion Picture and Television Producers, which represents the studios, had no comment.
While the two sides met, union members turned out in large numbers in response to an appeal from WGA negotiators on Thursday to flood picket lines outside the studios.
In the crowd outside Netflix on Friday was "Mad Men" creator and writer Matthew Weiner, who like others voiced optimism that the recent talks signaled progress was being made.
"I'm hopeful," Weiner said of the possibility that the strike could be coming to an end. "I would like to go back to work and I would like to start mending these relationships."
Roughly 11,500 WGA members walked off the job in May, demanding higher pay and residuals in the streaming TV era plus limits around the use of artificial intelligence.
Producer and WGA member Al Septien, also picketing outside Netflix on Friday, said he wanted to get back to work, but only under the right terms.
"We've been out here a long time. We don't want to fold for a less-than-fair and good contract for the writers," he said.
The SAG-AFTRA actors union also is on strike after walking off the job in July.