Anoushey Ashraf calls Shah Rukh Khan 'universal star'
Shah Rukh Khan has a crazy fan following all over the world and in Pakistan, he has a super fan in Pakistan VJ and host Anoushey Ashraf as she called Bollywood actor a "universal superstar".
"As much as people dislike him, as much as Pakistan's feel we shouldn't promote Bollywood. For me, SRK is a universal superstar. As artists we believe we connect to people beyond borders (which is an awful man made concept), the world only knows us as humans and this human has done remarkable stuff," shared the VJ.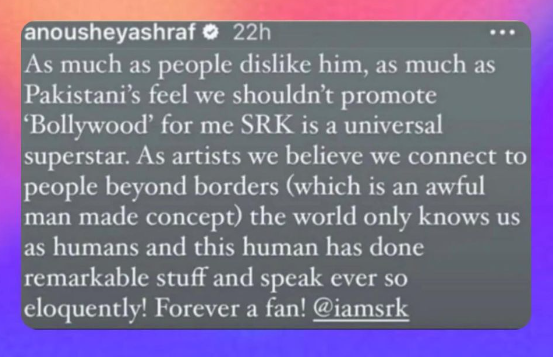 Earlier, Amar Khan took to her Twitter handle to share her excitement about Bollywood superstar Shah Rukh's comeback film "Pathaan's" release.
Amar tweeted, "Reviving back so many single screens. Now that's the hysteria of a King! Ufff last saw his 'zero' in Pakistan, then films got banned on both sides. Watching Shahrukh khan on screen is not viewing a film it's witnessing an event. This man withstood all TVs, VCRs, digital and whatnot."
After "Pathaan's" release, veteran Pakistan actor Atiqa Odho expressed her love for "Don 2" actor and praised him for keeping in touch with his Peshawar roots.
Atiqa Odho shared a throwback picture of her encounter with Shah Rukh at the sets of his film "Devdas" in 2002 and also penned a heartfelt note for "a celebrated film star who's humble, polite and caring".
She wrote, "A celebrated film star whose humble, polite, caring and above all has roots and family in Peshawar with whom he stays in touch. Such a sweet and friendly person. Happy that his film Pathaan has done so well".
Atiqa then expressed her disappointment with the political tension that has made it difficult for artists to work across borders.
"Wish politics wouldn't restrict artists from working together as collaborative work would engage a larger global audience for both sides for sure", the actress concluded.
Shah Rukh's comeback film "Pathaan" which has released on the Jan 25, broke records at the box office as the film became the highest-grossing film on its release day.
Relatives taunted me for joining showbiz world, Sadia Imam
Relatives taunted me for joining showbiz world, Sadia Imam
Recently, renowned Pakistani actor Sadia Imam talked about taunts she received from her relatives after joining the showbiz industry.
She recently participated in a private TV show and spoke openly about various topics including her career and marriage.
Talking about marriage, she said that after joining the showbiz industry, the first taunt came from her own relatives as they said she would not get married and even if she does, it would be with an already married person.
She said that before marriage, her parents used to hear such things every day and she has seen them going through agony due to these uncalled for remarks.
However, she said,"I remained steadfast and told my parents that I would marry whomever they chose but work is my priority," Imam said.
Talking about her husband, she said she married a young man and now they both have beautiful children.
Amitabh Bachchan gifts his bungalow to daughter Shweta Nanda
Amitabh Bachchan gifts his bungalow to daughter Shweta Nanda
Bollywood megastar Amitabh Bachchan and his wife Jaya Bachchan gifted their bungalow in Mumbai's Juhu, Prateeksha, to their daughter Shweta Nanda.
The bungalow in the Vitthalnagar Cooperative Housing Society is spread over two plots measuring 674 square metres and 890.47 square metres, which are collectively valued at approximately Rs50.63 crore.
Two separate gift deeds were signed on Nov 8, and a stamp duty of Rs50.65 lakh was paid for the registration of the deed.
The Bollywood megastar and his family lived in Prateeksha for many years at the beginning of his career.
He also owns two other bungalows in Juhu – Jalsa and Janak.
Salman Khan's torn shoes trigger gossip on social media
Salman Khan's torn shoes trigger gossip on social media
Bollywood superstar Salman Khan recently won hearts when he stepped out to attend 'Farrey' screening, where he was seen wearing a pair of torn, faded shoes.
While Salman looked his usual dapper self in a dark shirt and a pair of formal pants, it was his shoes that caught everyone's attention.
One fan wrote, "New trend will start."
Another mentioned, "Well, those shoes might be comfortable for him !!" "He is Salman Khan. He doesn't need to show off," reacted yet another user on social media.
Salman was attending the Farrey screening, where he had also invited a bunch of celebrities.
At the event, he also posed with his Tiger 3 co-star and close friend, Katrina Kaif.
Katrina and Salman were last seen sharing screen space in the Maneesh Sharma directorial, Tiger 3.
The film, despite receving mixed reviews from the critics, has done a great business for itself at the ticket counter.