Anoushey Ashraf calls Shah Rukh Khan 'universal star'
Shah Rukh Khan has a crazy fan following all over the world and in Pakistan, he has a super fan in Pakistan VJ and host Anoushey Ashraf as she called Bollywood actor a "universal superstar".
"As much as people dislike him, as much as Pakistan's feel we shouldn't promote Bollywood. For me, SRK is a universal superstar. As artists we believe we connect to people beyond borders (which is an awful man made concept), the world only knows us as humans and this human has done remarkable stuff," shared the VJ.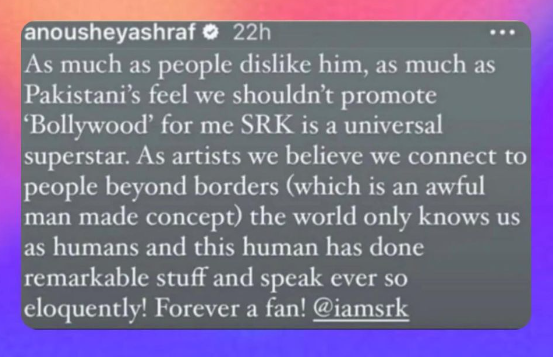 Earlier, Amar Khan took to her Twitter handle to share her excitement about Bollywood superstar Shah Rukh's comeback film "Pathaan's" release.
Amar tweeted, "Reviving back so many single screens. Now that's the hysteria of a King! Ufff last saw his 'zero' in Pakistan, then films got banned on both sides. Watching Shahrukh khan on screen is not viewing a film it's witnessing an event. This man withstood all TVs, VCRs, digital and whatnot."
After "Pathaan's" release, veteran Pakistan actor Atiqa Odho expressed her love for "Don 2" actor and praised him for keeping in touch with his Peshawar roots.
Atiqa Odho shared a throwback picture of her encounter with Shah Rukh at the sets of his film "Devdas" in 2002 and also penned a heartfelt note for "a celebrated film star who's humble, polite and caring".
She wrote, "A celebrated film star whose humble, polite, caring and above all has roots and family in Peshawar with whom he stays in touch. Such a sweet and friendly person. Happy that his film Pathaan has done so well".
Atiqa then expressed her disappointment with the political tension that has made it difficult for artists to work across borders.
"Wish politics wouldn't restrict artists from working together as collaborative work would engage a larger global audience for both sides for sure", the actress concluded.
Shah Rukh's comeback film "Pathaan" which has released on the Jan 25, broke records at the box office as the film became the highest-grossing film on its release day.
Quentin Tarantino doesn't want Brit actors in his last movie
Quentin Tarantino – the famous movie director – wants to make his last venture a strictly American affair by excluding the British actors as he thinks they really don't represent the US culture.
"Obviously, nothing against the Brits, but we're living in a really weird time now," he said in an interview given to a magazine at the recently-held Cannes Festival.
Tarantino – known for films like Pulp Fiction, Inglorious Basterds, Kill Bill Volume 1 and Kill Bill Volume II, The Hateful Eight – said, "I think when people look back on this era of cinema, and it's just all these British actors pretending to be Americans and all these Australian actors pretending to be Americans, it's like phantoms. Nobody is acting in their own voice."
"I think it's just a case that a bunch of Brits became more famous than the others. The Americans ceded their own ground. When I look at '70s cinema I want to see Robert De Niro, I want to see Al Pacino, I want to see Stacy Keach, you know, I want to see people like that reflecting the culture back to me."
According to Tarantino, it is based on a man who wrote for a pornographic magazine and set in 1977's California. The guy was never really famous and used to write movie reviews.
It means the inspiration comes from Tarantino's teenage job where he would load pornographic magazines into a vending machine and empty quarters out of the cash dispenser. He explains, "All the other stuff was too skanky to read, but then there was this porno rag that had a really interesting movie page."
3rd man charged in 2002 shooting death of Run-DMC star Jam Master Jay
A third man has been charged in the 2002 shooting death of Run-DMC star Jam Master Jay, prosecutors said Tuesday, marking the latest movement in a case that languished for years.
Federal prosecutors in the Eastern District of New York filed a superseding indictment on Tuesday, charging Jay Bryant, 49, in the death of Jason "Jay" Mizell, known professionally as Jam Master Jay.
Two other men, Ronald Washington and Karl Jordan Jr., had previously been indicted in August 2020 for the death of Jay. The hip-hop trailblazer was shot in the head in his studio on Oct. 30, 2002.
Bryant's attorney, César de Castro, said in an email that they had just learned of the charges.
"Securing an indictment in a secret grand jury, applying an extremely low burden of proof, is one thing. Proving it at trial is another matter," he said.
Bryant, from Queens, was in custody already on unrelated federal drug charges.
At the time the other two men were indicted, authorities said Jay's death involved a drug deal gone bad. In a letter filed with the court on Tuesday, prosecutors said Bryant and the two other men entered the building that evening, and then fled after the shooting. They said Bryant was seen going into the building, and his DNA was recovered at the scene.
Jay was in Run-DMC with Joseph "Run" Simmons and Darryl "DMC" McDaniel in the early 1980s. The group helped bring hip-hop music into the mainstream. Run DMC's hits include "King of Rock," "It's Tricky" and a remake of Aerosmith's "Walk This Way."
For years, Jay's death lingered as a cold case, with witnesses reluctant to speak up despite reward money being offered.
Nora Fatehi admires Helen, wants to play in her biopic
who starred in a Bollywood blockbuster Sholay – and now wants to be play in her biopic whenever there is an opportunity, as she responded to a question on the subject.
According to Fatehi, she studied all her videos properly, even the breathing spaces of the shoulder movements, the hands and just the aura. "I had to be feminine, I had to be poised, I had to be very flirty, and I had to own it."
Fatehi, 31, said it would be honour. "If the filmmakers ever think of me, because I feel like we have so many similarities."
"She came from a different country, I did, it was tough for both of us, we were introduced to the world through dance and that too in a different genre of dance."
Helen Ann Richardson Khan, now in her 80s, has appeared in over 1,000 films and is known for her supporting, character roles and guest appearances in a career spanning 70 years.
A recipient of Padma Shri by the Government of India, she has received two Filmfare Awards and is considered as one of the most popular dancers of her time.