Balloon bursts hopes for end to spiraling US-China tensions
Monday was supposed to be a day of modest hope in the U.S.-China relationship. Secretary of State Antony Blinken was going to be in Beijing, meeting with President Xi Jinping in a high-stakes bid to ease ever-rising tensions between the world's two largest economies.
Instead, Blinken was spending the day in Washington after abruptly cancelling his visit late last week as the U.S. and China exchanged angry words about a suspected Chinese spy balloon the U.S. shot down. As fraught as the US-China relationship had been ahead of Blinken's planned trip, it's even worse now and there's little hope for it improving anytime soon.
Even as both sides maintain they will manage the situation in a calm manner, the mutual recriminations, particularly since the shoot-down of the balloon on Saturday that drew a stern Chinese protest, do not bode well for rapprochement.
The setback comes at a time when both sides were looking for a way to potentially extricate themselves from a low point in ties that has had the world on edge.
White House National Security Spokesman John Kirby noted Monday that Blinken's trip was delayed, not canceled. But prospects for rescheduling remain uncertain.
"I would put this at a six" on a scale of 10, said Danny Russel, a China expert and former assistant secretary of state for East Asian and Pacific affairs in the Obama administration, on the damage to current diplomatic efforts between the two countries.
"The signals I see suggest that there has to be a pause and a line drawn under the incident but once the drama has gone through its final act, there seems to be every intention to re-engineer a trip by the secretary of state," said Russel, who is now vice president for international security and diplomacy at the Asia Society Policy Institute.
The administration will be "starting at a serious deficit," Russel said. "This is a setback but it's not impossible to see a return. Absent mismanagement, this is recoverable."
Blinken and senior Chinese officials do plan to attend at least two international gatherings — the Munich Security Conference in mid-February and a meeting of the Group of 20 foreign ministers in India in early March — that could provide venues for renewed engagement.
But the lost opportunity caused by the balloon incident may be difficult to recreate.
It's not that the U.S. and China don't talk. It's that they talk from extremely divergent points of view with very little leeway for either to step back from entrenched positions that are often directly related to political conditions at home.
Military-to-military channels are used, but they have been hindered by increasing Chinese incursions into Taiwanese air defense zones and aggressive actions in the South China Sea. The result is the U.S. has stepped up reconnaissance flights and warship voyages through the Taiwan Strait.
Diplomatic channels remain open, but for several years they have been dominated by disagreements rather than grounds for potential cooperation and they are now crowded by complaints from both sides over the balloon.
President Joe Biden and Xi agreed to Blinken's visit during a meeting in November in Indonesia. Biden may have been hoping that his top diplomat would return from China with a measure of progress on issues ranging from trade, Indo-Pacific security and climate change to human rights and the status of Taiwan. Instead, he now faces a domestic political maelstrom just ahead of his State of the Union speech to Congress on Tuesday.
Republican lawmakers have been harshly critical of what they say was Biden's weak response to the presence of the balloon over U.S. airspace. New GOP House speaker Kevin McCarthy's expected trip to Taiwan this year is likely to be accompanied by new complaints about the administration's approach.
Meanwhile in Beijing, after initially taking a relatively conciliatory response to the balloon, Chinese leaders have adopted a much tougher position likely in response to nationalistic public reaction. After apologizing for the balloon, which it said was a weather craft that mistakenly strayed into U.S. airspace, China now condemns the downing as an unacceptable violation of international law and standards that has set back the potential for dialogue.
"Blinken's visit to China had offered a way to stabilize the U.S.–China relationship," said Da Wei, director of the Center for International Security and Strategy at Beijing's prestigious Tsinghua University. The postponement has now "greatly reduced" the window for that, he said.
Quite apart from the political implications for both, the developments have laid bare the extremely fragile nature of what many had hoped could be a manageable economic, political and military rivalry.
Tensions between the U.S. and China, notably over Taiwan, have been a source of deep concern for Washington and many of its allies. They worry that overt conflict will crater the global economy and their concerns were exacerbated last year with Russia's invasion of Ukraine, on which China has largely sided with the Russians.
At the same time, China and the United States have been on a collision course on other matters, including China's increasing aggressiveness in the South and East China Seas, which have put U.S. allies like Japan, South Korea, the Philippines and Thailand on edge, not to mention Australia and New Zealand.
China's continued clampdown on pro-democracy activists in Hong Kong, its human rights record in the mainly Muslim western region of Xinjiang, harassment and imprisonment of Christians and other religious minorities elsewhere, and ongoing campaign against Tibetan leaders have all become significant irritants in ties.
Over the last five years, China-U.S. relations have entered a new and worsening phase of confrontation, conflict and competition, said Da, calling the current period a "new kind of Cold War."
"It's very different from the Cold War between the U.S. and the Soviet Union, but if we define cold war as the two biggest countries in the world being locked in fierce confrontations and conflicts in a way that doesn't involve military and wars … we are rapidly moving in that direction," Da said.
India formulate security plan for World Cup 2023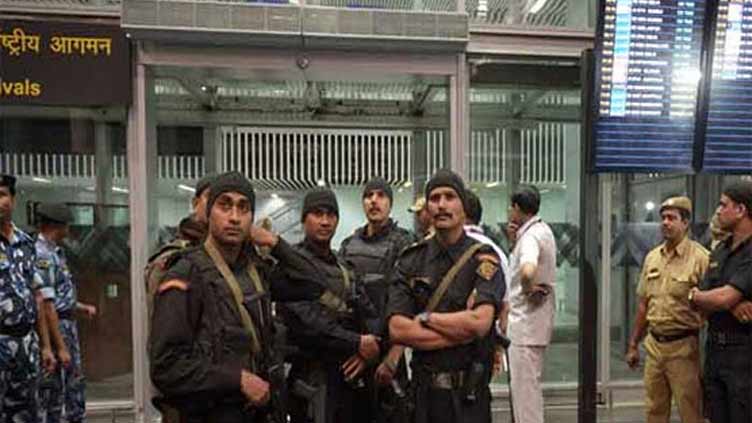 India have chalked out a comprehensive plan for multi-layer security and management of traffic for the upcoming ICC Men's World Cup 2023.
A security official told Indian media that arrangements had been made for smooth influx of fans into the stadiums and maintain uninterrupted traffic flow on roads.
He said multi-layer security plan had been designed for the mega event, adding that a communication system would also be established for seamless coordination between security agencies and local cricket association.
The security teams would ensure the safe movement of teams from hotel to stadium and back by creating secure pathways.
As several stadiums, including Pune, are situated at a considerable distance from the city, seamless arrangements have been made to handle the logistical challenge in an effective way.
Commissioner of Pimpri Chinchwad police Vinoy Kumar Choubey said told Indian media, "We will be putting in place a multi-layer security cover in and around the stadium. A detailed plan for the same is in the making.
"Each layer will have a specific purpose and a pre-decided number of personnel and officers will be tasked to secure each layer. A communication channel has been established between the MCA office bearers and our team."
South Korea opposition leader ends 24-day hunger strike
South Korea's opposition leader ended a 24-day hunger strike on Saturday, a party spokesperson said, two days after parliament voted to let prosecutors serve an arrest warrant against him for alleged bribery.
Lee Jae-myung, leader of the Democratic Party of Korea, will maintain a schedule including court attendance while hospitalised for the time being, the spokesman told reporters.
Prosecutors this month sought the warrant in an investigation into bribery allegations concerning a development project. Prosecutors accuse Lee of asking a company to illegally transfer $8 million to North Korea when he was the governor of Gyeonggi Province.
He is also accused of breaching his duty over losses of 20 billion won ($15 million) by a municipal development corporation when he was mayor of Seongnam city.
Lee, who lost South Korea's presidential election to conservative Yoon Suk Yeol last year, has denied wrongdoing, calling the allegations "fiction" and a "political conspiracy".
He began his protest on Aug. 31, citing the government's economic mismanagement, threats to media freedom and the failure to oppose Japan's release of wastewater from the wrecked Fukushima nuclear plant, among other reasons.
Thursday's surprise vote by parliament, controlled by Lee's party, has caused an uproar among his supporters.
Police on Saturday detained a man in his 40s who had posted the names of more than a dozen lawmakers outside Lee's party faction, writing "gotta search for the sniper rifle at home", said an official with the Gyeonggi Nambu Provincial Police. Police will seek an arrest warrant against him for intimidation, the official said.
South Korea is to hold parliamentary elections in April.
Landslide causes large chunk of Swedish motorway to collapse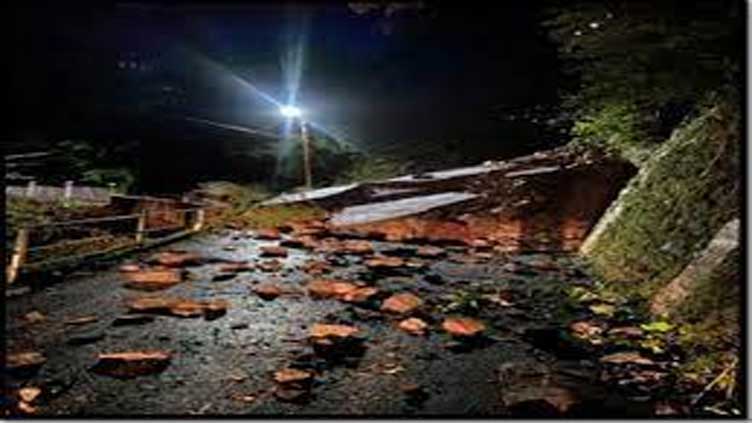 A large chunk of a motorway in southwest Sweden collapsed overnight, causing three people to be taken to hospital with light injuries, police said on Saturday.
The landslide damaged the motorway between Sweden's second-biggest city Gothenburg and Norway's capital Oslo, near the small town of Stenungsund, around 50 km north of Gothenburg on Sweden's west coast.
"The landslide has affected an area of around 100 x 150 meters, around ten vehicles, a wooded area, and a business area with a gas station and a fast food restaurant," the Gothenburg Rescue Services said.
"A number of people have been helped out of vehicles in the slide area with the help of fire personnel and a helicopter," they said. Several cars and one truck had fallen into holes and cracks caused by the landslide, Swedish news agency TT reported.
A rescue services spokesperson told public broadcaster SVT all people in the vehicles had been helped out. The rescue services said specially trained staff and search dogs would now search the area, and that further slides could not be ruled out.