Mystery Yemen drone strike renews questions over US campaign
Onlookers gathered around a small, four-door car coated in dried mud, peering through its shattered windows and torn-away roof at three dead men inside.

Tribal leaders identified the three — killed in late January near Yemen's central city of Marib — as suspected members of al-Qaida in the Arabian Peninsula, or AQAP, long considered one of the extremist group's most dangerous branches.

They appear to have been killed in a rare drone strike by the U.S., using a weapon that's been deployed sparingly in the past, typically against high-value targets.

The strike renews questions over the U.S. drone campaign in Yemen, now two decades old and just as secretive as ever despite promises from the Biden administration to put more rules in place to govern them. That secrecy, coupled with a years-long war ripping at Yemen, makes it even more difficult to determine and assess the reasons behind suspected American strikes.

The suspected al-Qaida members appear to have been killed by a Hellfire R9X, otherwise known as the "flying Ginsu" or "knife bomb," based on images of the wreckage analyzed by The Associated Press and weapons experts. The R9X, known only to be used by U.S. forces, has been used in other attacks attributed to America, including the Kabul airstrike last year that killed al-Qaida leader Ayman al-Zawahri.
The men killed in the Jan. 30 strike were not prominent members of the extremist group. One was identified as a bomb-maker, with little else known about him.

"The R9X is for high-value target killing and we don't have any 'Who is this guy, why does he merit this now?'" said David Sterman, a senior policy analyst at the Washington-based think tank New America, which for years has tracked U.S. drone strikes in Yemen. "If it is a U.S. strike, it raises substantial questions about what is the state of the U.S. drone war in Yemen."

The White House declined to answer questions about the apparent strike,

U.S. Air Forces Central, which oversees the Middle East, said it didn't have any information that its forces carried out any strike in Marib. The CIA, which is believed to have conducted R9X strikes including the one that killed al-Zawahri, declined to comment.

The U.S. government has released few public details about the the R9X Hellfire, which comes from a class of anti-tank missile used across the U.S. military for two decades. Analysts say that instead of a standard explosive warhead, the R9X has six rotating blades that pop just before the missile hits a target. In theory, this helps direct the weapon at a specific person and prevents wider casualties.

The scenes after attacks differ greatly, depending on the type of drone used.

Drones carrying explosives would leave smoldering rubble or even a crater, depending on the size of the munition. In suspected R9X attacks, such as the 2017 strike that killed a deputy al-Qaida leader in Syria, the roofs of targeted cars are torn through with clean lines across a multitude of cuts, while the rest of the vehicle remains intact.

This was also the case in the Jan. 30 strike, carried out in the Wadi Ubaydah area of Marib, some 130 kilometers (80 miles) east of the Yemeni capital of Sanaa. The capital has been held for years by the Iranian-backed Houthi rebel group which has been fighting against a Saudi-led military coalition for eight years.

New America, as well as the London-based investigative organization Airwars, cited experts and local reporting in saying that they suspected an R9X strike.

"It has all the features of other CIA strikes we've seen in the past, but until there's transparency, we can't know for sure," Airwars director Emily Tripp said.

Two local tribal leaders, speaking on condition of anonymity given the ongoing war and the presence of extremists in Marib, told the AP that those killed were AQAP members. Masked al-Qaida fighters surrounded the area after the strike, they said.

The leaders identified one of the dead as Hassan al-Hadrami. The Houthis, through the state-run SABA news agency they control, had identified al-Hadrami in 2021 as one of several "specialized" explosives experts in the al-Qaida branch. The extremists have been planting roadside explosives.

However, al-Hadrami was otherwise unknown to veteran Yemen watchers.

United Nations experts believe AQAP numbers a few thousand members supplemented by foreign fighters. Marib remains a stronghold for al-Qaida even though Saudi-backed allies of Yemen's internationally recognized government in exile are nominally in control of the city.

AQAP claimed the 2019 shooting at Naval Air Station Pensacola that saw an aviation student from Saudi Arabia kill three people and wound two. However, it otherwise has been unsuccessful in striking the U.S. while seeing its militants targeted by drone strikes over the last two decades.

The first drone strike of the post-9/11 world was carried out in Marib in 2002 under then-President George W. Bush, after a missile attack killed six people, including a U.S.
citizen. Since then, every American president — Barack Obama, Donald Trump and now Joe Biden — has authorized drone strikes in the Arab world's poorest country.

Biden in 2022 issued new guidelines curtailing the use of armed drones outside of war zones, requiring presidential approval before a suspected terrorist is added to the U.S.

government's target list for potential lethal action. However, those documents remain classified — making judging the reasons behind suspected strikes that much more difficult.
"These cases are happening in very remote areas with a lack of information," Tripp said. "It would be really good to know what the policy is and the rules are behind those engagements."
India formulate security plan for World Cup 2023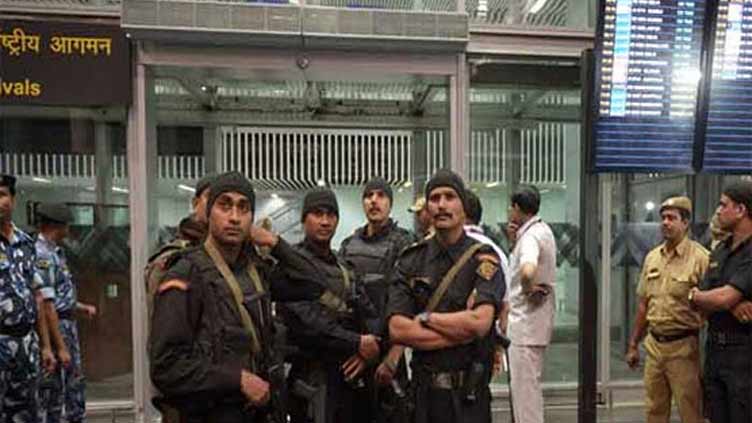 India have chalked out a comprehensive plan for multi-layer security and management of traffic for the upcoming ICC Men's World Cup 2023.
A security official told Indian media that arrangements had been made for smooth influx of fans into the stadiums and maintain uninterrupted traffic flow on roads.
He said multi-layer security plan had been designed for the mega event, adding that a communication system would also be established for seamless coordination between security agencies and local cricket association.
The security teams would ensure the safe movement of teams from hotel to stadium and back by creating secure pathways.
As several stadiums, including Pune, are situated at a considerable distance from the city, seamless arrangements have been made to handle the logistical challenge in an effective way.
Commissioner of Pimpri Chinchwad police Vinoy Kumar Choubey said told Indian media, "We will be putting in place a multi-layer security cover in and around the stadium. A detailed plan for the same is in the making.
"Each layer will have a specific purpose and a pre-decided number of personnel and officers will be tasked to secure each layer. A communication channel has been established between the MCA office bearers and our team."
South Korea opposition leader ends 24-day hunger strike
South Korea's opposition leader ended a 24-day hunger strike on Saturday, a party spokesperson said, two days after parliament voted to let prosecutors serve an arrest warrant against him for alleged bribery.
Lee Jae-myung, leader of the Democratic Party of Korea, will maintain a schedule including court attendance while hospitalised for the time being, the spokesman told reporters.
Prosecutors this month sought the warrant in an investigation into bribery allegations concerning a development project. Prosecutors accuse Lee of asking a company to illegally transfer $8 million to North Korea when he was the governor of Gyeonggi Province.
He is also accused of breaching his duty over losses of 20 billion won ($15 million) by a municipal development corporation when he was mayor of Seongnam city.
Lee, who lost South Korea's presidential election to conservative Yoon Suk Yeol last year, has denied wrongdoing, calling the allegations "fiction" and a "political conspiracy".
He began his protest on Aug. 31, citing the government's economic mismanagement, threats to media freedom and the failure to oppose Japan's release of wastewater from the wrecked Fukushima nuclear plant, among other reasons.
Thursday's surprise vote by parliament, controlled by Lee's party, has caused an uproar among his supporters.
Police on Saturday detained a man in his 40s who had posted the names of more than a dozen lawmakers outside Lee's party faction, writing "gotta search for the sniper rifle at home", said an official with the Gyeonggi Nambu Provincial Police. Police will seek an arrest warrant against him for intimidation, the official said.
South Korea is to hold parliamentary elections in April.
Landslide causes large chunk of Swedish motorway to collapse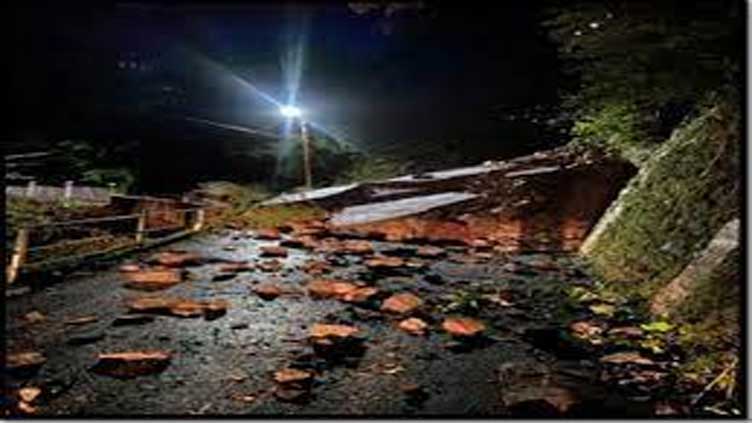 A large chunk of a motorway in southwest Sweden collapsed overnight, causing three people to be taken to hospital with light injuries, police said on Saturday.
The landslide damaged the motorway between Sweden's second-biggest city Gothenburg and Norway's capital Oslo, near the small town of Stenungsund, around 50 km north of Gothenburg on Sweden's west coast.
"The landslide has affected an area of around 100 x 150 meters, around ten vehicles, a wooded area, and a business area with a gas station and a fast food restaurant," the Gothenburg Rescue Services said.
"A number of people have been helped out of vehicles in the slide area with the help of fire personnel and a helicopter," they said. Several cars and one truck had fallen into holes and cracks caused by the landslide, Swedish news agency TT reported.
A rescue services spokesperson told public broadcaster SVT all people in the vehicles had been helped out. The rescue services said specially trained staff and search dogs would now search the area, and that further slides could not be ruled out.