Youth Programme – an opportunity for unemployed to excel
Young generation, especially the students, economists, researchers and emerging businessmen always prove to be the backbone of any country as they put in maximum efforts for creating strong economies and invincible nations.
Nations across the globe regardless of caste, creed and colour fully employ such squads to lay down sound economic, cultural and educational foundations not only for self-sufficiency but to compete internationally.
Therefore, the governments in respective countries off and on introduce programmes and policies to get optimum benefit from abilities of their youth by involving them in a variety of nation-building activities, and Pakistan is less to none.
The recent remarkable initiative of reviving the Prime Minister's Youth Business and Agriculture Loan scheme speaks volumes of the present government's commitment to cultivate and advance business to empower youth that comprises a big chunk of the country's total population.
"Such initiatives are a blessing for people like us in an era when there is economic recession and it is hard to get desired jobs," said Salman Ali, a youngster who is in search of a job after completing Mechanical Engineering degree.
"This initiative will enable people like me to earn a respectable living and promote entrepreneurship culture in the country to build a strong economy and address the issue of unemployment," he added.
Aimed at promoting entrepreneurship for youth by providing business loans and ensure bright future for them, this programme will facilitate all, including male, female, transgender and special persons between 21-45 years age to get loans up to Rs 7.5 million with 25 percent quota specified for women.
Terms and conditions will be simple and mark up lesser as 15 commercial, Islamic and SME banks will be providing loans to set up new as well as extension of the existing business, performing as catalyst for economic empowerment of the youth.
"Empowering youth is one of the top priorities of the government," said Prime Minister's Special Assistant on Youth Affairs, Shaza Fatima Khawaja. "It is our history that whenever the PML-N comes into power, it launches multiple schemes for students, unemployed youth and the small businessmen."
She said, "Through its youth and agriculture loan programme, the government aims to providing financial assistance to talented youth for reducing unemployment and promoting a culture of self-employment to reduce extra burden on national kitty.
"Pakistani youth are talented, hardworking and passionate to compete in international market and fully benefit from opportunities provided them to grow and prosper," she stated.
As unemployment and inflation were touching new heights due to global recession and unwise decisions of the previous PTI government, empowerment scheme would provide breathing space for the poverty stricken people.
Arifa Fatima who is already running a stitching business at small scale also pinned hopes in this endeavor as she thinks, "it will pave way for exploiting entrepreneurial potential of youth."
"Provision of business loans on simple terms and conditions and with lesser markup will encourage people like us to fully utilize our energies for better earning as well as contribute to economic development of the country," she stated.
"It was my long cherished desire to expand business but paucity of resources always hampered me," she said. "But, this opportunity will definitely help me expand my business and create jobs for other people as well."
"Special persons were often considered as a burden for their families as well as society. But, this initiative has also raised their hopes to become productive hands by making them earn a respectable livelihood.
"This is encouraging to include people like me in this scheme," said Haris Kamal. "Special focus on persons with disabilities will ensure their constructive role in economic development, making them equally productive citizens of society."
"Focusing this segment of society is appreciable," remarked Abid Akram, a Disability Rights Activist. "We acknowledge the government's initiative to provide easy loans to youth especially for special persons who form a sizable chunk of society with half among them the female."
He said about 80 percent of the women with disabilities lived in rural areas and lacked access to basic health, education and employment. "Since these women cannot contribute in financial matters of their family, they are considered to be a burden.
"But, Youth Business and empowerment programme will help enable them to be financially independent," Abid Akram said.
"We hope the government will exploit all means to spread information about the programme especially in far-flung areas for creating awareness among people."
Pakistan's agriculture sector has a vast potential and agriculture loans under this scheme are expected to increase investment in this sector and bring revolutionary changes.
Khalid Anwer, an agriculturist also sees better future for farmers especially youth who can promote corporate farming in the country to achieve the goals of self-sufficiency and food security.
"This scheme will help mould the interest of youth to benefit from the potential of agriculture sector making it technology driven for their and the benefit of the country as a whole," he said.
PM offers nawafil at Roza-e-Rasool in Madinah
Caretaker Prime Minister Anwaarul Haq Kakar visited Masjid-e-Nabvi (the Prophet's Mosque) in Madinah and paid his respects at Roza-e-Rasool (SAW).
The prime minister offered nawafil at the Roza on Wednesday evening. Afterwards, the caretaker prime minister visited the International Fair and Museum of the Prophet (SAW)'s Biography and Islamic Civilization, located adjacent to Masjad-e-Nabvi.
Dr Nasir Misfir Al-Zahrani, Secretary of the Board of Directors of the Prophet (SAW)'s Museum, warmly welcomed the prime minister.
The prime minister was given a comprehensive briefing on the historical museum, which showcases the life and teachings of Prophet Muhammad (SAW) as well as the Islamic civilisation.
PM Kakar expressed his deep appreciation for the museum and applauded the efforts made to preserve and present the rich Islamic heritage.
As a token of appreciation, Dr Nasir Misfir Al-Zahrani presented the prime minister with a shield and books, symbolising the cherished connection between Pakistan and Saudi Arabia in promoting Islamic heritage and fostering mutual understanding.
The museum chronicles the Prophet (SAW)'s journey and highlights significant events and teachings through multimedia. It also showcases Islamic civilisation's achievements in various fields. The museum promotes interfaith dialogue and understanding, fostering respect for diverse beliefs and cultures.
Preparations for Eid-e-Milad in full swing across country
The Muslims all over the world, and in Pakistan, are marking the birth of Prophet Muhammad (Peace be upon him) on Friday (tomorrow).
Preparations for the celebration of Eid-e-Milad began with the sighting of Rabiul Awwal moon. Enthusiasm of the faithful has peaked across Pakistan; buildings and mosques have been illuminated not only in big cities but in villages also. Streets have been decorated and illuminated to mark the day.
There will be a national holiday on the occasion. Processions will also be taken out in which models of holy Kaaba and the Gumbad-e-Khizra (green dome) will be carried.
Children prepare models in streets according to their passion.
Special prayers, gatherings, and recitation of the Quran will also be arranged all over the country. Food will also be shared with the poor.
The Muslims in India, Bangladesh and other countries in the region will also celebrate Eid-e-Milad.
CJP Isa reprimands lawyer for not presenting arguments in tax case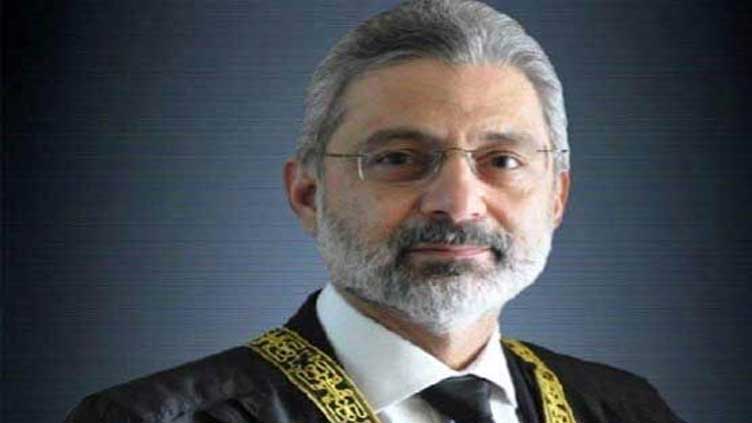 Chief Justice Qazi Faez Isa on Thursday reprimanded a senior counsel for not presenting arguments related to the case.
CJP Isa conducted hearing of the tax revision case.
The chief justice, while expressing his indignation at not giving arguments, asked lawyer Fayaz Shirazi to present arguments on the merits of the case. "Tell me if your application is admissible," the CJP said.
Lawyer Shirazi said his case was time barred. The CJP said the court wanted to hear his case and he was saying the case was time barred. "You are not a clerk but a senior advocate of the Supreme Court," he remarked.
Justice Isa said he had great respect for him for being a senior lawyer of the apex court. In his remarks, CJP Isa further said that filing such cases affected fixing of other cases.
The chief justice rejected the review petition for not presenting arguments by the lawyer.