U2 returning to stage in Las Vegas, minus one of quartet
U2 is returning to the concert stage later this year for the first time since 2019 but without one of the original quartets, as drummer Larry Mullen Jr. is on the injured list.
The band offered a hint about its reemergence on the biggest stage possible — in a commercial that aired during the Super Bowl on Sunday — and announced it would play a series of shows this fall to open the new MSG Sphere venue in Las Vegas.
The concerts will be focused on the band's 1991 album, "Achtung Baby."
"We need to get back on stage and see the faces of our fans again," band members Bono, the Edge and Adam Clayton said in a statement Sunday.
No other dates were announced beyond Las Vegas, although it's unlikely a show will be built for just one city. In 2017 and 2019, the band did a worldwide concert tour based on its "Joshua Tree" album.
Mullen is arguably the band's founder; the four members met in his Dublin kitchen to answer an ad he had placed on a high school bulletin board seeking musicians. U2 wouldn't detail his health concerns, but a report in The Washington Post in November said the drummer had issues with his neck and elbows that needed surgery.
Only twice before has the band taken stage without all four members — when Clayton missed a gig in Australia for health reasons in 1993, and after Mullen broke his foot in a motorcycle accident in 1978, according to Bono's book, "Surrender."
Next month U2 is planning to release the disc "Songs of Surrender," featuring re-recorded and re-imagined versions of 40 songs from its catalogue.
The Edge said he was impressed by the state-of-the-art sound and video system being constructed for the MSG Sphere. "We all thought about it and decided we'd be mad not to accept the invitation," he said.
'Pilot stuck in traffic, really!': Kapil Sharma slams airline over delay
'Pilot stuck in traffic, really!': Kapil Sharma slams airline over delay
Comedian Kapil Sharma slammed commercial airline IndiGo over flight delay and the airline's excuses to passengers on Wednesday evening.
Comedian and actor Kapil Sharma hit out at commercial airline over alleged delay and management of passengers, including those "on wheelchairs".
Sharma took to social media to slam the country's biggest commercial airline and alleged they had been "lying lying and lying".
The television celebrity has accused the airline of making passengers wait for nearly an hour in a shuttle bus and giving an excuse to passengers that the "pilot was stuck in traffic".
Kapil Sharma also shared visuals of passengers having an argument with the airline ground staff, seeking to speak to a senior official.
"Dear IndiGo, first you made us wait in the bus for 50 minutes, and now your team is saying the pilot is stuck in traffic, what? really?
We are supposed to take off by 8 pm and it's 9:20, still, there is no pilot in the cockpit, do you think these 180 passengers will fly in Indigo again? Never," Kapil Sharma shared on X.
Later, he shared another update with visuals deplaning, saying, "Now they are de-boarding all the passengers and saying we will send you in another aircraft but again we have to go back to the terminal for security check."
"People are suffering because of you and IndiGo lying-lying and lying, there r some old passengers in wheel chairs, not in very good health condition. Shame on you!" Kapil Sharma said.
Atif Aslam, Talha Anjum top Spotify Wrapped 2023 in Pakistan
Atif Aslam, Talha Anjum top Spotify Wrapped 2023 in Pakistan
Atif Aslam retained his place as the most streamed local artiste by Spotify Wrapped 2023, while Talha Anjum also remained in the top, stated the company in a press release on Wednesday.
The legendary 'Shehnshah-e-Qawwali', Ustad Nusrat Fateh Ali Khan, along with his nephew and renowned Sufi artist, Rahat Fateh Ali Khan, also made the list of top 10 most streamed local artists, added the statement.
Spotify's top lists reflect various trends and the overall expansion of music as the music streaming giant continues to grow its user base.
Local favourites shared the limelight with global sensations like Taylor Swift and The Weeknd on the list of most streamed Artists.
Kaifi Khalil's 'Kahani Suno 2.0' was the most streamed track in Pakistan as well as most streamed Pakistani song globally, while Ali Sethi and Shae Gill's 'Pasoori' remained on the list of top ten most-streamed Pakistani songs.
Asim Azhar's 'Jo Tu Na Mila' made it to the list of top 10 most streamed Pakistani songs.
According to this year's Wrapped data, Gill retained her position as the most streamed Pakistani woman artist, followed by Momina Mustehsan, Abida Parveen, Quratulain Balouch and Naseebo Lal.
The list of top artists also showed the taste of Pakistani listeners, with Arijit Singh securing the top spot, followed by Pritam, AP Dhillon, Shubh, and Sidhu Moose Wala, the artist from across the border receiving immense posthumous love from streamers.
'Leave The World Behind': Strangers, danger and layers, says Julia Roberts
'Leave The World Behind': Strangers, danger and layers, says Julia Roberts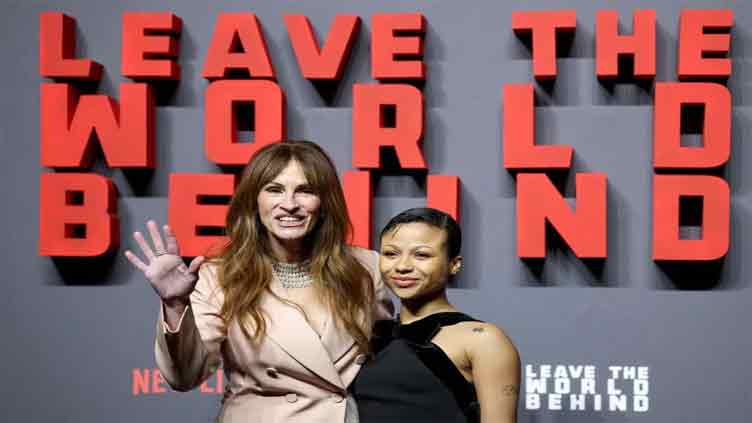 US actress Julia Roberts says her new film "Leave The World Behind" is a multi-layered disaster thriller that allowed her to play someone very different from herself.
Executive produced by former US President Barack Obama and Michelle Obama, the movie is written and directed by "Mr Robot" creator Sam Esmail and based on the best-selling novel of the same name by Rumaan Alam.
It sees Roberts' character Amanda, her husband and two children head on an impromptu holiday in a small Long Island town.
Their getaway is interrupted when a man and his daughter, played by Mahershala Ali and Myha'la Herrold, turn up on their doorstep claiming to be the owners of the upmarket residence and requesting to stay the night. As tension builds between the two families, strange events start occurring around them and they find themselves under the same roof trying to make sense of the chaos outside.
"There's always about 17 and a half things going on at one time in every scene for each person. It was just all the layers of the people and the circumstances," Roberts told Reuters at the film's premiere in London on Wednesday.
The Hollywood star cherished the challenge of playing cynical advertising director Amanda.
"Just the idea of playing someone who's sort of intrinsically suspicious and a little prickly, which is not my nature, but to still make her human and approachable and likeable."
Fans of Alam's book should not expect a faithful adaptation, Esmail warned.
"Something that works in a literary medium may not work in a cinematic medium. I was very upfront with Rumaan that I really was going to take liberties with the interpretation. I ran through all the ideas, he was on board and then in a lot of ways I think we both got what we wanted because his book and the film are kind of two different standalone pieces that kind of operate independent of one another."
"Leave The World Behind", which also stars Ethan Hawke and Kevin Bacon, is out in select cinemas and starts streaming on Netflix on Dec 8.