Encouraging cotton growing helps excel textile industry'
With the country faces severe economic crunch, the government is mulling multiple options for economic revival including boosting exports to strengthen depleting foreign exchange reserves and generate employment opportunities to overcome growing poverty.

As textile industry had been the key player in exports over the decades, paying special heed to this sector by providing congenial environment could pave the way to capture more international markets and earn revenue.

Enhanced cotton growing is of vital importance for this sector as it encompasses a bigger chain of operations from farming to textiles mills and then to end users' products showcased at fashion apparel outlets.

This chain of operations not only benefits industrialists but also a major chunk of our populace linked to agricultural sector. But unfortunately, cotton growing diminished with the passage of time after installation of Sugar Mills in cotton growing areas, especially in South Punjab and Sindh provinces.

Pakistan Cotton Ginners Association (PCGA), in its recent fortnightly report on cotton arrivals has put the production figure at 4.7 million bales till Feb 1, 2023 that is almost 35 per cent below than last year.

"If we reach five million bales this year by end of next month, it would be around 50 per cent below than the official production assessment of 11 million bales for 2023", informed PCGA Chairman Chaudhry Waheed Arshad.

"If we have to survive with our textile industry, we must frame result oriented policies focusing both the farmers and the industrialists," he stated.

Chaudhry Waheed Arshad recommended measures like announcing support price, declaring specific cotton zones, introducing high yielding, climate smart and pests resistant cotton varieties and mechanized farming techniques to get desired results.

"Agriculture is our mainstay and cotton is our lifeline. Therefore, strengthening this sector and announcing special incentives for cotton growers would definitely improve economic growth and the country's exports," he stated.

Chaudhry Waheed said that less cotton growing was harming ginning industry because if produce is less then mill owners can import cotton for their needs but what about ginners. "There are 1300 ginning factories countrywide with only 400-500 units remaining operational normally. But, at present only 154 factories are working."

He claimed that the country has lost 2.4 million acre cotton area to other crops during last 15 years and "if this trend continues, it would be a severe blow to the cotton-based industries. Therefore, we need to employ full potential of this sector."

He was confident sooner or later agriculture sector would attain the status of an industry and farmers must be well prepared to harvest its benefits.

According to the Trade Development Authority of Pakistan (TDAP), Pakistan is the 8th largest exporter of textile products in Asia with 4th largest producer and third largest consumer of cotton. Textile is 46 percent of Pakistan's total manufacturing sector that provides employment to 40 percent of total labor force.

Khawaja Usman, a noted industrialist owning spinning units has said that usually, textile sector needs 16 million cotton bales annually to add value and export a variety of products to international market.

"However, the temporary closure of some textile units due to the global recession troubled the economy.
Therefore, local textile sector requirements would revolve around 12-13 million bales this year," he predicted.
He said if production finally turns out to be five million bales in 2023, textile sector would need to import seven million bales to meet its requirements. "Therefore, the textile sector had already finalized contracts for import of required cotton bales."

Khawaja Usman stressed to incentivize the farmers to grow cotton on more area, and the industry to enable it to compete in international market as he regretted that falling of cotton production by 16 percent to merely 8.6 million bales in 2020 from 10.2 million bales in 2019, is not encouraging.

The TDAP officials quoting Pakistan Bureau of Statistics data have also revealed that Pakistan earned over US$15 billion (15400 million dollars) in financial year 2021 up from over US$ 12.5 billion (12526 million dollars) in 2020 from cotton and textile products. According to their statistics although exports of various textile products registered increase, yet export of raw cotton nosedived by 95 percent in FY 2021with the main factor being lower production than expectations.

Vice President, Multan Chamber of Commerce and Industry, Asim Saeed Sheikh has also claimed that local cotton production was usually falling short to meet the needs of the textile sector, except for 2011 when Pakistan touched the highest mark of 14.7 million bales.

"Many of cotton growing farmers shifted to sugarcane crop over the years resulting in diminishing produce. Above this, we also witnessed torrential rains and flooding this year that swept away large cotton areas," he said. "This would obviously prove to be a major challenge for cotton growers and allied industries."

According to a climate change research, poor seed quality, heat waves, virus, pests and increasing trend of farmers to switching to other profitable crops for some quick profits reduced cotton production.

Therefore, it is high time to fully concentrate this segment of the economy to steer the country out of the economic crunch, boost exports and earn foreign exchange to bridge trade and current account deficits
PM offers nawafil at Roza-e-Rasool in Madinah
Caretaker Prime Minister Anwaarul Haq Kakar visited Masjid-e-Nabvi (the Prophet's Mosque) in Madinah and paid his respects at Roza-e-Rasool (SAW).
The prime minister offered nawafil at the Roza on Wednesday evening. Afterwards, the caretaker prime minister visited the International Fair and Museum of the Prophet (SAW)'s Biography and Islamic Civilization, located adjacent to Masjad-e-Nabvi.
Dr Nasir Misfir Al-Zahrani, Secretary of the Board of Directors of the Prophet (SAW)'s Museum, warmly welcomed the prime minister.
The prime minister was given a comprehensive briefing on the historical museum, which showcases the life and teachings of Prophet Muhammad (SAW) as well as the Islamic civilisation.
PM Kakar expressed his deep appreciation for the museum and applauded the efforts made to preserve and present the rich Islamic heritage.
As a token of appreciation, Dr Nasir Misfir Al-Zahrani presented the prime minister with a shield and books, symbolising the cherished connection between Pakistan and Saudi Arabia in promoting Islamic heritage and fostering mutual understanding.
The museum chronicles the Prophet (SAW)'s journey and highlights significant events and teachings through multimedia. It also showcases Islamic civilisation's achievements in various fields. The museum promotes interfaith dialogue and understanding, fostering respect for diverse beliefs and cultures.
Preparations for Eid-e-Milad in full swing across country
The Muslims all over the world, and in Pakistan, are marking the birth of Prophet Muhammad (Peace be upon him) on Friday (tomorrow).
Preparations for the celebration of Eid-e-Milad began with the sighting of Rabiul Awwal moon. Enthusiasm of the faithful has peaked across Pakistan; buildings and mosques have been illuminated not only in big cities but in villages also. Streets have been decorated and illuminated to mark the day.
There will be a national holiday on the occasion. Processions will also be taken out in which models of holy Kaaba and the Gumbad-e-Khizra (green dome) will be carried.
Children prepare models in streets according to their passion.
Special prayers, gatherings, and recitation of the Quran will also be arranged all over the country. Food will also be shared with the poor.
The Muslims in India, Bangladesh and other countries in the region will also celebrate Eid-e-Milad.
CJP Isa reprimands lawyer for not presenting arguments in tax case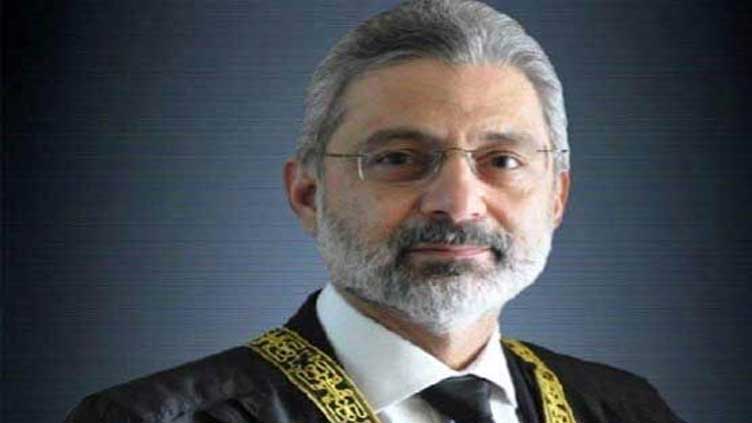 Chief Justice Qazi Faez Isa on Thursday reprimanded a senior counsel for not presenting arguments related to the case.
CJP Isa conducted hearing of the tax revision case.
The chief justice, while expressing his indignation at not giving arguments, asked lawyer Fayaz Shirazi to present arguments on the merits of the case. "Tell me if your application is admissible," the CJP said.
Lawyer Shirazi said his case was time barred. The CJP said the court wanted to hear his case and he was saying the case was time barred. "You are not a clerk but a senior advocate of the Supreme Court," he remarked.
Justice Isa said he had great respect for him for being a senior lawyer of the apex court. In his remarks, CJP Isa further said that filing such cases affected fixing of other cases.
The chief justice rejected the review petition for not presenting arguments by the lawyer.