50 years ago in France: the botched theft of Petain's body
In a saga that captivated France half a century ago, a group of admirers of French Nazi collaborator Philippe Petain stole his coffin from the Atlantic island where he died in prison in order to bury him alongside fellow World War I heroes in Verdun.
The grave robbers wanted to return Petain to the site of his finest hour where, as general, he led France to victory against Germany in the longest battle of the 1914-1918 war.
They hoped to restore the honour of the tainted general, who was convicted of treason for leading France's collaborationist Vichy government during World War II but avoided the death penalty due to his advanced age.
He had been dead 22 years when the far-right cell resurrected him in the dead of night on February 18, 1973, in Port-Joinville cemetery on the windswept Ile d'Yeu.
After a three-day nationwide police search, which revived the debate over the legacy of the World War I hero-turned World War II villain, Petain's body was traced to a garage in a Paris suburb.
Fallen hero
For years, admirers of Petain had been horrified by the decision to bury their hero on the Ile d'Yeu off France's Atlantic coast.
Petain died there in 1951, six years into his life sentence for collaborating with the Nazis.
Petain had asked to be buried in Verdun, alongside his fallen men, but his wishes had been overruled by World War II Resistance hero and later president Charles de Gaulle.
His final resting place was in the corner of Port-Joinville cemetery, in a tomb covered with a white stone slab marked "Philippe Petain, French Marshal" and topped with a white cross.
The mastermind behind the raid was far-right lawyer and failed presidential candidate, Jean-Louis Tixier-Vignancour.
But it was Hubert Massol, an advertising man, who led the operation to remove the coffin from the vault, load it into a van and take it by ferry to the mainland.
Six men made light work of the tombstone.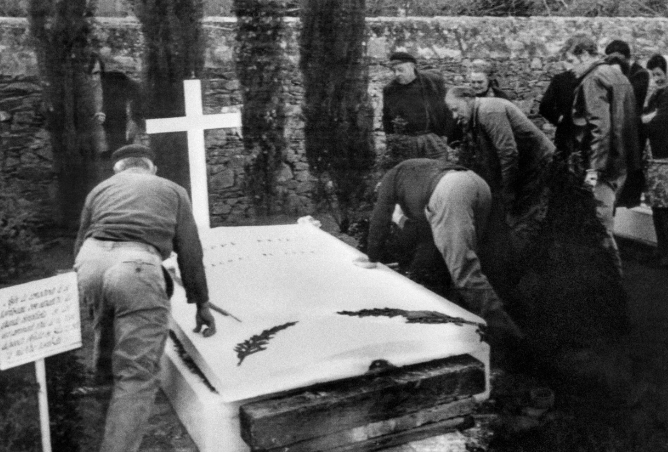 But they were sloppy.
They chipped the corner of the slab and then roughly sealed it back in place, details that immediately caught the attention of the cemetery guard on his rounds the next morning.
By lunchtime, the news was out: "Unknown perpetrators have unsealed the tombstone of Marshall Petain," AFP announced in a high-priority bulletin.
– Coffin hunt –
A nationwide hunt got underway for a Renault van that had arrived on the island two days before Petain's body was stolen and left the morning after. Speculation raged about who might be behind the robbery.
Opinions in the pro-Petain camp over the stunt were divided with some, like Petain's lawyer Jacques Isorni, condemning the men's guerrilla-style tactics.
On the road with their precious cargo, the body snatchers suffered a setback — a former pro-Petain lawmaker who had offered the use of his chateau for a change of vehicle, had disappeared when they arrived at his home.
Realising that the authorities were already in pursuit, they ditched the Verdun plan and headed for Paris where they stashed the coffin in a lock-up garage in the suburb of Saint-Ouen.
The first person arrested was Solange Boche, a market trader who drove the van to the island, with others quickly following.
As the net tightened, Massol called a press conference saying he would reveal the whereabouts of Petain's remains if then president Georges Pompidou gave permission for him to be buried at Verdun's Douaumont war memorial.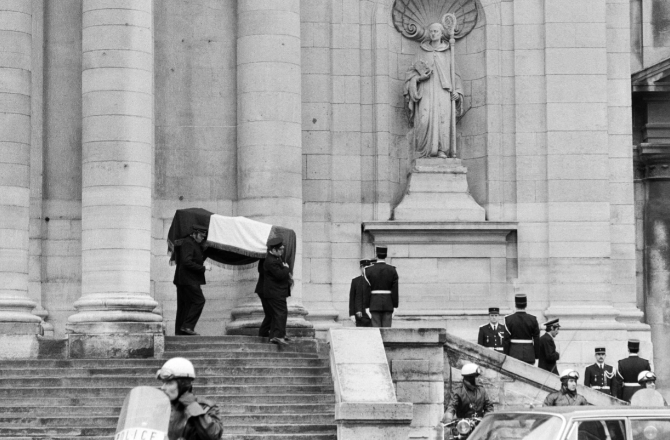 Massol was promptly arrested and caved in under questioning, agreeing to lead the police to the garage.
A furious Pompidou ordered the coffin be immediately taken back to the Ile d'Yeu where it remains to this day.
No charges were ever brought against the grave robbers, as the government feared a trial would stoke sympathy for Petain.
The ghost of the fallen general did not disappear. To this day in France Petain remains an inflammatory subject, with sharp divisions even within families over those believing he should be remembered not for Vichy but his Verdun victory.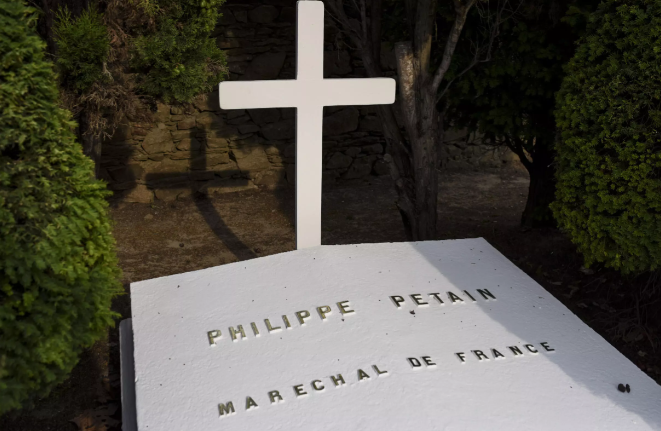 President Emmanuel Macron waded into the debate in 2018 when he slammed attempts to "manipulate" the memory of Petain and said he was a "great soldier" in WWI.
Rahul Gandhi: India's Congress leader sentenced to jail for Modi 'thieves' remark
Rahul Gandhi: India's Congress leader sentenced to jail for Modi 'thieves' remark
Indian opposition leader Rahul Gandhi has been sentenced to two years in prison in a criminal defamation case.
Mr Gandhi was convicted by the court in Gujarat state for 2019 comments about Prime Minister Narendra Modi's surname during an election rally.
He will not go to jail immediately – he was granted bail for 30 days and will file an appeal against the conviction.
The Congress party MP was present in court for sentencing, which comes a year before general elections are due.
Speaking at an election rally in Karnataka state in April 2019, ahead of the last general election, Mr Gandhi had said: "Why do all these thieves have Modi as their surname? Nirav Modi, Lalit Modi, Narendra Modi."
Nirav Modi is a fugitive Indian diamond tycoon while Lalit Modi is a former chief of the Indian Premier League who has been banned for life by the country's cricket board. Mr Gandhi argued that he had made the comment to highlight corruption and it was not directed against any community.
The case against him was filed on the basis of a complaint by Purnesh Modi, a lawmaker from India's governing Bharatiya Janata Party, who said that Mr Gandhi's comments had defamed the entire Modi community.
But some have said they are puzzled by the order.
Legal scholar Gautam Bhatia tweeted that "references to a generic class of persons" – surnames in this case – are not "actionable unless an individual can show a direct reference to themselves".
"If a man says 'all lawyers are thieves', then I, as a lawyer, cannot file a case against him for defamation unless I can show its imputation aimed at me," Mr Bhatia said.
India's criminal defamation law is British-era legislation under which there can be a maximum prison sentence of two years, a fine or both.
Free speech advocates have often argued that the law goes against the principles of freedom and that it is is used by politicians to silence their critics.
In 2016, some top Indian politicians including Mr Gandhi filed legal pleas arguing for defamation to be decriminalised. But India's Supreme Court upheld the validity of the law, saying that the "right to free speech cannot mean that a citizen can defame the other".
The Congress party tweeted that Mr Gandhi would appeal and said "we will fight and win".
Mr Gandhi has not commented publicly yet but has tweeted a quote in Hindi from India's independence leader Mahatma Gandhi: "My religion is based on truth and non-violence. Truth is my God, and non-violence the means to get it."
His lawyer, Kirit Panwala, told BBC Gujarati that Mr Gandhi had told the judge after the order that he had made the speech "in favour of democracy".
He also said that their defence of Mr Gandhi was based on four points: "Firstly, Mr Gandhi is not a resident of Gujarat and so, before the complaint, an inquiry should be conducted. Secondly, there is no community named Modi. Thirdly, there is no association of people with Modi as their surname and lastly, there was no ill intention behind Mr Gandhi's speech."
Lebanese security forces fire tear gas at crowds protesting pound devaluation
Lebanese security forces fire tear gas at crowds protesting pound devaluation
Lebanese security forces on Wednesday fired tear gas at hundreds of protesters, mostly retired members of the security forces, who had gathered near government buildings in Beirut in anger at deteriorating economic conditions.
Crowds gathered in the streets of downtown Beirut between parliament and the government serail, carrying Lebanon's tricolour or flags bearing the logos of security forces.
They were outraged at the deteriorating value of state pensions paid in the local currency. The pound has lost more than 98% of its value against the U.S. dollar since 2019.
"Our kids are hungry. We're hungry," said Mohamad el-Khateeb, a 59-year-old who had served in the army for 32 years.
"We left the army with nothing. No healthcare, no welfare, our kids are out of school and prices are rising obscenely. What do you expect?" Khateeb told Reuters.
Some of the men tried to cross one of the checkpoints leading to a government building, prompting security forces to fire tear gas to keep them back, according to a Reuters witness.
Protesters dashed away from white clouds emanating from locations around the serail. One soldier was seen treating a young boy who was affected by the tear gas.
"If he fires on us, he's firing on our rights and on his rights at the same time," said army veteran Ahmad Mustafa, 60.
"He's suffering just like me," he told Reuters, clutching two of the tear gas canisters fired just moments earlier.
There was no immediate statement from the Lebanese army.
Lebanon's economic meltdown began in 2019 after decades of profligate spending and alleged corruption. Its onset prompted the most wide-ranging protests the country had seen in years, but they fizzled out and rallies have been sporadic since.
The country's top financial and political leaders have allowed the crisis to fester, with the Lebanese pound hitting an all-time low of 140,000 to the U.S. dollar on Tuesday before an intervention by the country's central bank.
Lebanon's army troops and members of the security forces are receiving salary support in U.S. dollars from the United States and Qatar for the first time.
Four killed in Russian drone strike on Kyiv region, officials say
Four killed in Russian drone strike on Kyiv region, officials say
At least four people were killed early on Wednesday in a Russian drone strike near Kyiv which Ukrainian President Volodymyr Zelenskiy said showed Moscow was not interested in peace.
The State Emergency Service said on the Telegram messaging app that two dormitories and an educational facility in Rzhyshchiv, 40 miles (64 km) south of the capital, had been partially destroyed in the overnight attack.
Regional police chief Andrii Nebytov said 20 people had been taken to hospital and several were still missing following a series of explosions after 3 a.m. (0100 GMT) that killed four people.
A large part of the top floor of a five-storey dormitory building had been knocked out by the attack. Workers in white helmets and reflective jackets clambered through the rubble of another badly damaged building.
"We see that the enemy has once again attacked civilian infrastructure (and) innocent people have died," Nebytov wrote on Telegram, adding that one of the victims was an ambulance driver who had arrived to help.
State emergency officials said the search for survivors was continuing after attacks that the Ukrainian military said involved Iranian-made Shahed drones.
"Over 20 Iranian murderous drones, plus missiles, numerous shelling incidents, and that's just in one last night of Russian terror against Ukraine," Zelenskiy wrote on Twitter.
"Every time someone tries to hear the word 'peace' in Moscow, another order is given there for such criminal strikes."
The Ukrainian military said it had shot down 16 of the 21 drones launched at Ukraine overnight from the north.
Russia, which invaded Ukraine 13 months ago, did not immediately comment on the latest attacks.