50 years ago in France: the botched theft of Petain's body
In a saga that captivated France half a century ago, a group of admirers of French Nazi collaborator Philippe Petain stole his coffin from the Atlantic island where he died in prison in order to bury him alongside fellow World War I heroes in Verdun.
The grave robbers wanted to return Petain to the site of his finest hour where, as general, he led France to victory against Germany in the longest battle of the 1914-1918 war.
They hoped to restore the honour of the tainted general, who was convicted of treason for leading France's collaborationist Vichy government during World War II but avoided the death penalty due to his advanced age.
He had been dead 22 years when the far-right cell resurrected him in the dead of night on February 18, 1973, in Port-Joinville cemetery on the windswept Ile d'Yeu.
After a three-day nationwide police search, which revived the debate over the legacy of the World War I hero-turned World War II villain, Petain's body was traced to a garage in a Paris suburb.
Fallen hero
For years, admirers of Petain had been horrified by the decision to bury their hero on the Ile d'Yeu off France's Atlantic coast.
Petain died there in 1951, six years into his life sentence for collaborating with the Nazis.
Petain had asked to be buried in Verdun, alongside his fallen men, but his wishes had been overruled by World War II Resistance hero and later president Charles de Gaulle.
His final resting place was in the corner of Port-Joinville cemetery, in a tomb covered with a white stone slab marked "Philippe Petain, French Marshal" and topped with a white cross.
The mastermind behind the raid was far-right lawyer and failed presidential candidate, Jean-Louis Tixier-Vignancour.
But it was Hubert Massol, an advertising man, who led the operation to remove the coffin from the vault, load it into a van and take it by ferry to the mainland.
Six men made light work of the tombstone.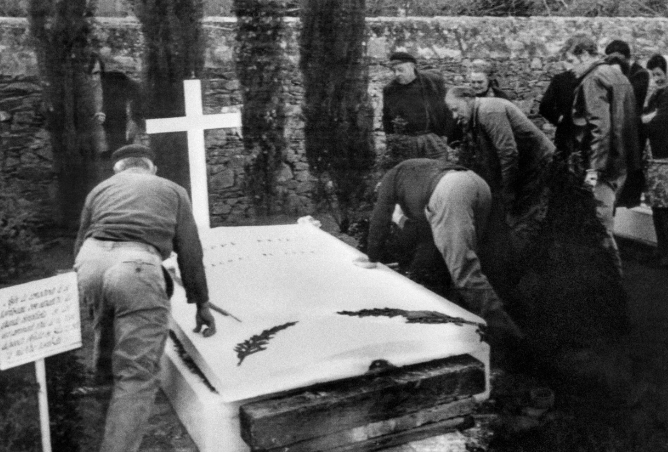 But they were sloppy.
They chipped the corner of the slab and then roughly sealed it back in place, details that immediately caught the attention of the cemetery guard on his rounds the next morning.
By lunchtime, the news was out: "Unknown perpetrators have unsealed the tombstone of Marshall Petain," AFP announced in a high-priority bulletin.
– Coffin hunt –
A nationwide hunt got underway for a Renault van that had arrived on the island two days before Petain's body was stolen and left the morning after. Speculation raged about who might be behind the robbery.
Opinions in the pro-Petain camp over the stunt were divided with some, like Petain's lawyer Jacques Isorni, condemning the men's guerrilla-style tactics.
On the road with their precious cargo, the body snatchers suffered a setback — a former pro-Petain lawmaker who had offered the use of his chateau for a change of vehicle, had disappeared when they arrived at his home.
Realising that the authorities were already in pursuit, they ditched the Verdun plan and headed for Paris where they stashed the coffin in a lock-up garage in the suburb of Saint-Ouen.
The first person arrested was Solange Boche, a market trader who drove the van to the island, with others quickly following.
As the net tightened, Massol called a press conference saying he would reveal the whereabouts of Petain's remains if then president Georges Pompidou gave permission for him to be buried at Verdun's Douaumont war memorial.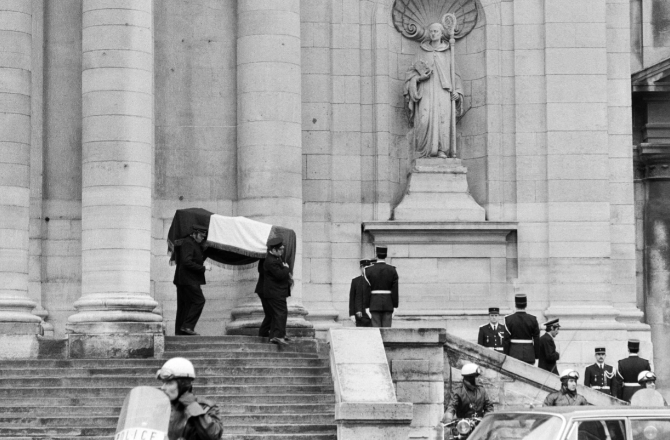 Massol was promptly arrested and caved in under questioning, agreeing to lead the police to the garage.
A furious Pompidou ordered the coffin be immediately taken back to the Ile d'Yeu where it remains to this day.
No charges were ever brought against the grave robbers, as the government feared a trial would stoke sympathy for Petain.
The ghost of the fallen general did not disappear. To this day in France Petain remains an inflammatory subject, with sharp divisions even within families over those believing he should be remembered not for Vichy but his Verdun victory.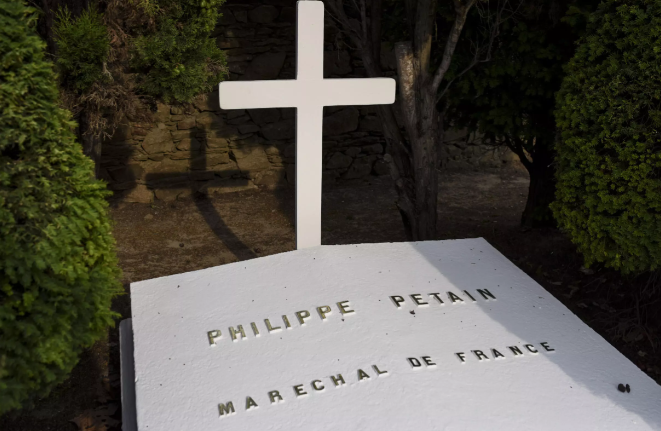 President Emmanuel Macron waded into the debate in 2018 when he slammed attempts to "manipulate" the memory of Petain and said he was a "great soldier" in WWI.
India stops visa processing in Canada as diplomatic row intensifies
India on Thursday suspended the issuing of visas in Canada, the service provider said, amid a diplomatic row sparked by Ottowa's accusation New Delhi was involved in the killing of a Sikh separatist near Vancouver.
"Important notice from Indian mission: Due to operational reasons, with effect from September 21, 2023, Indian visa services have been suspended till further notice," BLS International posted on their website on Thursday.
Canada's Prime Minister Justin Trudeau has demanded India treat with "utmost seriousness" allegations that Indian agents played a role in the June murder of Hardeep Singh Nijjar.
The fallout prompted tit-for-tat diplomatic expulsions and a forceful denial from India, which said any suggestion it played a role in Nijjar's killing was "absurd".
The suspension of visas comes a day after India's foreign ministry said it was concerned for the safety of its citizens in Canada because of "politically-condoned hate crimes and criminal violence".
"Threats have particularly targeted Indian diplomats and sections of the Indian community who oppose the anti-India agenda," a ministry statement said on Wednesday.
"Indian nationals are therefore advised to avoid travelling to regions and potential venues in Canada that have seen such incidents."
The advisory did not name specific cities or locations for Indians to avoid.
Nijjar was shot dead by two masked assailants outside the Sikh temple he presided over in Surrey, an outer suburb of Vancouver.
An activist for the creation of a Sikh state known as Khalistan, Nijjar was wanted by Indian authorities for alleged terrorism and conspiracy to commit murder.
He had denied those charges, according to the World Sikh Organisation of Canada, a nonprofit organisation that says it defends the interests of Canadian Sikhs.
The Indian government accuses Ottawa of turning a blind eye to the activities of radical Sikh nationalists who advocate the creation of an independent Sikh state to be carved out of northern India.
US Senate confirms Biden pick as top US military officer
A majority of the US Senate backed US Air Force chief General Charles Q. Brown on Wednesday to be the top US military officer, as lawmakers moved to confirm some of the top senior officers whose promotions have been stalled by a Republican senator's blockade.
The Senate backed President Joe Biden's nomination of Brown to be chairman of the Joint Chiefs of Staff by 83 to 11.
Brown is a former fighter pilot who brings command experience in the Pacific to the position at a time of rising tension with China.
He will be only the second Black officer to chair the Joint Chiefs after Colin Powell two decades ago.
The Senate moved ahead with votes on Brown and two other top military officers as Majority Leader Chuck Schumer, a Democrat, used a procedural maneuver to sidestep a blockade by Republican Senator Tommy Tuberville.
Tuberville began blocking confirmations to senior Pentagon posts in March to protest a Defense Department policy enacted last year that provides paid leave and reimburses costs for service members who travel to get an abortion.
Brown and other military officials had said Tuberville's blockade of hundreds of military promotions could have a far-reaching impact across the armed forces, affecting troops and their families and harming national security.
Defense Secretary Lloyd Austin congratulated Brown on his confirmation, thanked Schumer for bringing the vote and chastised Tuberville for his obstruction. "It is well past time to confirm the over 300 other military nominees," Austin said in a statement.
Biden's nomination of Brown, which was announced in May, followed his appointment of Austin as the first Black US secretary of defense, the top civilian position at the Pentagon.
Brown's confirmation means Black Americans hold the top two positions at the Pentagon for the first time, a major milestone for an institution that is diverse in its lower ranks but largely white and male at the top.
Schumer also cleared the way for Senate votes on Biden's nomination of General Randy George to become chief of staff of the Army, and General Eric Smith to become the next commandant of the Marine Corps.
Schumer's procedural motion did not address hundreds of other military promotions still being delayed by Tuberville's action.
The Senate's approval of military promotions is usually smooth. Tuberville's hold cannot prevent the Democratic-majority Senate from voting on any promotion, but it can drastically slow the process.
Trump says if elected again he will send troops to US-Mexico border
Former US President Donald Trump said on Wednesday that if elected again he would shift resources from federal law enforcement agencies and send thousands of overseas-based troops to the US-Mexico border.
Speaking to supporters in Iowa, where the Republican Party's first nominating contest for the November 2024 election will be held in January, Trump also promised to expand on a travel ban that barred people from several countries with majority Muslim populations during his 2017-2021 presidency.
Calling record illegal US-Mexico border crossings under President Joe Biden an "invasion," Trump sought to place blame for the problem on the current administration. Biden, a Democrat, is running for re-election and could have a rematch election against the Republican front-runner Trump.
"Upon my inauguration I will immediately terminate every open borders policy of the Biden administration," Trump said at a rally in Dubuque. "I'll make clear that we must use any and all resources needed to stop the invasion, including moving thousands of troops currently stationed overseas."
Trump provided few specifics, including on exactly how he planned to expand on any ban imposed on Muslim-majority countries. It was unclear if Trump would face any legal hurdles to implementing such measures.
The Biden administration has defended its border policies, saying it is using the tools available, while calling on Congress to pass laws to fix a broken system. Most people seeking to cross the southern US border come from Central American countries.
Trump's rivals have stepped up their rhetoric on immigration in recent weeks, promising tough action on crossings at the US-Mexico border in a sign of the importance of the issue to Republican primary voters.
About one in six Republicans consider immigration as the most pressing issue facing the country, making it the third most important issue to them after the economy and crime, a Reuters/Ipsos poll this month showed.
Last week, Florida Governor Ron DeSantis said in an interview with CBS's Norah O'Donnell that if elected president he would send the military to the border and authorize the use of deadly force against members of drug cartels.
DeSantis is Trump's top rival but remains some 40 percentage points behind him in opinion polls.
The Dubuque rally was one of two afternoon stops for Trump in Iowa on Wednesday. His campaign is scheduling a series of visits to the state in the coming weeks, as he seeks to fend off a push there by his primary rivals, some of whom have spent considerably more time and money in Iowa.
Trump was the only major candidate to skip the annual Faith and Freedom Coalition banquet in Des Moines over the weekend, missing a chance to connect with evangelicals, a critical voting bloc in the state.
His visit on Wednesday came as he confronted fresh criticism from conservatives for his stance on abortion, triggered by his Sunday appearance on NBC's "Meet the Press," in which he declined to commit to national restrictions on the procedure and called DeSantis' signing of a six-week ban a "terrible mistake."
Iowa Governor Kim Reynolds, who is popular in her state, and DeSantis were among the Republicans to blast Trump's remarks.
Trump told the crowd in Dubuque that they needed to "follow their heart" on abortion but warned that Republicans needed to "learn how to talk" about legislation in a way that doesn't turn off voters. He said it was important to carve out exceptions for any ban for instances of rape, incest and the mother's life.
"Without the exceptions, it is very difficult to win elections. We would probably lose the majorities in 2024 without the exceptions and perhaps the presidency itself," he said.