Spring plantation: A viable solution to combat climate change
Enjoying 'Mong yu da Khyber Zalmi' Pashto song on his mobile phone during the unloading of his truck laden with ornamental and fruit plants, Ali Qadir (30) is asking helpers to hurry up and shift the huge stock through handcarts to his nursery located at Tarnab here before the sun sets.
Called 'Lala' by the labourers and fellow plant sellers, Qadir, who is wearing the traditional Chitrali cap, is taking extra care while separating the expansive plants, including araucaria, ganga palms, red roses, night blooming jasmine and gladiolus from other ordinary plants and urges the workers to keep them under the plastic sheds and in the veranda in the wake of climate vagaries.
"I brought these plants from Pattoki, Kasur district due to high-profit margin and varieties of native and exotic plants. Next week, I would again visit Pattoki to bring another truckload of plants after witnessing people's positive response in the spring tree plantations," said the graduated plant seller, who inherited the horticulture business from his father, Abdul Qadir, to APP.
"The spring is a peak season for our business and we usually earn Rs 100,000 to 200, 000 from each truck in Peshawar," he said, adding in case of unfavourable weather and plants' diseases, the expansive species may wither or die that causes huge financial losses to plant sellers in Tarnab, where about 50 nurseries having around 1,000 labourers earn their livelihood."
"Our first priority for the sale of plants is the government and national building organizations, including forest department besides NGOs due to high-profit margin," he said, adding plants sellers have started receiving substantial orders from the merged tribal districts, Malakand and Hazara divisions on the advent of spring plantations.
"I came to purchase araucaria, ganga palm and chirpine for my newly constructed house. Personally, I like araucaria and ganga palm that was grown in Karachi climate due to its large leaves and closely arranged branch steps compared to Lahore and Peshawar's varieties. However, prices of these ornamental plants were sky high and beyond purchasing power of poor people," said Ehsanullah Khan, a businessman from Nowshera district, who was settled in UAE, told APP at Tarnab.
"Three years ago, I have purchased five feet araucaria of Karachi-origin for Rs 4,000, now available for Rs 6,000," he said, adding it was the responsibility of the forest and agriculture departments to provide plants to people at affordable rates during plantation seasons to offset the enormous challenges posed by climate change and deforestation.
Gulzar Rehman, conservator at KP forest department told APP that 78.93 million saplings were available for spring plantations to be planted with help of government departments, NGOs, farmers and the general public.
Out of these plants, he said that 27.460 million saplings would be sown in southern circle region-I including Kohat, Peshawar, Hangu, Bannu, DI Khan, Karak, Tank and Lakki Marwat, 30.190 million in northern forest region-II of Hazara division including Haripur, Abbottabad, Manshera, Batagram, Kohistan district and 21.28 million in Malakand forest region-III of Malakand division including Swat, Malakanad, Dir Upper, Dir Lower, Chitral, Shangla and Buner districts.
Besides the target of plantation of 77,569,444 forest plants, he said 783,693 ornamental and native species, including amaltas, chambali, bottle brush, roses, sanata, arjun, alestonia and 580,209 fruits plants including almond, guava, walnut, appeal and peach would be distributed among people.
Gulzar said about 56.277 million plants would be sown through farm forestry and 42.402 million seedlings through farmers. "The forest department has planned to provide 2.117 million plants to Gilgit Baltistan," he said, adding that GB through the Ministry of Climate Change Islamabad had requested the KP forest department to provide the same for spring plantation.
Besides raising 1.1308 million plants under urban-perri plantation and through masses, he said that 3.075 million plants would be sown through village developmental committees, 5.429 million through defense forces, 2.123 million through educational and religious institutions, government departments and other organizations besides carrying sowing and dibbling over an area of 1260 acres on suitable sites.
Ikhtari Wali Khan, PMLN KP spokesman and former member provincial assembly told APP that the ill planning and poor selection sites of the billion trees afforestation project have badly exposed the PTI rulers' lackluster policies in KP where scores of sites were washed away by the last year's floods, incurring millions of rupees losses to the government kitty.
"A large number of trees planted under the billion trees project were prematurely cut in the province, which was a violation of the plantation agreement signed between the forest department and farmers," he said, adding billion trees project was taken over by NAB that was s big question mark on PTI's good governance claims and anti-corruption slogans of Imran Khan.
Muhammad Ibrahim Khan, deputy project director, the 10 billion trees afforestation project told APP that spring plantation campaign was being officially launched next week for which the caretaker chief minister and provincial ministers, commissioners, DCs were approached for the inauguration.
The communities, students, teachers, and general public are being involved in spring plantation being the easiest way to combat climate change and deforestation.
He said that 654.27 million saplings including 353.14 million through 6081 enclosures, 121.39 million through plantation, 150.76 million through farm forestry and the general public etc were planted under the 10 billion trees project up-to December 31 last year.
Ibrahim said the target of plantation of additional one billion trees under 10 billion trees project by June 30, 2023 was likely to be missed in Khyber Pakhtunkhwa due to the washing away of many plantation sites by the last year's devastated flood, shifting of several forest enclosures from merged areas to Hazara and Malakand division and financial issues.
Besides the billion trees project, he said the provincial climate change policy 2016, range land policy, and REDD plus strategy have been implemented in KP. The experts said that Pakistan's efforts for the uplift of the green sector have globally been appreciated and underlined the need for early operationalization of the COP 29 UN fund to help climate change's vulnerable Pakistan.
Nawaz left Pakistan with govt permission, it wasn't a jailbreak: Solangi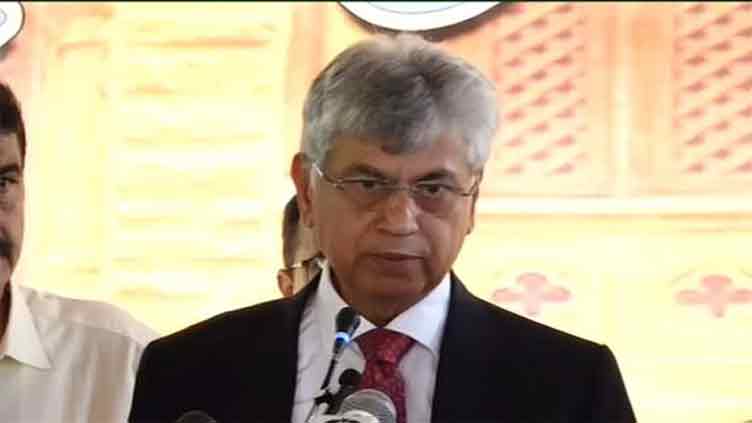 Former prime minister Nawaz Sharif had flown abroad after getting permission from the court and the government, not due to jailbreak, said Murtaza Solangi – the caretaker information minister – who added that he would be treated according to law and constitution on his return to Pakistan.
The minister remarked some people were confused on the issue of elections and spreading confusion a business for some others. The caretaker government had no confusion on the issue of elections, he added
Solangi, who visited the Karachi Press Club, told media persons on Saturday that Nawaz was a three-time prime minister and he had no knowledge of which court the PML-n supremo would move after his return.
Replying to various questions on the subject, the caretaker information minister said he didn't want to speculate as it was Nawaz who would have to answer such queries.
As the minister faced a flurry of questions about the elections, he again made it clear that the caretaker setup would give equal opportunities to all the registered political parties for taking part in the electoral process.
Solangi reiterated that the caretaker government would fulfil its constitutional responsibilities and provide all the available resources to the Election Commission for conducting the exercise.
When asked about the rupee appreciation and the fuel prices, Solangi said the incumbent setup had no role in pricing mechanism which was linked to the rates in global markets.
However, he added, that there were enough chances of reduction in petroleum products' rates due to the gains made by the local currency. People would get some benefit of reduction in the value of the dollar, Solangi said.
The minister noted that power theft burdened other consumers and recovering the amount from them through their monthly system was unjustified – a mechanism which, he said, should be changed.
Solangi said the interim setup was aiming at stabilising the national economy while ensuring that Pakistan didn't slide towards default and political temperature was cooled down. Legislation wasn't their prerogative but would do everything reduce the current problems, he added.
CTD arrests terrorist of banned outfit in Jamshoro IBO
A team of Hyderabad Counter-Terrorism Department (CTD) on Friday arrested one alleged terrorist associated with a banned outfit during an operation in Jamshoro, Dunya News reported.
According to a CTD spokesperson, a CTD team conducted an Intelligence-based-operation (IBO) in Jamshoro and arrested a terrorist belonging to banned organisation.
He also informed that the arrested terrorist was involved in providing funds to terrorist organization.
The spokesperson further informed that a 30-bore pistol, funding receipts and other evidence have been recovered from the arrested terrorist. He said that further investigation is ongoing.
Mother, son killed in road accident near Sheikhupura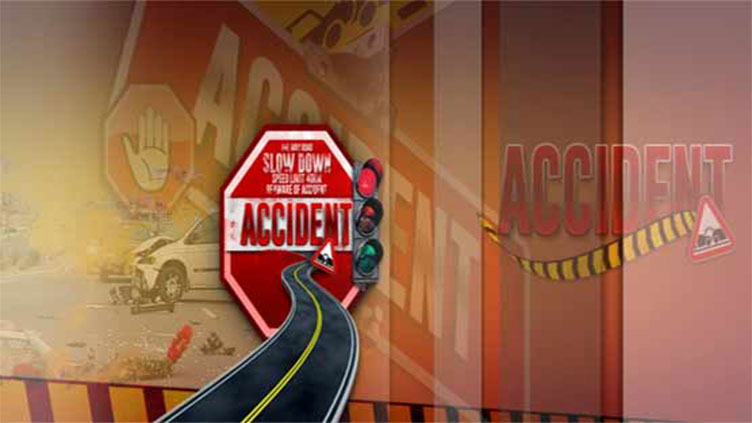 A woman and her son were killed and two other children were wounded when the motorcycle they were riding on was hit by a dumper near Sheikhupura on Friday night,
According to details, the accident occurred in Farooqabad area near Sheikhupura where a rashly driven dumper hit a motorcycle, killing a woman and her son on the spot and injuring two other children.
Police and rescue teams reached the spot and shifted the dead and injured to hospital.