Why Yasir Hussain suggests Nida Yasir should sit CSS exam
Pakistani screenwriter and actor Yasir Hussain shared his thoughts on the recent interview clip of morning show host Nida Yasir that had been making rounds on the internet.
The actor shared the clip in his Instagram story along with a note, in which he highlighted the struggle behind being a Morning Show host, saying that the mind of any person, who would be waking up at the early hours of the day to host a Morning Show for years, would also work in the same manner [as puzzled Nida Yasir was while answering].
He further mentioned the host in his story and said that, "I think Nida Yasir is cute." Not just that he ended the statement with, "She should take the exam for CSS."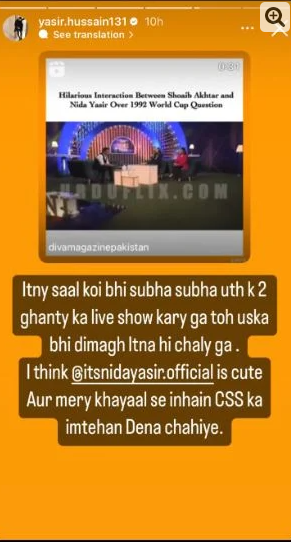 It is hard to interpret if Yasir was backing Nida as she was being trolled and criticised by the netizens or it was a sarcastic input.
A couple of days back, the clip of a show hosted by Pakistani former cricketer Shoaib Akhtar, in which morning show hosts Shaista Lodhi and Nida Yasir had appeared as guests, grabbed the public's attention. In the clip, Nida was completely perplexed while responding to a question related to Pakistan winning the world cup.
Later, Nida while reacting to the criticism and memes based on the clip said that what she had stated in the show was nothing new, people even tend to forget their date of birth and even wedding anniversaries.
She welcomed the laughter, saying that it makes her happy to see people enjoying because of her.
Sania Mirza performs Umrah, shares photos on Instagram
Sania Mirza performs Umrah, shares photos on Instagram
Former India tennis player Sania Mirza, the wife of Pakistani cricketer Shoaib Malik, has performed Umrah along with his son.
Ms. Mirza took to Instagram where she shared a slew of photos captured in Makkah and Madina, the holiest places for Muslims in the world.
"Allhamdulillah May Allah accept our prayers," she captioned the photos as she can we seen wearing black "Abaya" while posing for the clicks.
Last month, Sania Mirza retired from the game after suffering a shock defeat in final game of the career.
She played along with Madison Keys of the US when the pair was defeated by Russia's Veronika Kudermetova and Liudmila Samsonova in the women's doubles match at the Dubai Open. The 36-year-old was playing the last tournament of her glorious career after announcing her retirement plans.
The former women's doubles world number one was ranked at 28 in the latest Women's Tennis Association (WTA) rankings. She had won six Grand Slam titles and 43 major titles in the celebrated career spanning over wo decades.
She is the only Indian woman to top doubles rankings, and achieve a career-high singles ranking of 27.
Food poisoning lands Alizeh Shah in hospital
Food poisoning lands Alizeh Shah in hospital
Lollywood diva Alizeh Shah has proved her mettle in the showbiz industry with her exceptional acting skills and reached the heights of stardom
She used to treat the fans with her beautiful clicks and videos on Instagram. This time around, the Ehd-e-Wafa famed star has fallen ill as she posted her photo from the hospital bed.
She can be seen lying on a hospital bid where she is receiving IV treatment. Taking to Instagram stories, she wrote: "Pls pray for me. I got food poisoned".
Alizeh Shah debuted her acting career in 2016, with a supporting role Alina in Choti Si Zindagi. Later, she performed roles in Ishq Tamasha, Ehd-e-Wafa, Hoor Pari, Jo Tu Chahey, Mera Dil Mera Dushman, Bebessi and Taqdeer.
Taylor Swift kicks off US Eras Tour at Super Bowl stadium
Taylor Swift kicks off US Eras Tour at Super Bowl stadium
Taylor Swift opened her U.S. concert series with a three-hour tour of her career.
Swift kicked off the first concert of the 52-date Eras Tour with a six-song set from her album "Lover" on Friday night at State Farm Stadium in Glendale, Arizona, where the Super Bowl was played a month ago.
"I don't know how to address the way this is making me feel right now," Swift, who hasn't toured since 2018, said early in the show.
She ended the concert with a seven-song set from her latest album "Midnights," closing with the song "Karma."
In between she played clusters of songs from most of her albums — and just one, "Tim McGraw," from her 2006 self-titled debut. In the end it took 44 songs and just over three hours for her to span her 17-year career.
Having not toured for her previous three albums, this concert series is intended to play catchup by providing the live debut of many of those songs. When Swift announced the tour in November she called it "a journey through the musical eras of my career (past and present!)."
Swift seemed to acknowledge the Ticketmaster furor that sullied the run-up to the tour when she told the crowd of more than 70,000 that she understands it took "considerable effort" for them to be there.
After another show at the same venue Saturday night, the tour moves on to Allegiant Stadium outside Las Vegas and then AT&T Stadium near Dallas.
It concludes with two Los Angeles-area shows in August.