Who are the bride and groom in Jordan's royal wedding?
He's heir to the throne in one of the oldest monarchies in the Middle East and a descendant of the Prophet Muhammad. She's a Saudi architect with an aristocratic pedigree of her own.
Crown Prince Al Hussein bin Abdullah II, 28, and Rajwa Alseif, 29, are to be married on Thursday at a palace wedding in Jordan, a Western-allied monarchy that has been a bastion of stability for decades as Middle East turmoil has lapped at its borders.
The families have not said how the couple met or provided any details about their courtship. They were formally engaged at a traditional Muslim ceremony in the Saudi capital, Riyadh, in August 2022 that was attended by senior members of Jordan's royal family.
The bride and groom are destined to become a power couple in the Middle East, forging a new bond between Jordan and Saudi Arabia as the latter seeks to transform itself into a regional power broker.
Here's a look at the bride and groom.
A US-EDUCATED ARCHITECT WITH ARABIAN TRIBAL ROOTS
Rajwa Alseif was born in Riyadh on April 28, 1994, the youngest of four children.
Her mother, Azza bint Nayef Abdulaziz Ahmad Al Sudairi, is related to Hussa bint Ahmed Al Sudairi, who is said to have been the favorite wife of Saudi Arabia's founder, King Abdul-Aziz Al Saud, and gave birth to seven of his sons, including the country's current ruler, King Salman.
For decades, the so-called Sudairi Seven, most of whom are now deceased, were seen as a major locus of power within the Saudi royal family.
Alseif's father, Khalid, is a member of the Subai, a prominent tribe in the Arabian Peninsula with ancient roots. He's also the founder of El Seif Engineering Contracting, which built Riyadh's iconic Kingdom Tower and other high-rises across the Middle East.
Rajwa studied architecture at Syracuse University in New York, where she graduated with a bachelor's degree in 2017. A graduation video shows her receiving her degree in sparkling silver sneakers.
The year before, she led a Spring Break architecture symposium in Dubai, in the United Arab Emirates, that was funded by her father's company.
"What made this trip so memorable for me… was seeing the students in the studio experience Arabic culture and architecture for the first time," she was quoted as saying by a university newspaper.
She went on to earn a degree in visual communications from the Fashion Institute of Design and Merchandising in Los Angeles.
An official biography shared by the Jordanian royal palace says her hobbies include horseback riding and handmade arts, and that she is fluent in English, French and her native Arabic.
A CROWN PRINCE LONG GROOMED TO LEAD
Crown Prince Hussein was born June 28, 1994. His path to succession became clear when his father, King Abdullah II, stripped his own half-brother, Prince Hamzah, of the title of crown prince in 2004. Hussein was formally named heir to the throne five years later, at the age of 15.
He is the oldest son of Abdullah, 61, who has ruled Jordan as a reliable Western ally and voice of moderation through more than two decades of turmoil in Israel, the Palestinian territories, Syria and Iraq, all of which border the small, resource-poor kingdom.
The Hashemites, as Jordan's ruling family is known, trace their lineage back to the Prophet Muhammad. They dwelled in the Hejaz region of what is now Saudi Arabia for centuries before King Abdul-Aziz Al Saud's forces drove them out in 1925.
The Hashemites had led the Arab revolt against the Ottoman Empire during World War I, a rebellion dramatized by the 1962 film "Lawrence of Arabia." They had hoped to rule over an Arab state encompassing much of the Middle East, but Western imperial powers betrayed them. The French drove them out of Syria and a nationalist uprising toppled them in Iraq, leaving them with only Jordan.
The crown prince is named for his grandfather, King Hussein, who ruled Jordan for 46 years until his death in 1999 and remains a beloved figure for many Jordanians.
It could be years before the crown prince becomes king, but his training has already begun.
He graduated from Georgetown University with a degree in international history in 2016 and from the British Royal Military Academy in Sandhurst the following year. He holds the rank of captain in the Jordanian military and routinely takes part in drills and ceremonies.
He has joined his father on overseas trips, including a recent meeting at the White House with President Joe Biden. The prince shared pictures from the visit on his Instagram feed, which has over 4 million followers and also features more casual photos.
In 2015, Hussein was the youngest person to ever chair a meeting at the UN Security Council, leading a discussion about how to help young people confront violent extremism and promote peace. Two years later, and just out of college, he addressed the UN General Assembly.
His experiences to date may have prepared him to rule Jordan, but he also exists in a world apart from most of his fellow citizens, who have suffered in recent years from diminishing economic prospects. Elected governments in Jordan have long served as a seawall for public anger, even as the king has always held the real power.
It's a reality the young crown prince may have to confront someday, long after his palace wedding.
India formulate security plan for World Cup 2023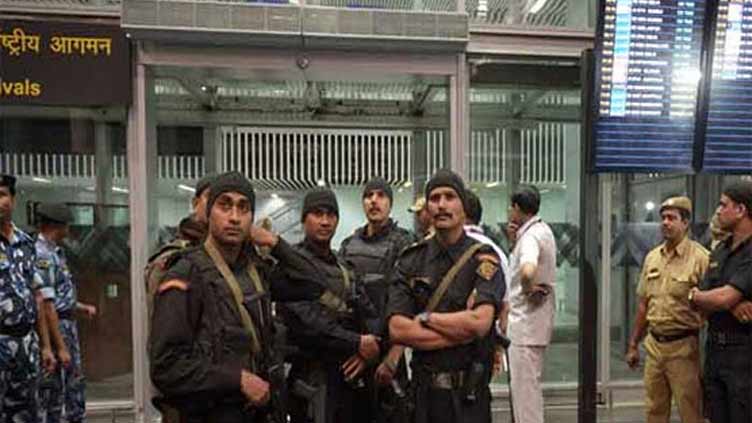 India have chalked out a comprehensive plan for multi-layer security and management of traffic for the upcoming ICC Men's World Cup 2023.
A security official told Indian media that arrangements had been made for smooth influx of fans into the stadiums and maintain uninterrupted traffic flow on roads.
He said multi-layer security plan had been designed for the mega event, adding that a communication system would also be established for seamless coordination between security agencies and local cricket association.
The security teams would ensure the safe movement of teams from hotel to stadium and back by creating secure pathways.
As several stadiums, including Pune, are situated at a considerable distance from the city, seamless arrangements have been made to handle the logistical challenge in an effective way.
Commissioner of Pimpri Chinchwad police Vinoy Kumar Choubey said told Indian media, "We will be putting in place a multi-layer security cover in and around the stadium. A detailed plan for the same is in the making.
"Each layer will have a specific purpose and a pre-decided number of personnel and officers will be tasked to secure each layer. A communication channel has been established between the MCA office bearers and our team."
South Korea opposition leader ends 24-day hunger strike
South Korea's opposition leader ended a 24-day hunger strike on Saturday, a party spokesperson said, two days after parliament voted to let prosecutors serve an arrest warrant against him for alleged bribery.
Lee Jae-myung, leader of the Democratic Party of Korea, will maintain a schedule including court attendance while hospitalised for the time being, the spokesman told reporters.
Prosecutors this month sought the warrant in an investigation into bribery allegations concerning a development project. Prosecutors accuse Lee of asking a company to illegally transfer $8 million to North Korea when he was the governor of Gyeonggi Province.
He is also accused of breaching his duty over losses of 20 billion won ($15 million) by a municipal development corporation when he was mayor of Seongnam city.
Lee, who lost South Korea's presidential election to conservative Yoon Suk Yeol last year, has denied wrongdoing, calling the allegations "fiction" and a "political conspiracy".
He began his protest on Aug. 31, citing the government's economic mismanagement, threats to media freedom and the failure to oppose Japan's release of wastewater from the wrecked Fukushima nuclear plant, among other reasons.
Thursday's surprise vote by parliament, controlled by Lee's party, has caused an uproar among his supporters.
Police on Saturday detained a man in his 40s who had posted the names of more than a dozen lawmakers outside Lee's party faction, writing "gotta search for the sniper rifle at home", said an official with the Gyeonggi Nambu Provincial Police. Police will seek an arrest warrant against him for intimidation, the official said.
South Korea is to hold parliamentary elections in April.
Landslide causes large chunk of Swedish motorway to collapse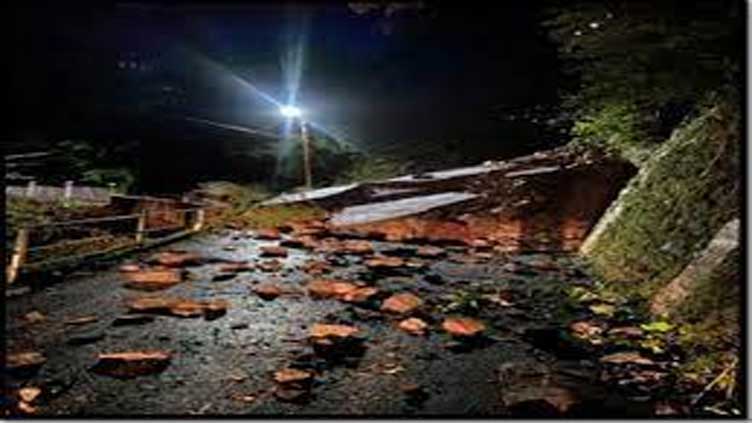 A large chunk of a motorway in southwest Sweden collapsed overnight, causing three people to be taken to hospital with light injuries, police said on Saturday.
The landslide damaged the motorway between Sweden's second-biggest city Gothenburg and Norway's capital Oslo, near the small town of Stenungsund, around 50 km north of Gothenburg on Sweden's west coast.
"The landslide has affected an area of around 100 x 150 meters, around ten vehicles, a wooded area, and a business area with a gas station and a fast food restaurant," the Gothenburg Rescue Services said.
"A number of people have been helped out of vehicles in the slide area with the help of fire personnel and a helicopter," they said. Several cars and one truck had fallen into holes and cracks caused by the landslide, Swedish news agency TT reported.
A rescue services spokesperson told public broadcaster SVT all people in the vehicles had been helped out. The rescue services said specially trained staff and search dogs would now search the area, and that further slides could not be ruled out.