Twittersphere disagree with Naseeruddin Shah's claim that Sindhi not spoken in Pakistan
Actor Naseeruddin Shah has sparked a controversy by his blatant claim that Sindhi is no longer spoken in Pakistan.
He voiced this bizarre opinion while giving interview to "Tried and Refused productions" for the promotion of his latest TV series 'Taj'.
Predictably, the users reacted strongly to the words of Shah and reminded of the fact that Sindhi is spoken in Pakistan.
some also urged the actor to "come to Sindh", calling attention on how sweeping stereotypes we hear about Sindh coming from people who have never visited.
Few people suggested that Mr Shah has not bothered to look at the presence of Sindhi in local media and literature.
Some users gone a step further and suggested Shah to withdraw from public life mentioning he could not hold intellectual conversation.
Some Twitter users relied on sarcasm and said indeed Sindhi has vanished in Pakistan and he was Tweeting from the burial mounds of Mohanje Daro.
'Expend4bles' opens with epic flop while 'Nun 2' claims top spot again at the box office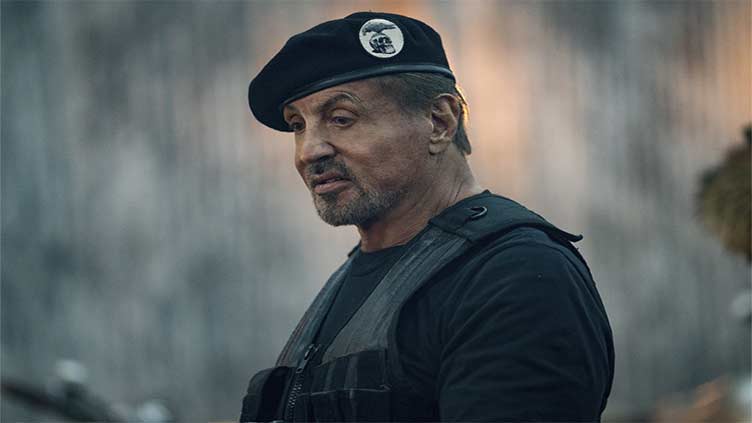 Sylvester Stallone and Jason Statham weren't enough to save "Expend4bles" from a debut box office flop. The fourth installment suffered the action-packed franchise's worst opening weekend while "The Nun 2" took home the top spot for a third straight week, data firm Comscore reported on Sunday.
The Lionsgate and Millennium's film, also known as "Expendables 4," pulled in a mediocre $8.3 million for the big-budget project. It starred several popular names, including Stallone, Statham, Curtis "50 Cent" Jackson, Megan Fox and Dolph Lundgren. It's been nearly a decade since the franchise released a film, which opened with $15.8 million and eventually grossed $214 million globally.
But times have certainly changed, as the film barely placed second behind "The Nun 2," a horror movie that earned $8.4 million in its first week. It's been a solid start for that Warner Bros.' project — a spinoff from the lucrative "Conjuring" franchise. So far, the Michael Chaves-directed sequel has grossed more than $69 million.
"It's a star-studded franchise, but horror is a different situation," said Paul Dergarabedian, the senior media analyst for Comscore. "It just seems no matter what if you're scared in the movie theater a couple times in an hour and a half or two, that's worth the price of admission."
In third, "A Haunting in Venice" earned $6.3 million. Kenneth Branagh's third Agatha Christie adaptation, following 2017's "Murder on the Orient Express" and 2022's "Death on the Nile," has drawn in over $25.3 million after two weeks.
"The Equalizer 3," starring Denzel Washington, only dropped to fourth place with $4.725 million. In four weeks, it has grossed $81.1 million domestically.
"Barbie," the biggest movie of 2023, is still carrying some momentum from the summer into the fall season. The Greta Gerwig box-office smash ranked in the top five, earning $3.2 million this week and a domestic total of more than $630 million after a 10-week period.
Sixth place went to "My Big Fat Greek Wedding 3," with $3 million, while "It Lives Inside" opened its first week with $2.6 million. The Sony film "Dumb Money," a dramatization of the GameStop stock frenzy, stayed put in the eighth position for a second week in a row with $2.5 million.
"Blue Beetle" fell to ninth, with $1.8 million, and "Oppenheimer" rounded out the top 10 with $1.6 million. The Christopher Nolan film has garnered $321 million domestically.
In all, it was another slow output for box office figures as many Hollywood projects are still on hold due to the ongoing Screen Actors Guild-American Federation of Television and Radio Artists, and Writers Guild of America strikes.
This weekend grossed the lowest since Dec. 9, 2022, Dergarabedian said. It was also the first time since the weekend of Feb. 10, 2023 to not have a movie earn over $10 million.
But Dergarabedian said a "spectacular October" could be on the way with the much-anticipated "Taylor Swift: The Eras Tour" concert film, "The Exorcist: Believer" and "Saw X."
"Things are going to change next week or the weeks after when Taylor Swift hits the multiplex," he said. "This is the natural ebbs and flow of the box office. That means one thing: We'll be back to normal."
Estimated ticket sales for Friday through Sunday at US and Canadian theaters, according to Comscore. Final domestic figures will be released Monday.
1. "The Nun II," $8.4 million.
2. "Expend4bles," $8.3 million.
3. "A Haunting in Venice," $6.3 million.
4. "The Equalizer 3," $4.7 million.
5. "Barbie," $3.2 million.
6. "My Big Fat Greek Wedding 3," $3 million.
7. "It Lives Inside," 2.6 million.
8. "Dumb Money," $2.5 million.
9. "Blue Beetle," $1.8 million.
10. "Oppenheimer," $1.6 million.
When will Saudi Arabia's first cinema event take place?
First time in the history of Saudi Arabia, a cinema event is being organised on Oct 1 in Riyadh.
According to a media outlet, about 100 people will participate in this event titled "Saudi Film Forum." As many as 50 important speakers will speak on the occasion and the event will conclude on Oct 4.
The media reported that this would be the first event of its kind in the kingdom to be held at the Boulevard City Exhibition Hall in Riyadh. The aim of the event is to transform the film industry into a major contributor to the Saudi economy.
Following the initiative, the film industry will be able to achieve sustainable and renewed economic growth by expanding investment opportunities and cooperation through exchange of experiences.
Renowned filmmakers, producers, directors, investors and international media persons will join the gathering so that they could ascertain the reality and future of filmmaking in Saudi Arabia.
Workshops and several other sections including Inspiration Zone, Innovation Zone, Interactive Activities Zone, Experiences Zone and Business Zone are also part of the event.
The media reported that Saudi Film Commission CEO Engineer Abdullah Al Ayyaf had described the forum as a major success for the film industry.
Hamaima Malik's photoshoot in pool attracts fans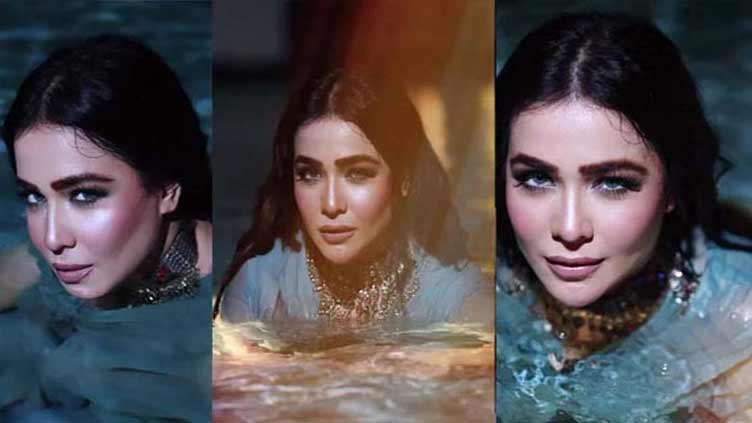 Fans of Humaima Malik are very much surprised to have a look of her recent photoshoot in the swimming pool.
The actor shared a few videos of the photoshoot in the pool with her fans on the Instagram. Her photoshoot invited a number of comments from the fans. Hamaima Malik's unique pose in the pool is being loved by the fans.