Bollywood superstar Alia Bhatt makes her Hollywood debut in Netflix's 'Heart of Stone'
Alia Bhatt had been weighing her Hollywood options for a few years.
A popular star of Hindi films for over a decade with nearly 79 million Instagram followers, she'd been interested in making an English-language film, but nothing had been working out.
Then Bhatt got word of a new action franchise led and produced by Gal Gadot and within a week of reading the script, the deal had closed. It was, she concluded, fate.
"Your first film chooses you," Bhatt said in an interview with The Associated Press. "Technically, this is my first English-language movie. It chose me and I'm so happy it did."
"Heart of Stone," a globe-trotting spy thriller co-starring Gadot and Jamie Dornan, debuts globally Friday on Netflix.
Bhatt's role as a tech prodigy named Keya is one that's hard to describe without spoiling the twisty plot, but it's an important one.
In India, the actor had grown accustomed to being a lead, but here she was happy to delve into a more supporting part — as long as it had substance to it.
In reading the script, she wanted to make sure that her character wasn't just there to fill a "South Asian" slot, and that she was involved in — and impacting — the storyline.
"The way I judge it is if you take the character out of the story and you still have a film, then that character's not important," Bhatt said.
But most of all, she was excited to be second to a woman who was also producing. Director Tom Harper called Bhatt a "formidable talent" and said that it was the dynamic between Keya and Gadot's character, Rachel Stone, that most excited him about the film.
"The two bounce off each other brilliantly and you get real electricity," Harper said. "Some of my favorite parts of the movie are when they riff off each other and the banter that they have."
Bhatt was struck by how similar Hollywood sets are to than the ones she's spent a decade on in India — with the main difference being the hours.
The days were shorter on "Heart of Stone," but so were the breaks. In India, she said, there would be an hour for lunch, 30 minutes for snacks and a later finish time.
She was also pregnant during the shoot and was tickled to see some the things she "did" in the finished film (with the help of stunt doubles and digital effects).
"I'm like, 'Wow, I did that?'" she laughed. "I don't think so, but it looks like I did."
The release of "Heart of Stone" caps off what has been a banner year for the 30-year-old, in which she also welcomed her first child, attended her first Met Gala and was named the first Indian house ambassador for the luxury label Gucci.
She had a small part in the Telugu-language action epic "RRR," which became an international sensation, and also has been making a name for herself as a producer.
The first film she produced, "Darlings," was a Netflix production as well, and the experience has been "challenging and scary and fruitful all at the same time."
Bhatt hails from a Bollywood family. Her father, Mahesh Bhatt, is a well-known filmmaker, and her mother, Soni Razdan, is a former actress.
She made her debut in Karan Johar's teen drama "Student of the Year" in 2012, garnered accolades for playing a kidnapping victim in the drama "Highway," from 2014, and last year she married fellow Bollywood star Ranbir Kapoor.
"My parents from the very beginning have been very careful with the words of encouragement that they give me. … It helps when you grow up in a family that's seen the highs and the lows and seen everything in between," she said.
"At the end of the day, my dad always says, you most definitely going cannot be the first member of your own fan club. So, try to have a 10-foot distance from it all."
She doesn't have a grand plan for her future in Hollywood and does not see herself moving to the U.S., like her friend Priyanka Chopra Jonas.
"I think what Priyanka did was extremely brave and very different from what anyone has ever done. She's such an inspiration to every young girl from India that has that big dream to be a global icon and a global star," Bhatt said.
"I don't think I could do that. I want to continue to do movies in India. And I want to be able to get these one-off, amazing international opportunities."
"I still don't know what I'm doing," she added. "It's just this one film and we'll see how it goes from here."
'Expend4bles' opens with epic flop while 'Nun 2' claims top spot again at the box office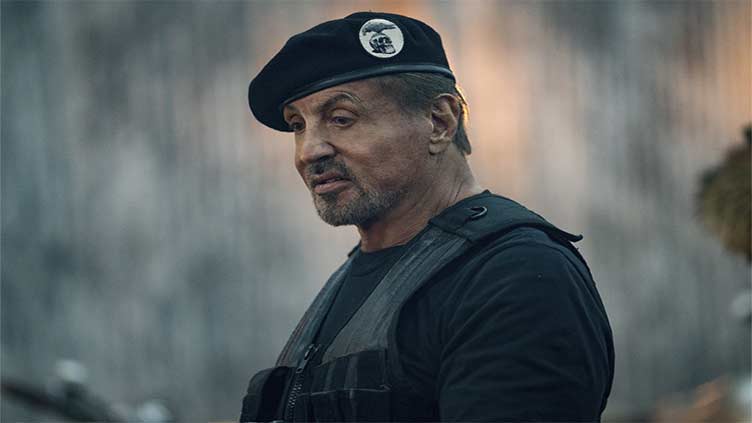 Sylvester Stallone and Jason Statham weren't enough to save "Expend4bles" from a debut box office flop. The fourth installment suffered the action-packed franchise's worst opening weekend while "The Nun 2" took home the top spot for a third straight week, data firm Comscore reported on Sunday.
The Lionsgate and Millennium's film, also known as "Expendables 4," pulled in a mediocre $8.3 million for the big-budget project. It starred several popular names, including Stallone, Statham, Curtis "50 Cent" Jackson, Megan Fox and Dolph Lundgren. It's been nearly a decade since the franchise released a film, which opened with $15.8 million and eventually grossed $214 million globally.
But times have certainly changed, as the film barely placed second behind "The Nun 2," a horror movie that earned $8.4 million in its first week. It's been a solid start for that Warner Bros.' project — a spinoff from the lucrative "Conjuring" franchise. So far, the Michael Chaves-directed sequel has grossed more than $69 million.
"It's a star-studded franchise, but horror is a different situation," said Paul Dergarabedian, the senior media analyst for Comscore. "It just seems no matter what if you're scared in the movie theater a couple times in an hour and a half or two, that's worth the price of admission."
In third, "A Haunting in Venice" earned $6.3 million. Kenneth Branagh's third Agatha Christie adaptation, following 2017's "Murder on the Orient Express" and 2022's "Death on the Nile," has drawn in over $25.3 million after two weeks.
"The Equalizer 3," starring Denzel Washington, only dropped to fourth place with $4.725 million. In four weeks, it has grossed $81.1 million domestically.
"Barbie," the biggest movie of 2023, is still carrying some momentum from the summer into the fall season. The Greta Gerwig box-office smash ranked in the top five, earning $3.2 million this week and a domestic total of more than $630 million after a 10-week period.
Sixth place went to "My Big Fat Greek Wedding 3," with $3 million, while "It Lives Inside" opened its first week with $2.6 million. The Sony film "Dumb Money," a dramatization of the GameStop stock frenzy, stayed put in the eighth position for a second week in a row with $2.5 million.
"Blue Beetle" fell to ninth, with $1.8 million, and "Oppenheimer" rounded out the top 10 with $1.6 million. The Christopher Nolan film has garnered $321 million domestically.
In all, it was another slow output for box office figures as many Hollywood projects are still on hold due to the ongoing Screen Actors Guild-American Federation of Television and Radio Artists, and Writers Guild of America strikes.
This weekend grossed the lowest since Dec. 9, 2022, Dergarabedian said. It was also the first time since the weekend of Feb. 10, 2023 to not have a movie earn over $10 million.
But Dergarabedian said a "spectacular October" could be on the way with the much-anticipated "Taylor Swift: The Eras Tour" concert film, "The Exorcist: Believer" and "Saw X."
"Things are going to change next week or the weeks after when Taylor Swift hits the multiplex," he said. "This is the natural ebbs and flow of the box office. That means one thing: We'll be back to normal."
Estimated ticket sales for Friday through Sunday at US and Canadian theaters, according to Comscore. Final domestic figures will be released Monday.
1. "The Nun II," $8.4 million.
2. "Expend4bles," $8.3 million.
3. "A Haunting in Venice," $6.3 million.
4. "The Equalizer 3," $4.7 million.
5. "Barbie," $3.2 million.
6. "My Big Fat Greek Wedding 3," $3 million.
7. "It Lives Inside," 2.6 million.
8. "Dumb Money," $2.5 million.
9. "Blue Beetle," $1.8 million.
10. "Oppenheimer," $1.6 million.
When will Saudi Arabia's first cinema event take place?
First time in the history of Saudi Arabia, a cinema event is being organised on Oct 1 in Riyadh.
According to a media outlet, about 100 people will participate in this event titled "Saudi Film Forum." As many as 50 important speakers will speak on the occasion and the event will conclude on Oct 4.
The media reported that this would be the first event of its kind in the kingdom to be held at the Boulevard City Exhibition Hall in Riyadh. The aim of the event is to transform the film industry into a major contributor to the Saudi economy.
Following the initiative, the film industry will be able to achieve sustainable and renewed economic growth by expanding investment opportunities and cooperation through exchange of experiences.
Renowned filmmakers, producers, directors, investors and international media persons will join the gathering so that they could ascertain the reality and future of filmmaking in Saudi Arabia.
Workshops and several other sections including Inspiration Zone, Innovation Zone, Interactive Activities Zone, Experiences Zone and Business Zone are also part of the event.
The media reported that Saudi Film Commission CEO Engineer Abdullah Al Ayyaf had described the forum as a major success for the film industry.
Hamaima Malik's photoshoot in pool attracts fans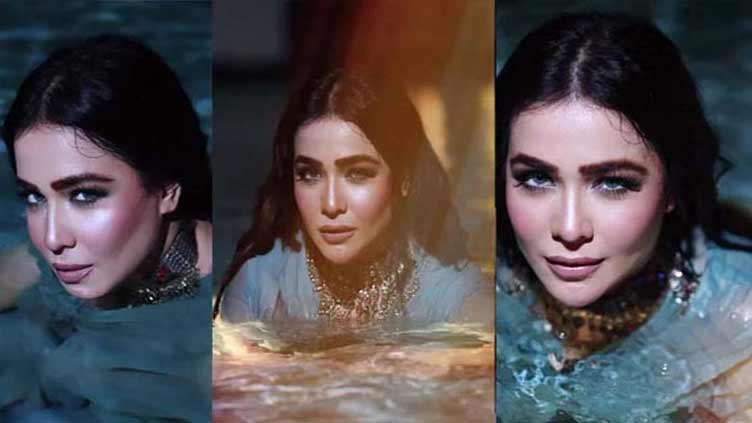 Fans of Humaima Malik are very much surprised to have a look of her recent photoshoot in the swimming pool.
The actor shared a few videos of the photoshoot in the pool with her fans on the Instagram. Her photoshoot invited a number of comments from the fans. Hamaima Malik's unique pose in the pool is being loved by the fans.