Pakistan 'put arms around' Mir after catch blunder, says Morkel
Pakistan bowling coach Morne Morkel on Saturday said the whole team will "put their arms around" Usama Mir after his dropped catch opened the doors for Australia to clinch a crucial World Cup victory.
Leg-spinner Mir, playing in his first match of the tournament, spilled an easy-looking catch which would have seen the back of David Warner in the fifth over of Friday's game bowled by Shaheen Shah Afridi.
At the time Warner was on just 10 – he went onto make 163, hitting nine sixes and 14 boundaries to propel Australia to an imposing 367-9.
Warner and Mitchell Marsh (121) put on 259 for the opening wicket.
Pakistan lost their way with a middle-order collapse and were bowled out for 305 in 45.3 overs to lose by 62 runs.
"Luckily the team atmosphere is very strong and everybody in that dressing room will put their arms around Usama and support him," said former South Africa fast bowler Morkel.
"It was a dropped catch. Anybody can drop catches on any day, it's part of the game."
Mir, 27, was playing in only his ninth one-day international in Bengaluru on Friday after replacing fellow leg-spinner Shadab Khan.
"This is a big opportunity for Mir to learn and I am sure that he will overcome this," added Morkel.
"It is for us to support him in tough times. The character he has shown as a player is strong and I am sure he will get through it."
'It's brutal'
Morkel, who played 86 Tests, 117 ODIs and 44 T20Is in a distinguished South Africa career, admitted that the pressures of a World Cup can weigh on all players.
"This is a big stage and the margins are very small and at times it's brutal," said Morkel.
"As a youngster and as a quality player, playing the World Cup in India is a great experience for all."
Morkel praised Shaheen after the Pakistan strike bowler overcame the disappointment of seeing Warner dropped to go on and claim 5-54.
"He has shown character," said Morkel of Shaheen who had only four wickets in the first three games of the World Cup.
"I think at the start he wanted to make a big impact and maybe tried too hard," said Morkel.
"He changed his strategy a bit and bowled a hard length. At the back end he bowled so well."
He added: "He's back in the wickets, he was down for four days with a viral infection and could hardly train. But to come out with a performance like that after just one training session was great."
After winning their opening games against the Netherlands and Sri Lanka, Pakistan have now lost two in a row with the Australia setback coming after they were completely outplayed by India last weekend.
They are fifth in the 10-nation tournament with only the top four making the semi-finals.
Morkel admitted that the absence from the World Cup through injury of pace bowler Naseem Shah had dented the team's fast bowling resources.
"Naseem is a very fast rising bowler. Fast bowlers hunt in pairs and I had Dale Steyn. Losing Naseem is one of the factors."
Morkel also backed Haris Rauf, the pace bowler who has eight wickets at the World Cup. Rauf claimed three against Australia but conceded 83 runs.
"Rauf gave a hundred per cent and I can't find fault," said Morkel.
"He had a tough first few overs and Australia were looking for 400. He and the others came back and stopped that."
Unbeaten Bayern and Leverkusen leave rivals behind early in title race
Bayern Munich face Heidenheim on Saturday
Bayern Munich face Heidenheim on Saturday as the promoted side have the uneviable task of trying to stop the momentum of the side already vying with Bayer Leverkusen for this season's Bundesliga title.
Bayern and a skliful Bayer Leverkusen side coached by former Real Madrid and Liverpool midfielder Xabi Alonso head into the weekend as the only remaining unbeaten teams in the league.
Leverkusen, who host struggling Union Berlin on Sunday, head the table with 28 of a possible 30 points, two clear of Bayern in second, with third-placed Stuttgart already five points further back.
Leverkusen only dropped points against Bayern, with the sides playing out a pulsating 2-2 draw in Munich in September.
Bayern come into their game after qualifying for the last 16 of the Champions League thanks to a 2-1 win against Galatasaray on Wednesday thanks to a Harry Kane double. But the victory came at a price with the loss of forward Jamal Musiala with a hamstring injury.
Any doubts that the leading duo are a cut above were laid to rest on the past weekend, with each of the chasing pack — Stuttgart, Borussia Dortmund and RB Leipzig — suffering dispiriting losses.
Stuttgart slipped to a 2-0 defeat to Heidenheim, their second-straight defeat since losing talisman Serhou Guirassy to injury. Dortmund again received their biannual thumping by Bayern, losing 4-0 at home to tear up their unbeaten record.
German Cup holders RB Leipzig were unusually flat, going down 2-0 at last-placed Mainz, allowing the home side their first win of the season.
Leverkusen midfielder Granit Xhaka, who joined from Arsenal in the summer, told Sportbild on Wednesday his "young side had the hunger to achieve something big" this season. The captain of Switzerland however reminded his team "no team has ever won the title after 10 matchdays".
That is an experience Xhaka knows too well after his Arsenal side were overtaken by Man City having led for much of last year's Premier League season. "We decide where we are at the end of the season. We need to win all of our games — and then other teams can do whatever they like," Xhaka said.
Xhaka's men take on Union Berlin at home on Sunday. The omens for Union Berlin, who are stuck in deep slump, are not good — Leverkusen won this fixture 5-0 last season.
Longing for a rest
While five-time runners up Leverkusen may be dreaming of a first-ever Bundesliga title, champions Bayern are just holding out for a rest.
Thomas Tuchel's side have managed to keep pace with Leverkusen despite a mounting injury list, added to by Musiala, who is likely to be sidelined for several weeks with a hamstring injury.
Speaking after beating Galatasaray, Tuchel said he hoped his side could beat Heidenheim and get to the international break unscathed.
The break "is sensational" from a coach's perspective, Tuchel said.
"You can take a couple of days holiday without a guilty conscience," Tuchel said, clearly feeling more secure than his predecessor Julian Nagelsmann, who was fired while on a ski holiday during an international break in March.
One to watch: Julian Brandt (Borussia Dortmund)
Midfielder Julian Brandt has been Borussia Dortmund's creative spark this season, finally delivering consistently on his potential after showing glimpses throughout his career.
Prior to Dortmund's 4-0 thumping by Bayern on Saturday, Brandt had scored or assisted in eight straight league matches.
Brandt called on his teammates to toughen up after the Bayern loss and stood by his words as Dortmund beat Newcastle 2-0 in the Champions League on Tuesday, scoring the match-sealing goal late in the game.
The 27-year-old praised teammate Karim Adeyemi's "sensational" pass before the goal and lauded his teammates for "not falling in a hole" after the Bayern demolition.
Key stats
15 in 10: Harry Kane has scored 15 goals in 10 league games for Bayern this season. 14 in eight: Stuttgart's Serhou Guirassy, who may return from injury in Saturday's match with Borussia Dortmund, just trails the England captain with 14 in eight.
38: Bayern have 38 goals after 10 games, a Bundesliga record. 23 of those have come from either Kane or Leroy Sane.
Fixtures (1430 GMT unless stated)
Friday
Borussia Moenchengladbach v Wolfsburg (1930)
Saturday
Darmstadt v Mainz, Augsburg v Hoffenheim, Bayern Munich v Heidenheim, Stuttgart v Borussia Dortmund, Bochum v Cologne (1730)
Sunday
Bayer Leverkusen v Union Berlin, Werder Bremen v Eintracht Frankfurt (1630), RB Leipzig v Freiburg (1830)
Noren grabs early Bermuda lead with 61 as Long sets record
The 41-year-old from Stockholm made a tournament-record 11 birdies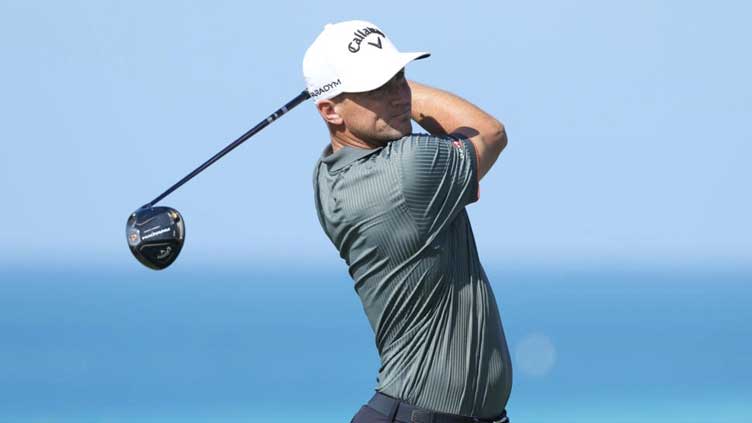 Sweden's Alex Noren fired a 10-under par 61, matching the course record, to seize the lead after darkness halted Thursday's opening round of the US PGA Tour's Bermuda Championship.
The 41-year-old from Stockholm made a tournament-record 11 birdies against a lone bogey at Port Royal in Southampton for his low 18-hole score in 510 official tour rounds.
"I'm very happy. It was great to get a 10-under," Noren said. "It was a long time ago I had a really low round, lower than maybe 5-6-under, so I feel good."
There was also a US PGA Tour record for American Adam Long, who broke the 31-year-old mark for consecutive fairways hit and stretched his streak to 69 before missing the fairway on the par-4 15th to end the historic run.
"Made Thursday a little more exciting than usual," Long said.
Noren, who shared third last month at Las Vegas for his best finish of the year, led by two strokes over Americans Dylan Wu, Vince Whaley, D.J. Trahan and Robert Garrigus when darkness ended play.
"It felt great in Vegas, had a chance to win but couldn't do it," Noren said. "But it at least gave me a good setup for next year and just improved my game and then I can get back to the big tournaments."
Nine players had yet to finish the opening round, but only American Kevin Roy at six-under on his final hole, was less than seven shots off the pace.
Noren, chasing his first US PGA title, is a 10-time winner on the DP World Tour, most recently at the 2018 French Open.
He opened on the back nine and birdied the 12th hole, then reeled off three birdies in a row starting at the 14th and began a run of four consecutive birdies at the 18th.
He answered his lone bogey at the fifth with birdies on the sixth and par-5 seventh holes and closed with another at the ninth to equal the 18-hole course mark set by Canada's Taylor Pendrith in 2021.
Long fairway record
Long, who fired a 66, broke the PGA Tour record for hitting consecutive fairways, a run of 59 set in 1992 by American Brian Claar.
Long started the event with 58 in a row, dating to the 17th hole of his final round of last month's Shriners Children's Open.
At last week's World Wide Technology Championship, Long became the first player since Claar in 1992 to hit every fairway in a tournament, going 56-for-56.
Long set the new mark by finding the fairway on the first and second holes at Port Royal.
"It was fun," Long said. "Had everyone not come up and said something to me the last 24 hours, I probably wouldn't think about it as much as I did. But it was in my mind, for sure, to start." The run ended at the 15th hole.
"It was a 3-wood that I kind of hit up in the air a little too spinny and the wind caught it," Long said. "Didn't quite go far enough so it stayed in the rough. Yeah, it was a little bit of relief that part was over."
The round also marked the PGA Tour debut of 15-year-old Bermudan Oliver Betschart, the fifth-youngest player in tour history and youngest since 2013.
Odermatt faces Kilde in controversial cross-border ski season opener
The men's World Cup ski season belatedly gets underway in Zermatt-Cervinia this weekend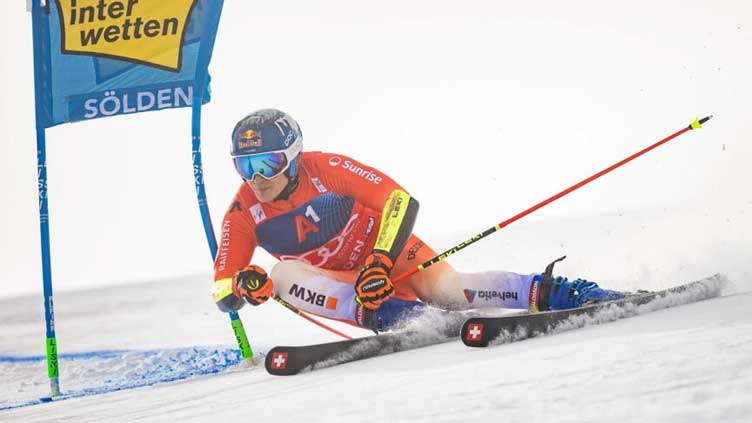 The men's World Cup ski season belatedly gets underway in Zermatt-Cervinia this weekend with the prospect of a thrilling match-up between Marco Odermatt, the two-time Swiss holder of the crystal globe, and his Norwegian runner-up Aleksander Aamodt Kilde.
Provided that the forecast snow and wind allow the stage, which was cancelled last year, to go ahead, the Gran Becca promises to be a mouth-watering duel.
It will be the first cross-border race in the history of the World Cup, starting in Switzerland and finishing in Italy, a majestic setting facing the Matterhorn.
The event, however, which takes in two downhills on Saturday and Sunday, has been overshadowed by environmental issues as the diggers work away on the ever-dwindling glacier.
This new destination, which will have two women's events next weekend, is a response to the more technical course of Soelden in Austria, where last week's men's giant slalom was cancelled because of the weather.
With top speeds of 135 km/h, Zermatt-Cervinia is designed to create an "opening for speed". According to its Swiss architect Didier Defago, the 2010 downhill Olympic champion, the piste will have everything "from jumps to long turns, from gliding passages to speed elements".
But as Odermatt, Aamodt and the other contenders chase the first victory of the season, the detractors will warn once again of the environmental dangers.
Olympic downhill runner-up Johan Clarey, meanwhile, roundly denounced it as "nonsense" with "huge helicopter resources, human resources to fill in the crevasses and make the track acceptable". "The conditions on the glaciers are getting worse every year," said the 42-year-old, who retired in May.
Swiss newspaper '20 minutes' reignited the controversy in October with its pictures of diggers carving up the Theodule glacier to prepare the Gran Becca, in part outside the authorised ski area.
Urs Lehmann, president of the Swiss Ski Association, said the articles were "deliberately biased… at a time when climate change and sustainability have become central issues". "Nobody would have skied on a glacier for decades" without bulldozers to make them safe, he added.
But Zermatt-Cervinia is a further illustration of the artificialisation of the mountains to host sporting events, even though the effects of global warming are spectacular.
At the 2022 Olympic Games in Beijing, snow machines were needed to provide a suitable surface on otherwise dry slopes. Helicopters and snow trucks were used in 2017 to prepare the legendary Austrian downhill at Kitzbuehel.
French skier Alexis Pinturault, who will be absent this weekend, is another who has expressed reservations about Zermatt-Cervinia.
"We want to preserve our environment and, at the same time, we want to continue our activity," said Pinturault in Soelden.
"The question is how we can do all that in the best possible way."