'Hostage diplomacy': a growing headache for the West
Sylvie Arnaud's first feeling when she learnt her son Louis had been detained in Iran in September last year was sheer incredulity, followed by a raging sense of injustice and impotence.
"We don't know how long this will last, we don't know what the Iranians are waiting for and we will probably never know," she told AFP.
Louis Arnaud, described by his family as a passionate traveller who simply wanted to see the world, is one of four French nationals held in prison in Iran.
He is also among at least a dozen Western nationals jailed in what campaigners and some governments describe as a deliberate strategy of hostage-taking by the Islamic republic to extract concessions.
But Iran is far from the only country accused of pursuing such a strategy, with the likes of China, Russia and Venezuela seen as holding innocent foreigners on trumped-up charges of espionage or other security-related allegations — people who simply had the misfortune to be in the wrong place at the wrong time.
Precedents have shown the prisoners are generally only released in exchange for something — either for other detainees or assets — forcing Western governments into the uncomfortable position of knowingly negotiating over hostage-takings.
Such negotiations are hugely time-consuming, painstaking, often conducted through intermediaries and, even if a deal is reached, can collapse at the last minute.
"At the beginning, I didn't want to think that it was political. And time has now passed… without anything happening," said Sylvie Arnaud.
Western governments have often made major concessions to secure the release of their nationals held abroad.
The United States authorised the transfer of six billion dollars in Iranian funds frozen in South Korea and the release of five Iranians to facilitate the release of five Americans jailed by Iran. After being released from prison, the Americans are now held under house arrest and should go home when the transaction is completed.
This exchange has already been criticised for not including two US residents: German national Jamshid Sharmahd who is facing the death penalty and Virginia-based Iranian Shahab Dalili who was arrested in 2016 while visiting Tehran.
At the end of May, Belgian humanitarian Olivier Vandecasteele was released after 15 months of detention in Iran, in exchange for an Iranian diplomat, Assadollah Assadi, who had been sentenced in Belgium in 2021 to 20 years in prison on terror charges for seeking to bomb an opposition rally outside Paris.
In October 2022, seven American prisoners held in Venezuela were released in exchange for two individuals close to President Nicolas Maduro.
Russia in December released basketball superstar Brittney Griner, who had been held since February 2022 on charges of possessing vape cartridges with a small quantity of cannabis oil. But only in exchange for notorious Russian arms dealer Viktor Bout — known as the "Merchant of Death" –- who had been jailed in the United States.
Former US marine Paul Whelan, imprisoned in Russia for over four years, remains in a penal colony while Russia in March arrested another US citizen, Wall Street Journal reporter Evan Gershkovich.
Etienne Dignat, professor at Sciences Po university in Paris, said governments faced a "dilemma".
"By unfreezing assets and exchanging prisoners, they are in a certain way rewarding a crime and encouraging states to continue their hostage diplomacy," Dignat, author of a book on hostage-taking, told AFP.
Daren Nair, a security consultant and campaigner who runs a podcast on hostage diplomacy, said the number of victims had risen in recent years.
"The majority of Americans held captive abroad 10 years ago were held by non-state actors in countries like Syria, Yemen and Somalia… Today, the majority of Americans held captive abroad are being held by state actors like Iran, Venezuela, Russia and China," he told AFP.
He said that once nationals were taken, governments had no alternative except to negotiate with their captors — but said more should be done to thwart the strategy in the first place.
He argued the two ways to stop hostage diplomacy were to "punish the individuals responsible within these hostage-taking states and continuously raise awareness so your citizens stop travelling to these countries."
"In general the only way to get a hostage home is to negotiate," added Joel Simon, founding director of the Journalism Protection Initiative. "Other strategies –- such as rescues –- are rarely successful."
"Unless we engage with hostage takers — whether they be states or non-state actors -– the hostage will probably be killed or will languish in detention or prison for an extended period."
Blandine Briere never doubted the innocence of her brother Benjamin who was finally freed in May after being held for three years in Iran on charges of espionage. She recalled how the family felt plunged into an "impasse".
"We discovered a world that was unknown in normal life," she said, recalling how the family offered support but was "constantly walking on eggshells because we did not know if it can have a positive or negative impact."
India formulate security plan for World Cup 2023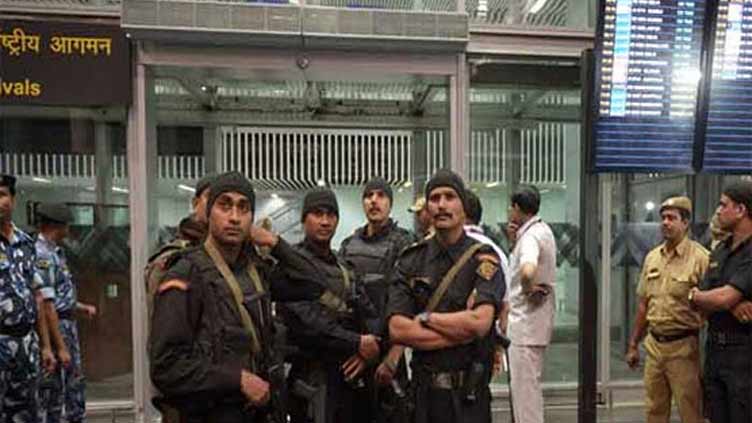 India have chalked out a comprehensive plan for multi-layer security and management of traffic for the upcoming ICC Men's World Cup 2023.
A security official told Indian media that arrangements had been made for smooth influx of fans into the stadiums and maintain uninterrupted traffic flow on roads.
He said multi-layer security plan had been designed for the mega event, adding that a communication system would also be established for seamless coordination between security agencies and local cricket association.
The security teams would ensure the safe movement of teams from hotel to stadium and back by creating secure pathways.
As several stadiums, including Pune, are situated at a considerable distance from the city, seamless arrangements have been made to handle the logistical challenge in an effective way.
Commissioner of Pimpri Chinchwad police Vinoy Kumar Choubey said told Indian media, "We will be putting in place a multi-layer security cover in and around the stadium. A detailed plan for the same is in the making.
"Each layer will have a specific purpose and a pre-decided number of personnel and officers will be tasked to secure each layer. A communication channel has been established between the MCA office bearers and our team."
South Korea opposition leader ends 24-day hunger strike
South Korea's opposition leader ended a 24-day hunger strike on Saturday, a party spokesperson said, two days after parliament voted to let prosecutors serve an arrest warrant against him for alleged bribery.
Lee Jae-myung, leader of the Democratic Party of Korea, will maintain a schedule including court attendance while hospitalised for the time being, the spokesman told reporters.
Prosecutors this month sought the warrant in an investigation into bribery allegations concerning a development project. Prosecutors accuse Lee of asking a company to illegally transfer $8 million to North Korea when he was the governor of Gyeonggi Province.
He is also accused of breaching his duty over losses of 20 billion won ($15 million) by a municipal development corporation when he was mayor of Seongnam city.
Lee, who lost South Korea's presidential election to conservative Yoon Suk Yeol last year, has denied wrongdoing, calling the allegations "fiction" and a "political conspiracy".
He began his protest on Aug. 31, citing the government's economic mismanagement, threats to media freedom and the failure to oppose Japan's release of wastewater from the wrecked Fukushima nuclear plant, among other reasons.
Thursday's surprise vote by parliament, controlled by Lee's party, has caused an uproar among his supporters.
Police on Saturday detained a man in his 40s who had posted the names of more than a dozen lawmakers outside Lee's party faction, writing "gotta search for the sniper rifle at home", said an official with the Gyeonggi Nambu Provincial Police. Police will seek an arrest warrant against him for intimidation, the official said.
South Korea is to hold parliamentary elections in April.
Landslide causes large chunk of Swedish motorway to collapse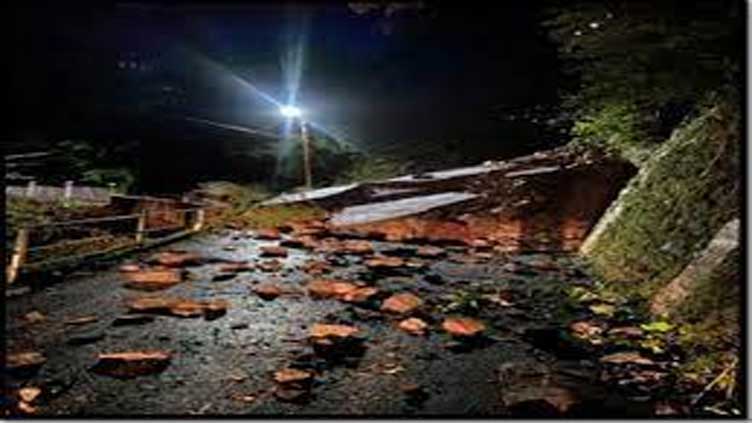 A large chunk of a motorway in southwest Sweden collapsed overnight, causing three people to be taken to hospital with light injuries, police said on Saturday.
The landslide damaged the motorway between Sweden's second-biggest city Gothenburg and Norway's capital Oslo, near the small town of Stenungsund, around 50 km north of Gothenburg on Sweden's west coast.
"The landslide has affected an area of around 100 x 150 meters, around ten vehicles, a wooded area, and a business area with a gas station and a fast food restaurant," the Gothenburg Rescue Services said.
"A number of people have been helped out of vehicles in the slide area with the help of fire personnel and a helicopter," they said. Several cars and one truck had fallen into holes and cracks caused by the landslide, Swedish news agency TT reported.
A rescue services spokesperson told public broadcaster SVT all people in the vehicles had been helped out. The rescue services said specially trained staff and search dogs would now search the area, and that further slides could not be ruled out.