Armani, Kapoor bring tranquil close to Milan fashion week
Armani, Kapoor bring tranquil close to Milan fashion week
Milan Fashion Week closed four days of mostly menswear previews for next fall and winter on a note of tranquility.
Italian fashion world stalwart Giorgio Armani took his admirers inside Milan's hidden courtyards, islands of calm concealed from general view within the walls of the city's austere neoclassical architecture.
Indian designer Dhruv Kapoor, a relative Milan newcomer, hopes to promote an interior journey with a new collection in which he seeks to reconcile alter-egos – be they romantic, aggressive or pensive – as a way of healing.
While creating similar moods, the presented designs couldn't have been more aesthetically opposite: one a study in tailoring and muted hues, the other an explosion of color on silhouettes that mix the oversized with the petite.
Highlights from Monday's shows:
DHRUV KAPOOR PROMOTES HEALING
Kapoor has a message of radical self-acceptance in his collection, which combined floral prints promoting stillness, cartoon images of Godzilla representing aggression and lace details for romanticism.
The designer, through his unisex collection dubbed "The Embracer," advocates embracing all of our parts, even those viewed negatively. Not that he thinks the solution lies in wardrobing.
"It's a very simple process. Look in the mirror and tell yourself, 'I love you.' And see how the magic starts to shift. You just need to admire yourself just the way you are," Kapoor said backstage, adding that he has felt a dramatic shift since adopting the practice. "I don't know how it comes. I never dwell on the how."
The collection includes a fitted, ripped denim dress over loose jeans. Broad-shoulder suit jackets were combined with tight trousers that flare into a bell bottom. Oversized sweatshirts were layered with cotton tunics and a sheer lace pant. Godzilla raged on the front of a button-down shirt or tight-fitting dress, while a silver pillow jacket had reptilian spikes down the back.
"Godzilla also has a very negative, monstrous thing attached to it," Kapoor said. But that should not impede acceptance, he insisted.
Crystals on knitwear, suits and jackets hold energy that Kapoor said can be activated to have a positive impact on the wearer's life. Instructions are included with the garments.
Models traversed the Tiepolo room in the 18th century Clerici Palace beneath images that included demons, walking to the beat of modems connecting mixed with classical music and hip hop. The mashup gives "us a whiff of the past and the future," Kapoor said. "And we are birthing a new present."
Kapoor also promotes healing for the environment. Nearly two-thirds of his collection is either upcycled, employing leftover textiles that otherwise would be discarded, or recycled. For this season, all of his suit fabrics are made from recycled plastics.
ARMANI'S HIDDEN MILAN
Hidden from view in Italy's frenetic fashion and finance capital are quiet gardens ensconced in Milan's courtyards.
Giorgio Armani suggests these are places to pause and take stock before emerging for business or play, this season on soft footwear with rubber soles.
Models walked slowly to a soundtrack of Italian pianist-composer Ludovico Einaudi soundtrack while wearing suits and separates that were deeply textured, projecting self-assuredness in the 88-year-old designer's trademark soft-silhouette.
The color palette consisted of soft earthy tones set off by olive and forest green with a surge of crimson in sportswear and a final smattering of weekend dandy looks. Flannel cargo pants were paired with soft sweaters. Disciplined double-breasted suits befitted a negotiating table. Big gake furs, including one in tiger print, lightened the quiet mood.
The show closed with couples dressed in shimmering black evening dresses and formal suits with silk or velvet details chattering down the runway, as if they were leaving a party.
Armani conceded that flashes of skin on other runways this season had a sensuality. But he stuck by his conviction: "You can wear anything you want, but when you are at an important table, you need to wear an important suit," he said.
His one transgression: ties that arch under the knot, as if pulled loose, and worn tucked into vests, "to give space to relax."
Fiza Ali had to cry to get payment of her work in industry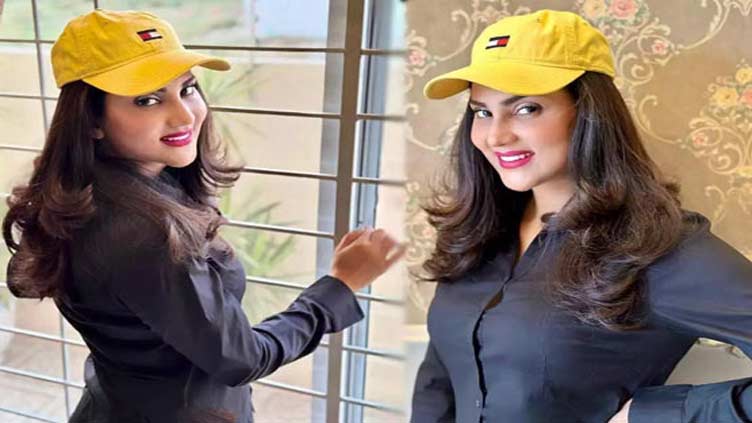 Renowned Pakistani actor Fiza Ali faced really difficult time in the showbiz industry.
In her latest interview, the actor revealed that she had to cry to get her due payment in this industry.
Fiza extensively talked about the highs and lows of her showbiz career in the interview.
"I can still remember the days when my mother got ill and I had to beg to get my payment of my work," the actor said.
She added that she sold out her flat and managed the treatment of her mother. Her mother was a cancer patient and she needed money for treatment.
Peter Hawkings offers slinky designs in Tom Ford debut at Milan Fashion
British designer Peter Hawkings made his Tom Ford debut at Milan Fashion Week while offering an array of sleek suits, slinky dresses and towering stilettos for women next summer.
Models wore fitted trouser suits as well as jackets paired with tiny matching shorts, figure-hugging long frocks and short leather dresses.
There were also velvet suits, unbuttoned silky shirts and tasselled dresses and skirts.
Show notes said Hawkings took inspiration for the Summer 2024 collection from late Detroit-born Black supermodel Donyale Luna, who was a muse for artist Andy Warhol and photographer Richard Avedon.
No deal yet as Hollywood writers, studios talk for third straight day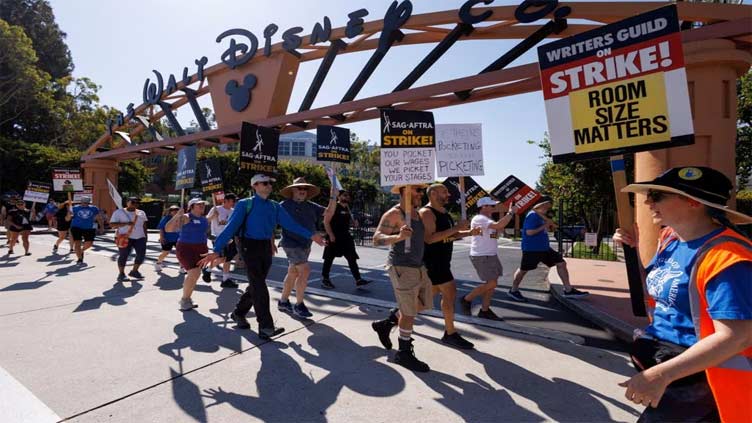 Striking Hollywood writers and top studio executives met for a third straight day on Friday, ending with a decision to continue talks on Saturday as they try to end a work stoppage that has shut down film and TV production for months.
While workers across the entertainment industry waited for word of the outcome, no agreement was announced as the strike reached its 144th day.
The WGA said in a statement early on Saturday that the two sides would meet again on Saturday.
Walt Disney CEO Bob Iger, Netflix Co-CEO Ted Sarandos, Warner Bros Discovery CEO David Zaslav and Donna Langley, chairman of Comcast's NBCUniversal Studio Group, took part in the talks with the Writers Guild of America (WGA) for a third day.
Representatives for the Alliance of Motion Picture and Television Producers, which represents the studios, had no comment.
While the two sides met, union members turned out in large numbers in response to an appeal from WGA negotiators on Thursday to flood picket lines outside the studios.
In the crowd outside Netflix on Friday was "Mad Men" creator and writer Matthew Weiner, who like others voiced optimism that the recent talks signaled progress was being made.
"I'm hopeful," Weiner said of the possibility that the strike could be coming to an end. "I would like to go back to work and I would like to start mending these relationships."
Roughly 11,500 WGA members walked off the job in May, demanding higher pay and residuals in the streaming TV era plus limits around the use of artificial intelligence.
Producer and WGA member Al Septien, also picketing outside Netflix on Friday, said he wanted to get back to work, but only under the right terms.
"We've been out here a long time. We don't want to fold for a less-than-fair and good contract for the writers," he said.
The SAG-AFTRA actors union also is on strike after walking off the job in July.