Mehwish Hayat wants 'her soulmate takes the first step'
Actor Mehwish Hayat has recently posted a short clip on her Instagram stories with a filter which reveals where is the app user's soulmate?
Sharing the video, she satirically wrote, "I guess my soulmate needs to get off the social media and take the first step."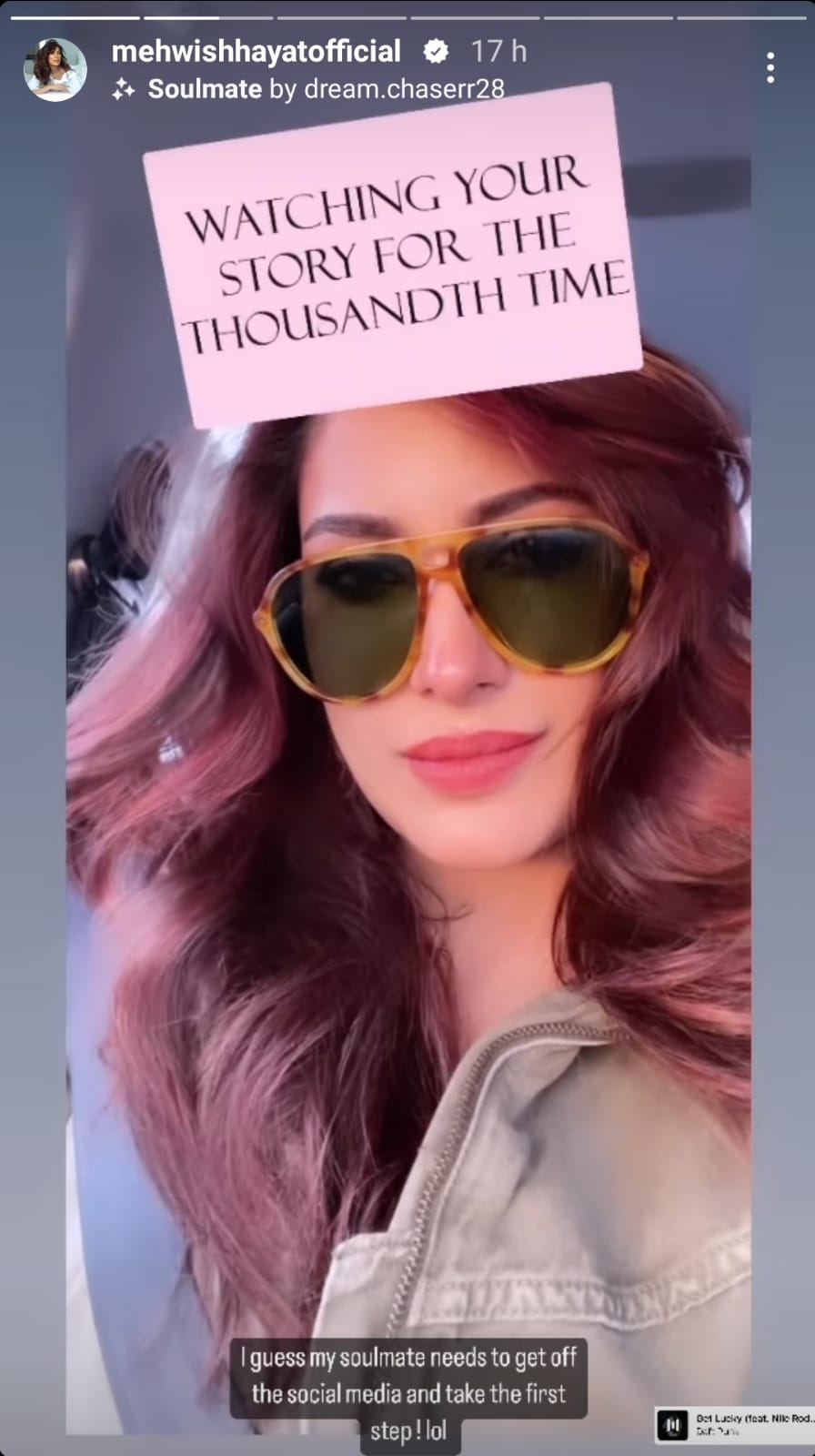 Earlier, the queen of Pakistan film industry is not the one who adheres to specific fashion trends. Rather she is the one experiments with her looks very often. This time around, she made a bold change by adding a pop color to her hair. The actor made a brave choice by going for a full redhead. She dyed her hair red and stunned her fans when she posted her video flaunting her red hairdo.
The "Dil Lagi" actor took to her Instagram handle and posted a video showing off her red hair from different angles. She also captioned her video, "In love with my new hair color #redhairlove."
Imane Ayissi adds African touch to Paris haute couture fashion week
Imane Ayissi wove African textiles into his haute couture collection shown in Paris on Thursday, mixing raffia-lined garments in bright colours with dresses coated in sequins or airy silk fringes.
"This is a window to show techniques of African artisans," said Ayissi.
Models walked down a runway in an ornate mansion near the Arc de Triomphe, parading sculptural dresses and sequin-coated tops that were trimmed with raffia.
A fitted minidress in splashes of orange, red and green featured a traditional tie-dye technique, with a sprinkling of orange Swarovski crystal embellishments added for sparkle.
"We've gone through some very difficult times, with the COVID-19 pandemic that was hard for everyone; it's time to try to rebound," said Ayissi, gesturing towards a hot pink dress.
The Cameroon-born designer, who is based in Paris, is currently featured in the Victoria & Albert Museum exhibit "Africa Fashion" in London.
Haute couture fashion week in Paris, which wound up on Thursday, features some of the most prestigious fashion houses, including Christian Dior (DIOR.PA) and Chanel.
Doja Cat stuns fans with red body paint and 30,000 crystals at Paris Fashion Week
During the Schiaparelli Haute Couture Spring Summer 2023 show at Paris Fashion Week on Jan 23, 2023, Doja Cat made a bold entrance, adorned in red jewels and makeup from head to toe, leaving a lasting impression on the audience.
The eye-catching outfit, which was custom-designed by the fashion house's creative director Daniel Roseberry, was brought to life by makeup artist Pat McGrath, whose team spent almost five hours completing the look.
Chanel hits playful note at haute couture show in Paris
Chanel creative director Virginie Viard took a spirited direction for the French fashion house's spring haute couture show, sending models out of hulking, stylized animals crafted from cardboard and wood.
They emerged, one at a time, circling the towering statues like ringmasters, in bouncy, cheerleader miniskirts, floral jumpsuits and shimmery tweed jackets.
The opening look set the tone – an ivory, double breasted coat, buttoned snuggly across the chest before flaring out, the feathery fringe of a miniskirt poking out below.
On her head, the model wore a black top hat, its brim gently sloped, while flat sling-back shoes accentuated her long, bare legs.
Viard pared down the superfluous often associated with haute couture, offering mostly trim silhouettes, with just enough flounce, when it came to fuller skirts, or restricting the color palette when it came embellished looks, like a full length ivory coat covered in ruffled pleats.
An elephant-shaped structure rolled in for the finale, and out stepped the bride, in an airy, ivory tulle bustier dress that fell below the knee, paired with gold boots that rose above her ankles.
During her bow, Viard drew artist Xavier Veilhan, who designed the set, out from the risers while the audience cheered.
The Paris haute couture shows, which include some of the most prestigious names in fashion like Georgio Armani Prive, Jean Paul Gaultier and LVMH-owned (LVMH.PA) Christian Dior, run through Thursday.