Rosalia performs in Louis Vuitton catwalk show at Paris Fashion Week
Louis Vuitton switched up the traditional fashion runway format with a performance from Spanish singer Rosalia taking centre stage at the label's menswear show in Paris on Thursday.
Rosalia opened the live event for the LVMH-owned (LVMH.PA) fashion house, emerging from a darkened set wrapped in a puffy white jacket and loose jogging pants, sunglasses wrapped around her face.
The Latin Grammy award winning pop-star animated the set – drawn up to resemble someone's home – sprawling on the couch, jumping on a bed and singing from atop a bright, yellow car.
Models filed past, wearing long jackets with crisp lapels, clutching shiny bags, their looks topped off with curved bucket hats and baseball caps.
The label emphasized outwear with lengthened silhouettes, ranging from tailored coats to puffed-out bomber jackets, and sprinkled some artwork and logos into the mix.
Vuitton's menswear show last June featured Florida's Marching 100 band and rapper Kendrick Lamar.
The world's largest fashion label last week named Pietro Beccari CEO, replacing industry veteran Michael Burke.
Fans really want to know price of bridal attire of Imamul Haq's fiancee
Fans really want to know price of bridal attire of Imamul Haq's fiancee
Social media is abuzz with excitement as the initial glimpses of Anmol Mehmood, soon-to-be wife of cricketer Imamul Haq, surfaced in a stunning bridal ensemble from HSY.
Imamul Haq, known for maintaining a private personal life, pleasantly surprised fans and social media enthusiasts by revealing his bride.
Shared on HSY's Instagram, a series of captivating photos showcase Anmol Mehmood in a breathtaking maroon and gold bridal outfit, radiating joy with her smile in each frame.
Her attire beautifully blends tradition with modernity, representing a timeless yet contemporary fashion choice. The estimated cost of her attire is Rs1.5 million, designed by Hassan Sheheryar Yasin, popularly known as HSY.
The online-shared photos portray the bride-to-be exuding confidence and grace, stealing the spotlight as she poses for the camera. Her absolute elegance has garnered admiration and well-wishes from audiences across various social media platforms.
Anmol Mehmood's initial look photos have infused a sense of warmth into the narrative surrounding the cricket star.
The remarkable attire worn by the soon-to-be Mrs Imam has sparked interest and admiration, showcasing her impeccable style with a touch of sophistication.
Brazilian cotton hits the runway at Sao Paulo Fashion Week
The fashion show showcased models wearing 40 outfits made from denim
Brazilian cotton producers took the natural fiber to the runway on Thursday night, strutting the catwalk of Sao Paulo Fashion Week (SPFW) in celebration of the 150th anniversary of jeans.
The fashion show, organized by the Sou de Algodao movement, showcased models wearing 40 outfits made from denim, the cotton-based material now synonymous with jeans.
Paulo Martinez, a Brazilian fashion icon who styled the show, pointed out that Brazilian cotton is "indispensable" in the manufacturing of the denim garments.
Brazil is just 400,000 bales away from overtaking the United States as the largest global cotton exporter in the 2023/24 harvest, according to USDA data, and will finish this season as the third-largest global producer, behind China and India.
More important than the race to come out on top is to show the industry and consumers the quality of Brazil's product, said the president of the Brazilian Cotton Producers Association (Abrapa), Alexandre Schenkel.
The country tracks more than 80% of its production based on environmental and social criteria with the ABR certification, which includes a QR code on the clothing label of some national brands, allowing the cotton to be traced to its farm of origin.
For Schenkel, the runway showcased the fruits of designers' labor.
"It was their harvest," he said. "And everyone in the cotton chain is celebrating something I like – jeans. Who doesn't have a piece of denim in their closet?"
'Expend4bles' opens with epic flop while 'Nun 2' claims top spot again at the box office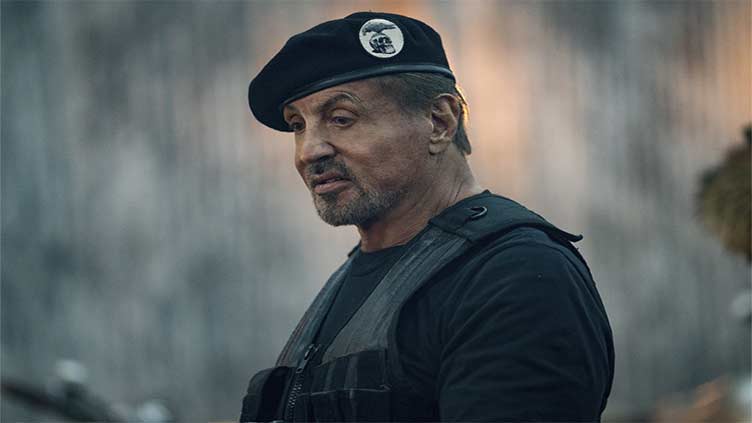 Sylvester Stallone and Jason Statham weren't enough to save "Expend4bles" from a debut box office flop. The fourth installment suffered the action-packed franchise's worst opening weekend while "The Nun 2" took home the top spot for a third straight week, data firm Comscore reported on Sunday.
The Lionsgate and Millennium's film, also known as "Expendables 4," pulled in a mediocre $8.3 million for the big-budget project. It starred several popular names, including Stallone, Statham, Curtis "50 Cent" Jackson, Megan Fox and Dolph Lundgren. It's been nearly a decade since the franchise released a film, which opened with $15.8 million and eventually grossed $214 million globally.
But times have certainly changed, as the film barely placed second behind "The Nun 2," a horror movie that earned $8.4 million in its first week. It's been a solid start for that Warner Bros.' project — a spinoff from the lucrative "Conjuring" franchise. So far, the Michael Chaves-directed sequel has grossed more than $69 million.
"It's a star-studded franchise, but horror is a different situation," said Paul Dergarabedian, the senior media analyst for Comscore. "It just seems no matter what if you're scared in the movie theater a couple times in an hour and a half or two, that's worth the price of admission."
In third, "A Haunting in Venice" earned $6.3 million. Kenneth Branagh's third Agatha Christie adaptation, following 2017's "Murder on the Orient Express" and 2022's "Death on the Nile," has drawn in over $25.3 million after two weeks.
"The Equalizer 3," starring Denzel Washington, only dropped to fourth place with $4.725 million. In four weeks, it has grossed $81.1 million domestically.
"Barbie," the biggest movie of 2023, is still carrying some momentum from the summer into the fall season. The Greta Gerwig box-office smash ranked in the top five, earning $3.2 million this week and a domestic total of more than $630 million after a 10-week period.
Sixth place went to "My Big Fat Greek Wedding 3," with $3 million, while "It Lives Inside" opened its first week with $2.6 million. The Sony film "Dumb Money," a dramatization of the GameStop stock frenzy, stayed put in the eighth position for a second week in a row with $2.5 million.
"Blue Beetle" fell to ninth, with $1.8 million, and "Oppenheimer" rounded out the top 10 with $1.6 million. The Christopher Nolan film has garnered $321 million domestically.
In all, it was another slow output for box office figures as many Hollywood projects are still on hold due to the ongoing Screen Actors Guild-American Federation of Television and Radio Artists, and Writers Guild of America strikes.
This weekend grossed the lowest since Dec. 9, 2022, Dergarabedian said. It was also the first time since the weekend of Feb. 10, 2023 to not have a movie earn over $10 million.
But Dergarabedian said a "spectacular October" could be on the way with the much-anticipated "Taylor Swift: The Eras Tour" concert film, "The Exorcist: Believer" and "Saw X."
"Things are going to change next week or the weeks after when Taylor Swift hits the multiplex," he said. "This is the natural ebbs and flow of the box office. That means one thing: We'll be back to normal."
Estimated ticket sales for Friday through Sunday at US and Canadian theaters, according to Comscore. Final domestic figures will be released Monday.
1. "The Nun II," $8.4 million.
2. "Expend4bles," $8.3 million.
3. "A Haunting in Venice," $6.3 million.
4. "The Equalizer 3," $4.7 million.
5. "Barbie," $3.2 million.
6. "My Big Fat Greek Wedding 3," $3 million.
7. "It Lives Inside," 2.6 million.
8. "Dumb Money," $2.5 million.
9. "Blue Beetle," $1.8 million.
10. "Oppenheimer," $1.6 million.