In the US, menopause finally gets its due
For years, the sweeping physical and emotional midlife change that women undergo has been shunted to the shadowy corners of public view, and barely even discussed among friends.
In the United States, menopause is moving off the back burner, in part thanks to Hollywood A-listers who say it's high time to end the taboo surrounding a biological process that affects half the world's population.
Of course, some of those same celebrities have sought to cash in on an as yet untapped gold mine by offering a range of new products aimed at middle-aged women seeking relief.
Naomi Watts, Gwyneth Paltrow and Oprah Winfrey have all recently gone on the record about the symptoms they have experienced. Michelle Obama tackled menopause on her podcast in 2020.
"Over the course of my career as an actor, I've outrun tsunamis and come face-to-face with 'King Kong.' But nothing prepared me for early menopause," writes the 54-year-old Watts, explaining that she began noticing physiological changes at age 36.
Winfrey, the 69-year-old talk show queen, said her heart palpitations in her late 40s were so severe that she thought she was "going to die every single night."
"I went to five different doctors — nobody ever once suggested that it could be menopause," Winfrey says, calling for more public discourse to warn women about what is to come, and also to make doctors more aware of the need for better care.
Some doctors appear to be woefully unversed on the topic, or simply embrace the old-fashioned notion that it's a phase to be dealt with and nothing more.
Better patient care?

Menopause, which marks the one-year point after a woman's final menstrual period, is actually the end point of a much longer cycle.
Perimenopause is the final phase of a woman's reproductive cycle and is the time when many of the most troublesome symptoms are noticed — from night sweats and hot flashes to insomnia, hair loss, anxiety, heavy bleeding and low sex drive.
For some women, this phase can last for up to a decade — hence the need for better awareness, care and consideration.
Studies suggest a vast majority of women will experience at least one menopausal symptom in their lifetime.
Wen Shen, an associate professor of gynecology and obstetrics at Johns Hopkins University in Baltimore and the co-director of its Women's Wellness and Healthy Aging Program, says 20 percent of women with symptoms have "really horrible, severe" issues.
Those experiences during perimenopause can "basically ruin their lives, ruin their ability to focus at work, to concentrate, ruin their relationships," Shen said.
She is in favor of the movement by showbiz power players to destigmatize the condition especially as, in her view, "unfortunately, many doctors are not well versed."
"Traditionally it has been such a taboo. And women were afraid to admit they were in menopause, because it's sometimes shameful. And it was associated with aging," Shen said.
"So I think having glamorous movie stars bringing it out and being honest about it is a good thing."
In 2012, Shen's team did a survey of all OB GYN residents in the United States and found that the majority of graduating residents "did not feel comfortable dealing with menopause."
Some respondents had one lecture about the condition, as opposed to months of training about infertility and gynecological cancers.
Shen says textbooks have been improved in the last decade, but still says there is "not enough emphasis" on teaching the next generation of doctors about an essential phase of a woman's life.
'Menopause solutions'
Alongside the need for better medical treatment, investment firms are pouring oodles of cash into products aimed at middle aged women in the various phases of menopause.
In October, Watts launched Stripes, which offers "menopause solutions from scalp to vag." On offer are lubricants for vaginal dryness, densifying hair masks and probiotic supplements.
For years, Oscar winner Paltrow has sold "Madame Ovary" — a supplement cocktail of herbs, vitamins and phytonutrients to "help smooth the menopausal transition." A month's supply goes for $90 on her Goop website.
And retired tennis superstar Serena Williams, 41, recently invested in vegan menopause supplement brand Wile, saying it was "changing the game for women over 40."
One of the standard treatments for menopause is hormone replacement therapy (HRT), which replaces the estrogen that a woman's body stops making as she ages, addressing key symptoms such as hot flashes and protecting against osteoporosis.
Once prescribed regularly, the treatment all but dropped off the map in the United States 20 years ago — the result of a flawed scientific study that sparked panic by suggesting high health risks to women.
Shen says better research over the past two decades and assessment of the risks has markedly improved understanding of HRT, leading to its increased use, but she worries about companies offering the drugs over the phone.
"Some of them do advise other forms of treatments that are not evidence-based, have not been researched adequately, that may actually be harmful," she warns.
Shen suggests that women experiencing serious symptoms ask their doctor to be sent to someone specializing in menopause care, who would be able to prescribe the proper treatment, including HRT.
'Expend4bles' opens with epic flop while 'Nun 2' claims top spot again at the box office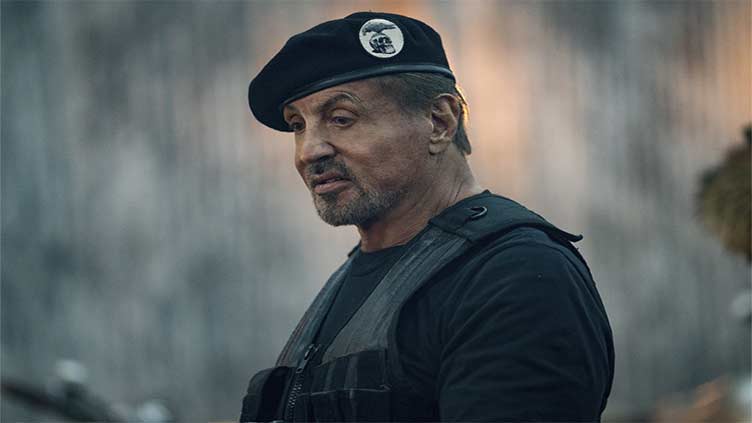 Sylvester Stallone and Jason Statham weren't enough to save "Expend4bles" from a debut box office flop. The fourth installment suffered the action-packed franchise's worst opening weekend while "The Nun 2" took home the top spot for a third straight week, data firm Comscore reported on Sunday.
The Lionsgate and Millennium's film, also known as "Expendables 4," pulled in a mediocre $8.3 million for the big-budget project. It starred several popular names, including Stallone, Statham, Curtis "50 Cent" Jackson, Megan Fox and Dolph Lundgren. It's been nearly a decade since the franchise released a film, which opened with $15.8 million and eventually grossed $214 million globally.
But times have certainly changed, as the film barely placed second behind "The Nun 2," a horror movie that earned $8.4 million in its first week. It's been a solid start for that Warner Bros.' project — a spinoff from the lucrative "Conjuring" franchise. So far, the Michael Chaves-directed sequel has grossed more than $69 million.
"It's a star-studded franchise, but horror is a different situation," said Paul Dergarabedian, the senior media analyst for Comscore. "It just seems no matter what if you're scared in the movie theater a couple times in an hour and a half or two, that's worth the price of admission."
In third, "A Haunting in Venice" earned $6.3 million. Kenneth Branagh's third Agatha Christie adaptation, following 2017's "Murder on the Orient Express" and 2022's "Death on the Nile," has drawn in over $25.3 million after two weeks.
"The Equalizer 3," starring Denzel Washington, only dropped to fourth place with $4.725 million. In four weeks, it has grossed $81.1 million domestically.
"Barbie," the biggest movie of 2023, is still carrying some momentum from the summer into the fall season. The Greta Gerwig box-office smash ranked in the top five, earning $3.2 million this week and a domestic total of more than $630 million after a 10-week period.
Sixth place went to "My Big Fat Greek Wedding 3," with $3 million, while "It Lives Inside" opened its first week with $2.6 million. The Sony film "Dumb Money," a dramatization of the GameStop stock frenzy, stayed put in the eighth position for a second week in a row with $2.5 million.
"Blue Beetle" fell to ninth, with $1.8 million, and "Oppenheimer" rounded out the top 10 with $1.6 million. The Christopher Nolan film has garnered $321 million domestically.
In all, it was another slow output for box office figures as many Hollywood projects are still on hold due to the ongoing Screen Actors Guild-American Federation of Television and Radio Artists, and Writers Guild of America strikes.
This weekend grossed the lowest since Dec. 9, 2022, Dergarabedian said. It was also the first time since the weekend of Feb. 10, 2023 to not have a movie earn over $10 million.
But Dergarabedian said a "spectacular October" could be on the way with the much-anticipated "Taylor Swift: The Eras Tour" concert film, "The Exorcist: Believer" and "Saw X."
"Things are going to change next week or the weeks after when Taylor Swift hits the multiplex," he said. "This is the natural ebbs and flow of the box office. That means one thing: We'll be back to normal."
Estimated ticket sales for Friday through Sunday at US and Canadian theaters, according to Comscore. Final domestic figures will be released Monday.
1. "The Nun II," $8.4 million.
2. "Expend4bles," $8.3 million.
3. "A Haunting in Venice," $6.3 million.
4. "The Equalizer 3," $4.7 million.
5. "Barbie," $3.2 million.
6. "My Big Fat Greek Wedding 3," $3 million.
7. "It Lives Inside," 2.6 million.
8. "Dumb Money," $2.5 million.
9. "Blue Beetle," $1.8 million.
10. "Oppenheimer," $1.6 million.
When will Saudi Arabia's first cinema event take place?
First time in the history of Saudi Arabia, a cinema event is being organised on Oct 1 in Riyadh.
According to a media outlet, about 100 people will participate in this event titled "Saudi Film Forum." As many as 50 important speakers will speak on the occasion and the event will conclude on Oct 4.
The media reported that this would be the first event of its kind in the kingdom to be held at the Boulevard City Exhibition Hall in Riyadh. The aim of the event is to transform the film industry into a major contributor to the Saudi economy.
Following the initiative, the film industry will be able to achieve sustainable and renewed economic growth by expanding investment opportunities and cooperation through exchange of experiences.
Renowned filmmakers, producers, directors, investors and international media persons will join the gathering so that they could ascertain the reality and future of filmmaking in Saudi Arabia.
Workshops and several other sections including Inspiration Zone, Innovation Zone, Interactive Activities Zone, Experiences Zone and Business Zone are also part of the event.
The media reported that Saudi Film Commission CEO Engineer Abdullah Al Ayyaf had described the forum as a major success for the film industry.
Hamaima Malik's photoshoot in pool attracts fans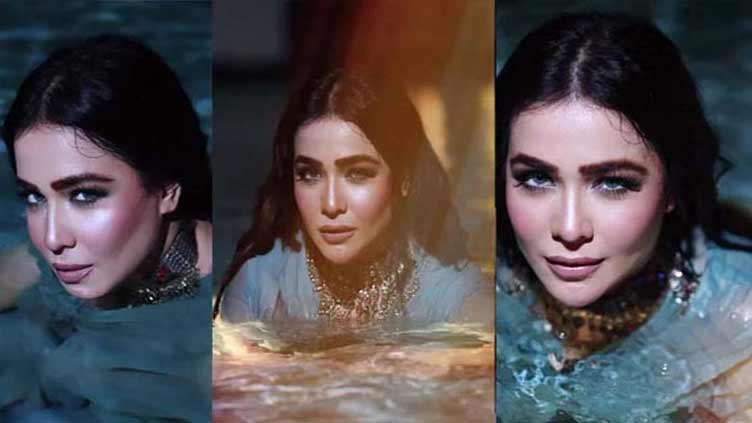 Fans of Humaima Malik are very much surprised to have a look of her recent photoshoot in the swimming pool.
The actor shared a few videos of the photoshoot in the pool with her fans on the Instagram. Her photoshoot invited a number of comments from the fans. Hamaima Malik's unique pose in the pool is being loved by the fans.