With Saudi-PGA deal, once-shunned crown prince makes dramatic move to extend kingdom's influence
After years of isolation over his human rights abuses, Saudi Arabia's crown prince is elevating his standing in the United States in part by diving into American sports, business and culture. And no example has been as striking as his bold entry into professional golf — the favorite sport of presidents and millions of other Americans.
Tuesday's surprise announcement of a commercial merger between Saudi Arabia's $650 billion sovereign wealth fund, the PGA Tour and the European tour in the short run looks to end a messy legal battle between Saudi Arabia's LIV Golf and the PGA.
But for the Saudis, it's much more than a major business deal. It's the latest and perhaps most dramatic move by Crown Prince Mohammed bin Salman to wield his kingdom's oil wealth in reshaping his country's economy and advancing Saudi influence regionally and around the world, while muting critics. Prince Mohammed has assumed much of the duties and leadership of his aged father, King Salman.
The commercial merger followed the kingdom's purchase of the Newcastle United soccer team and staging of Formula One races and multiple other sports events.
On Wednesday, Saudi Arabia's most prominent US supporter celebrated.
Former president and current leading Republican presidential contender Donald Trump, whose golf courses and family have been a top beneficiary of Saudi investment, boasted that last year he had predicted a merger between Saudi upstart LIV golf and the PGA. Trump had warned pro golfers at the time they would lose millions if they stayed loyal to the "very disloyal PGA."
A "big, beautiful, and glamorous deal," Trump tweeted at the Saudi-US golf announcement. Trump's golf courses were snubbed by the PGA Tour after his followers' violent Jan. 6, 2021, assault on the US Capitol, while rival Saudi golf tour LIV patronized Trump courses, for undisclosed sums.
Republican Sen. Lindsey Graham, who in 2018 had promised a "tsunami" of opposition against the crown prince over Saudi Arabia's killing of US-based journalist Jamal Khashoggi, tweeted the PGA-LIV tour merger was "beyond exciting." He noted it could benefit the golf industry in his state of South Carolina.
Saudi exiles in the US expressed disappointment. In the hours before the golf deal was announced, they had hosted a sparsely attended press call to try to bring attention back to the Saudi rights advocates, American citizens and family members still being held in Saudi prisons or banned from traveling.
"I think what the Saudi government has been noticing so far is that using money for sportswashing is working out for them," said Abdullah al Oudh, whose father, a popular cleric, has been in prison in Saudi Arabia since publicly expressing hope that the crown prince would end a now-mended rift with another Gulf state, Qatar.
"They have used it once, twice, three times … to just whitewash their crimes. And it's been working for them so far," al Oudh said.
It all has marked a stunning turnaround in the global standing of Prince Mohammed, who became almost globally despised after the 2018 killing of Khashoggi, a Washington Post columnist who had written of the crown prince's brutal ways.
The crown prince's aides and other Saudi officials killed Khashoggi after luring him to the Saudi consulate in Istanbul. The US intelligence community concluded the crown prince had authorized the plot.
Then-presidential candidate Joe Biden pledged to make the crown prince a "pariah." It's a phrase that has been repeated in almost every Western article about the two since.
World leaders for a time shunned Prince Mohammed, leaving him standing awkwardly alone at summits as other leaders shook hands and smiled for photos. Global businesses briefly boycotted Saudi conferences.
Coming on top of Saudi Arabia's invasion of neighboring Yemen, its failed blockade of neighboring Qatar, its brief detention of Lebanon's leader, and intensified detention and torture of rivals, journalists and rights advocates, the Khashoggi killing stained Prince Mohammed's reputation, indelibly.
In the five years since, however, the crown prince has made his way out of isolation.
For starters, there has been no known repeat of high-profile killings like that of Khashoggi, whose apparent strangulation and subsequent dismemberment with a bone saw was recorded by Turkish surveillance.
The kingdom released the best-known of the Saudi women jailed under Prince Mohammed for asking for women's right to drive. That's even though many other lesser-known Saudis, including US citizens or residents, remain in prison or under travel bans for peacefully advocating for more representative government or for commenting on Saudi government policy.
Meanwhile, oil production cuts by Saudi Arabia reminded Washington of Saudi Arabia's key strategic attraction. Biden came calling last July and did an awkward fist bump with the crown prince, as his administration sought to repair relations and get oil flowing more freely again.
Shrewd Saudi diplomacy has played a part as well. Secretary of State Antony Blinken visited the crown prince, and Iran reopened its embassy in Saudi Arabia, the same day as Saudi Arabia's stunning breakthrough in US sports. It made the day a showcase of the ambitious crown prince's return to the global fold, even if no state dinners are likely for him at the Biden White House.
Tensions with the US remain over Saudi Arabia's continued repression of Saudi dissent at home and abroad, the kingdom's throttling back on oil production, its relations with Russia, and its resumed ties with Iran, in a deal for which China claimed credit.
The golf deal announced Tuesday gives the Saudi sovereign wealth fund, and its chairman the crown prince, significant say in the direction of the sport in the US Yasir Al-Rumayyan, the governor of the fund, told interviewers he planned to make the game a sport for the everyman and expand its following globally.
It was unclear how Saudi Arabia's escalated investment in US sport would affect the kingdom's sovereign immunity, which is a longstanding practice of international law that shields foreign leaders from other countries' courts. The PGA Tour had insisted in US courts that US commercial exemptions to sovereign immunity meant that the Saudi national wealth fund and Saudi Arabia's leaders were vulnerable to US legal action and public scrutiny of its business deals.
It's also unclear if the golf deal and Saudi Arabia's other investments in the US have won over enough of its critics in Congress, including those objecting to Saudi Arabia's much-desired arms purchases from the US.
"So weird," Sen. Chris Murphy, a Connecticut Democrat and lasting critic of the crown prince's rights abuses, tweeted after the golf announcements. "PGA officials were in my office just months ago talking about how the Saudis' human rights record should disqualify them from having a stake in a major American sport. I guess maybe their concerns weren't really about human rights?"
For Saudi Arabia, the move could be an economic boost as well. The crown prince, known as MBS, has focused investments from the sovereign wealth fund on sports and some emerging industries, not always successfully.
"This all has to go to the very singular focus and goal of MBS to diversify the country's economic platform" away from oil exports, said Jonathan Panikoff, director of the Scowcroft Middle East Security Initiative at the Atlantic Council's Middle East Programme. That includes with entertainment and tourism for foreign visitors, which the prince also has pushed.
"And then if a byproduct is that it also creates a better reputation and decreases reputational risk, I'm sure they're happy about it," Panikoff said.
India formulate security plan for World Cup 2023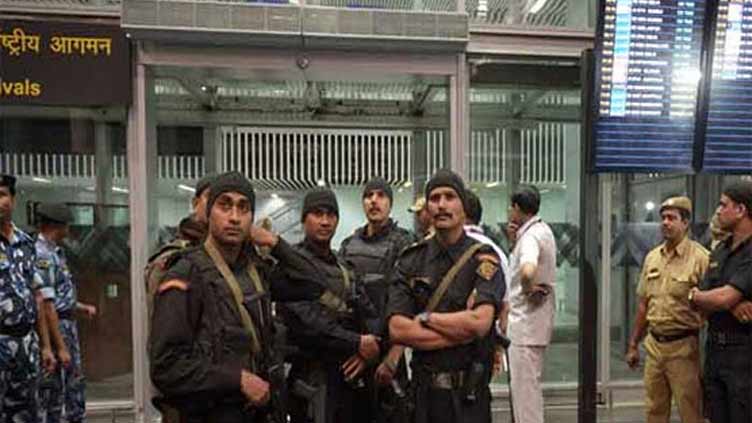 India have chalked out a comprehensive plan for multi-layer security and management of traffic for the upcoming ICC Men's World Cup 2023.
A security official told Indian media that arrangements had been made for smooth influx of fans into the stadiums and maintain uninterrupted traffic flow on roads.
He said multi-layer security plan had been designed for the mega event, adding that a communication system would also be established for seamless coordination between security agencies and local cricket association.
The security teams would ensure the safe movement of teams from hotel to stadium and back by creating secure pathways.
As several stadiums, including Pune, are situated at a considerable distance from the city, seamless arrangements have been made to handle the logistical challenge in an effective way.
Commissioner of Pimpri Chinchwad police Vinoy Kumar Choubey said told Indian media, "We will be putting in place a multi-layer security cover in and around the stadium. A detailed plan for the same is in the making.
"Each layer will have a specific purpose and a pre-decided number of personnel and officers will be tasked to secure each layer. A communication channel has been established between the MCA office bearers and our team."
South Korea opposition leader ends 24-day hunger strike
South Korea's opposition leader ended a 24-day hunger strike on Saturday, a party spokesperson said, two days after parliament voted to let prosecutors serve an arrest warrant against him for alleged bribery.
Lee Jae-myung, leader of the Democratic Party of Korea, will maintain a schedule including court attendance while hospitalised for the time being, the spokesman told reporters.
Prosecutors this month sought the warrant in an investigation into bribery allegations concerning a development project. Prosecutors accuse Lee of asking a company to illegally transfer $8 million to North Korea when he was the governor of Gyeonggi Province.
He is also accused of breaching his duty over losses of 20 billion won ($15 million) by a municipal development corporation when he was mayor of Seongnam city.
Lee, who lost South Korea's presidential election to conservative Yoon Suk Yeol last year, has denied wrongdoing, calling the allegations "fiction" and a "political conspiracy".
He began his protest on Aug. 31, citing the government's economic mismanagement, threats to media freedom and the failure to oppose Japan's release of wastewater from the wrecked Fukushima nuclear plant, among other reasons.
Thursday's surprise vote by parliament, controlled by Lee's party, has caused an uproar among his supporters.
Police on Saturday detained a man in his 40s who had posted the names of more than a dozen lawmakers outside Lee's party faction, writing "gotta search for the sniper rifle at home", said an official with the Gyeonggi Nambu Provincial Police. Police will seek an arrest warrant against him for intimidation, the official said.
South Korea is to hold parliamentary elections in April.
Landslide causes large chunk of Swedish motorway to collapse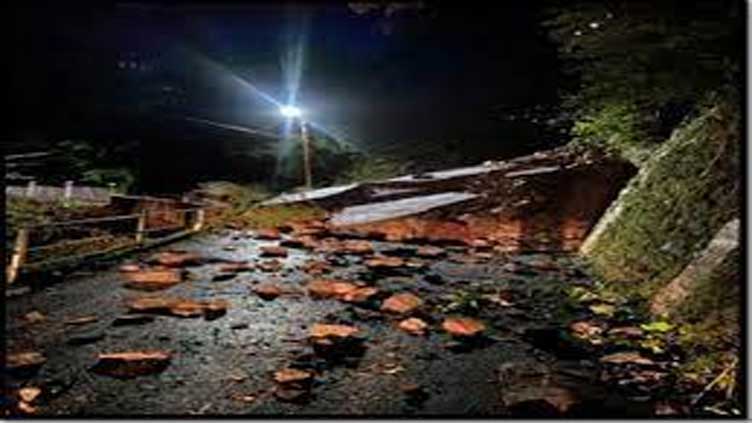 A large chunk of a motorway in southwest Sweden collapsed overnight, causing three people to be taken to hospital with light injuries, police said on Saturday.
The landslide damaged the motorway between Sweden's second-biggest city Gothenburg and Norway's capital Oslo, near the small town of Stenungsund, around 50 km north of Gothenburg on Sweden's west coast.
"The landslide has affected an area of around 100 x 150 meters, around ten vehicles, a wooded area, and a business area with a gas station and a fast food restaurant," the Gothenburg Rescue Services said.
"A number of people have been helped out of vehicles in the slide area with the help of fire personnel and a helicopter," they said. Several cars and one truck had fallen into holes and cracks caused by the landslide, Swedish news agency TT reported.
A rescue services spokesperson told public broadcaster SVT all people in the vehicles had been helped out. The rescue services said specially trained staff and search dogs would now search the area, and that further slides could not be ruled out.