Missing a beat: Music stars absent from Nigeria's vote campaign
Nigeria's Afrobeats resonates all over Africa, and in the West, where young people sing and dance to the rhythms of Burna Boy, Wizkid and Tems.
But when it comes to the presidential election on February 25, when Africa's most populous democracy votes for a successor to President Muhammadu Buhari, its singers have gone silent.
Nigeria often makes headlines because of the Boko Haram insurgency and jihadist groups in the northeast.
But the country is also the continent's largest economy and birthplace of a musical genre that is soaring globally.
Afrobeats legends Burna Boy and Tems have won Grammy Awards.
Tickets to see Wizkid and Davido in some of the world's largest concert halls are regularly sold out.
And others rack up millions of views on TikTok and collaborate with US popstars like Chris Brown, Justin Bieber and Drake.
These celebrities are loved as much as Nigerian politicians are hated.
The latter are seen by many Nigerians as impossibly corrupt and responsible for the country's, woes from a lack of electricity to poor healthcare and education.
Almost 40 percent of registered voters are under the age of 35, yet the ruling party's candidate, Bola Tinubu of the APC is 70 and the main opposition leader Atiku Abubkar of the PDP is 76.
"Afrobeats stars have a huge influence on the youth. The presidential candidates don't," said Oris Aigbokhaevbolo, a music journalist.
But, he adds: "Big stars try their best to avoid politics, especially (in) this presidential election."
'Watershed moment"
Afrobeats was born in the 2000s, inspired by a mix of styles, including the music of legendary Fela Kuti, who fought his entire life against Nigeria's corrupt leaders, and from US pop.
"Back in time, Afrobeats singers were more political. But when Afrobeats became big business, lyrics changed," said Aigbokhaevbolo.
Davido (C), one of the genre's major stars, was at the World Cup closing ceremony
Until recently, songs were all about capitalism or "Naija", which celebrates success and expensive cars, or about cheesy love and female conquests.
But mass youth-led #EndSARS protests that rocked the country in late 2020 have changed things.
"EndSARS was a watershed moment," said the journalist.
SARS was a controversial anti-robbery squad that became a symbol of police brutality. It spurred a movement demanding better governance.
Many Afrobeats stars came out in support of #EndSARS, either on social media or at protests themselves.
Burna Boy purchased giant billboards with the slogan #EndSARS on them.
Many Nigerian Afrobeats stars backed the #EndSARS protest movement in 2020
Davido took to the streets of the capital, Abuja, and knelt down in front of police officers.
Wizkid, who was in London at the time, also supported the cause by joining protesters in the UK diaspora.
After the movement was violently repressed, many artists paid homage to victims of the crackdown.
Burna Boy released a song called "20.10.2020" in reference to the day where the army and police cracked down on peaceful protesters in Lagos.
But since then, the stars have gone silent, no longer publicly supporting candidates or encouraging people to register and get their permanent voter's card (PVC).
"They are not involved," said Osikhena Dirisu, director of programmes at The Beat radio.
Wizkid did speak out on one occasion about the election in a wide-ranging interview with British newspaper The Guardian.
"All these old men are going out of power this time," he said of the candidates. "They need to go to an old people's home and chill out."
Younger touch
"It bothers me. They were supporting EndSARS and now none of them call the youth to collect their PVC or endorse the candidate of the youth, Peter Obi," said Ifiy, a 30-year-old Nigerian at a recent rally for the candidate.
Obi, a 61-year-old former state governor, enjoys the support of many young people, including those who were part of EndSARS. He has become a credible challenge to Tinubu and Abubakar.
Apart from P-Square, twin artists who became popular in the 2010s with their title "Alingo", there are few musicians who openly support Obi, according to Dirisu.
They avoid getting into politics, Aigbokhaevbolo said, because "in Nigeria, you don't want to have enemies in power".
On the other hand, politicians need Afrobeats. "You can't campaign without music in Nigeria," said Aigbokhaevbolo.
During rallies, the latest Afrobeats tunes are blasted from loudspeakers, often without any copyright agreements.
Campaigning for the February 25 election is coming to a close
The popular songs provide much needed entertainment to motivate the crowds of supporters or people paid to be there, before candidates arrive.
Music also gives the politicians a more human touch, and even a younger touch, like Tinubu, who went viral when he started dancing to the popular song "Buga" by Kizz Daniel.
Some artists who are still unknown internationally use the opportunity of rallies to make money, like Portable, who played for the ruling party, or Timi Dakolo for the opposition.
Criticised on social media, both responded that they take cash wherever they can find it.
'Expend4bles' opens with epic flop while 'Nun 2' claims top spot again at the box office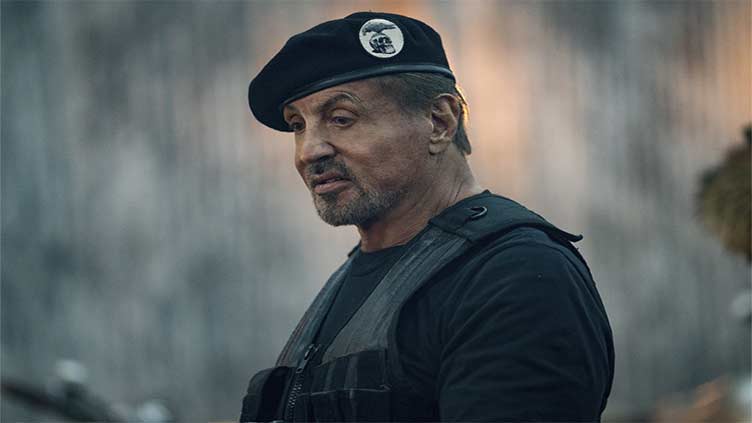 Sylvester Stallone and Jason Statham weren't enough to save "Expend4bles" from a debut box office flop. The fourth installment suffered the action-packed franchise's worst opening weekend while "The Nun 2" took home the top spot for a third straight week, data firm Comscore reported on Sunday.
The Lionsgate and Millennium's film, also known as "Expendables 4," pulled in a mediocre $8.3 million for the big-budget project. It starred several popular names, including Stallone, Statham, Curtis "50 Cent" Jackson, Megan Fox and Dolph Lundgren. It's been nearly a decade since the franchise released a film, which opened with $15.8 million and eventually grossed $214 million globally.
But times have certainly changed, as the film barely placed second behind "The Nun 2," a horror movie that earned $8.4 million in its first week. It's been a solid start for that Warner Bros.' project — a spinoff from the lucrative "Conjuring" franchise. So far, the Michael Chaves-directed sequel has grossed more than $69 million.
"It's a star-studded franchise, but horror is a different situation," said Paul Dergarabedian, the senior media analyst for Comscore. "It just seems no matter what if you're scared in the movie theater a couple times in an hour and a half or two, that's worth the price of admission."
In third, "A Haunting in Venice" earned $6.3 million. Kenneth Branagh's third Agatha Christie adaptation, following 2017's "Murder on the Orient Express" and 2022's "Death on the Nile," has drawn in over $25.3 million after two weeks.
"The Equalizer 3," starring Denzel Washington, only dropped to fourth place with $4.725 million. In four weeks, it has grossed $81.1 million domestically.
"Barbie," the biggest movie of 2023, is still carrying some momentum from the summer into the fall season. The Greta Gerwig box-office smash ranked in the top five, earning $3.2 million this week and a domestic total of more than $630 million after a 10-week period.
Sixth place went to "My Big Fat Greek Wedding 3," with $3 million, while "It Lives Inside" opened its first week with $2.6 million. The Sony film "Dumb Money," a dramatization of the GameStop stock frenzy, stayed put in the eighth position for a second week in a row with $2.5 million.
"Blue Beetle" fell to ninth, with $1.8 million, and "Oppenheimer" rounded out the top 10 with $1.6 million. The Christopher Nolan film has garnered $321 million domestically.
In all, it was another slow output for box office figures as many Hollywood projects are still on hold due to the ongoing Screen Actors Guild-American Federation of Television and Radio Artists, and Writers Guild of America strikes.
This weekend grossed the lowest since Dec. 9, 2022, Dergarabedian said. It was also the first time since the weekend of Feb. 10, 2023 to not have a movie earn over $10 million.
But Dergarabedian said a "spectacular October" could be on the way with the much-anticipated "Taylor Swift: The Eras Tour" concert film, "The Exorcist: Believer" and "Saw X."
"Things are going to change next week or the weeks after when Taylor Swift hits the multiplex," he said. "This is the natural ebbs and flow of the box office. That means one thing: We'll be back to normal."
Estimated ticket sales for Friday through Sunday at US and Canadian theaters, according to Comscore. Final domestic figures will be released Monday.
1. "The Nun II," $8.4 million.
2. "Expend4bles," $8.3 million.
3. "A Haunting in Venice," $6.3 million.
4. "The Equalizer 3," $4.7 million.
5. "Barbie," $3.2 million.
6. "My Big Fat Greek Wedding 3," $3 million.
7. "It Lives Inside," 2.6 million.
8. "Dumb Money," $2.5 million.
9. "Blue Beetle," $1.8 million.
10. "Oppenheimer," $1.6 million.
When will Saudi Arabia's first cinema event take place?
First time in the history of Saudi Arabia, a cinema event is being organised on Oct 1 in Riyadh.
According to a media outlet, about 100 people will participate in this event titled "Saudi Film Forum." As many as 50 important speakers will speak on the occasion and the event will conclude on Oct 4.
The media reported that this would be the first event of its kind in the kingdom to be held at the Boulevard City Exhibition Hall in Riyadh. The aim of the event is to transform the film industry into a major contributor to the Saudi economy.
Following the initiative, the film industry will be able to achieve sustainable and renewed economic growth by expanding investment opportunities and cooperation through exchange of experiences.
Renowned filmmakers, producers, directors, investors and international media persons will join the gathering so that they could ascertain the reality and future of filmmaking in Saudi Arabia.
Workshops and several other sections including Inspiration Zone, Innovation Zone, Interactive Activities Zone, Experiences Zone and Business Zone are also part of the event.
The media reported that Saudi Film Commission CEO Engineer Abdullah Al Ayyaf had described the forum as a major success for the film industry.
Hamaima Malik's photoshoot in pool attracts fans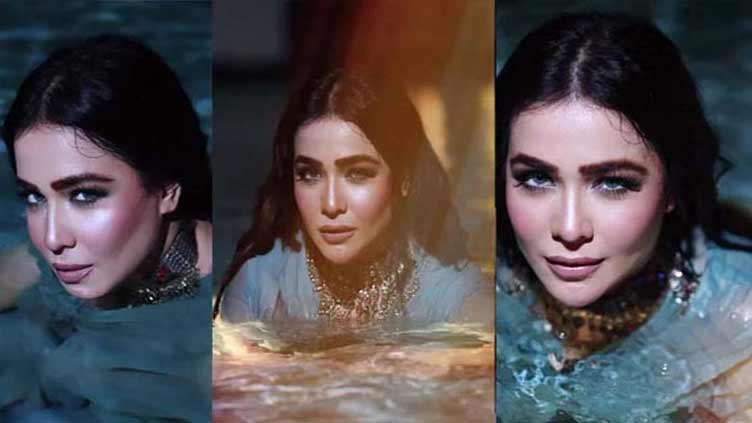 Fans of Humaima Malik are very much surprised to have a look of her recent photoshoot in the swimming pool.
The actor shared a few videos of the photoshoot in the pool with her fans on the Instagram. Her photoshoot invited a number of comments from the fans. Hamaima Malik's unique pose in the pool is being loved by the fans.